Synopsys (NASDAQ: SNPS), an electronic design automation and semiconductor IP company, released its third-quarter earnings results for fiscal year 2014. As expected, the company posted decent results beating both the revenue and EPS estimates for the quarter. Although earning guidance for the fourth-quarter is weak, full year guidance is in line with analysts' estimates.
The company posted revenue of $521.8 million as compared to $482.9 million on a year-over-year basis. This translates to a growth factor of 8.05%. Segment revenue is as follows: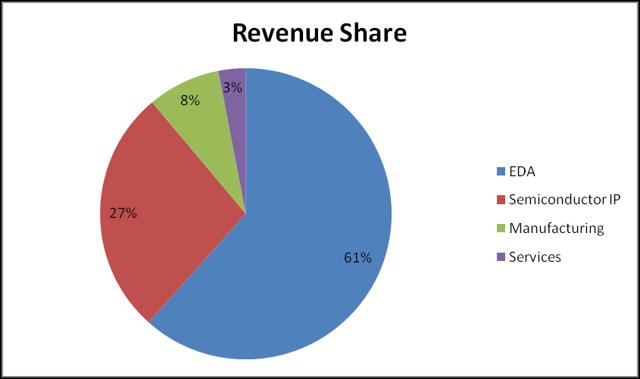 Source: Financial Disclosure Supplement Third Quarter Fiscal 2014
EDA grew by 7.2% while semiconductor IP segment posted growth of around 16% on a year-over-year basis. Semiconductor IP growth reflects that the company is taking interest in IP lately. This is a positive factor as semiconductor IP is set to grow, thanks to proliferation of portable devices. Anyhow, the management expects low to mid single digit organic growth in EDA on a multi year basis. As far as EPS is concerned, the company posted EPS of $0.65 as compared to consensus estimate of $0.60, consistent with our initial thesis i.e. growth of valuation amid strong and consistent quarterly performance going forward. The company posted earnings-growth of around 18% on a year-over-year basis.
| | | | |
| --- | --- | --- | --- |
| EPS | Q3 2013 | Q3 2014 | Growth |
| GAAP | 0.33 | 0.42 | 33% |
| Non-GAAP | 0.55 | 0.65 | 18.1% |
| | | | |
Source: Financial Disclosure Supplement Third Quarter Fiscal 2014
As far as design is concerned, small dimensions (node-shrinkage) will continue to drive growth of EDA. Management mentioned in prepared remarks that Synopsys is tracking 150 FinFET design tapeouts worldwide, and the company is integral to more than 95% of them. It is worth mentioning here that Synopsys announced broad foundry support for Intel's 14nm Tri-Gate platform in this quarter. So, node shrinkage is expected to be fruitful for the company in future. Furthermore, the new EDA IC Compiler II is gaining traction. Earnings remarks mention that this tool delivers 10X improvement in throughput. A very important customer of the company reported that difficult placement and clock optimization runtime is reduced to six and a half hours by IC Compiler II as compared to 45 hours previously. Hence, Synopsys' offerings seem to be differentiated in EDA industry. On semiconductor IP front, the company is gaining significant traction in USB 3.0 as 100 million Synopsys-powered chips have already been shipped (according to earning transcript). IP acceleration program that includes complete set of models, FPGA, prototypes etc. has been witnessing strong customer reception according to the management. Moreover, Coverity acquisition will be accretive to earnings in 2016.
The full year guidance of Synopsys is almost in line with analysts' estimates. Revenue will be in the range of $2.055-$2.065 billion and non-GAAP EPS will be in the range of $2.48-$2.50.
| | | |
| --- | --- | --- |
| | Guidance | Analysts' estimates |
| Revenue | $2.055-$2.065 billion | $2.06-$2.07 billion |
| EPS | $2.48-$2.50 | $2.47-$2.48 |
Source: Earnings press release and Reuters
Takeaway
All in all, Synopsys is set to grow amid favorable EDA market, growth of semiconductor IP, and product differentiation. Third-quarter results reaffirm initial Buy recommendation. The catalyst for valuation growth will be strong and consistent quarterly results, as mentioned in the previous piece.
Coverage was initiated with Synopsys: 50% Upside Insight.
Disclosure: The author has no positions in any stocks mentioned, and no plans to initiate any positions within the next 72 hours.
The author wrote this article themselves, and it expresses their own opinions. The author is not receiving compensation for it (other than from Seeking Alpha). The author has no business relationship with any company whose stock is mentioned in this article.