ChannelAdvisor, the provider of e-commerce support services, yesterday came out with its latest report on same store sales for the month of July 2014. The report showed an improvement in Amazon's (NASDAQ:AMZN) same store sales even as eBay saw a decline in the Y/Y comparisons.
ChannelAdvisor's latest e-commerce same store sales report showed a strong performance from Amazon, which saw its same store sales grow 40.4% YoY in the month of July 2014. This was Amazon's strongest performance in 2014 as can be seen from the chart below.
Amazon YoY growth in SSS reported by ChannelAdvisor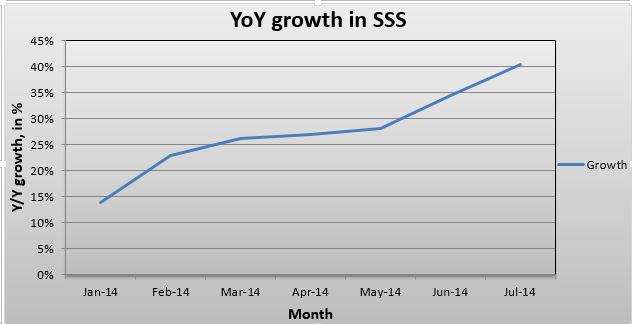 As per ChannelAdvisor data, Amazon's performance has been showing a consistent improvement in 2014. The same has been reflected in the company's revenue growth reported over the first two quarters of 2014. Amazon reported a 23% YoY growth in Q1 2014, which inched up to 23.2%YoY growth in the just concluded Q2.
Amazon's Q2 was the first quarter which included the effects of eBook accounting change in the base period (Q2 2013) and hence the Q2 relationship between ChannelAdvisor data and Amazon actual growth is an indicator of the long term relationship between the datasets. Given below is the Q2 2014 relationship between ChannelAdvisor same store sales (CA SSS) data and Amazon actual revenue growth numbers.
| | |
| --- | --- |
| | ChannelAdvisor sss (Y/Y growth) |
| Apr-14 | 27.00 % |
| May-14 | 28.10 % |
| Jun-14 | 34.40 % |
| Q2 2014 CA SSS projected growth | 29.83 % |
| Actual growth reported for Q2 2014 | 23.20 % |
| Ratio of CA sss/actual growth | 1.29 |
The Q2 2014 relationship has moved higher in favor of CA SSS data, which is in-line with the historical values (closer to 1.5), which had temporarily dipped due to eBook changes impacting Amazon revenue growth rates over the last 4 quarters. Based on this relationship and the latest ChannelAdvisor data for July, we take a look at what Amazon will have to do over the next two months to beat its guided revenue.
Q3 guidance
Amazon has guided to Q3 revenues in the range of $19.7 to $21.5 billion, representing a YoY revenue growth range of 15% to 26% in Q3. At its midpoint, Amazon Q3 guidance represents a YoY growth of 20.5%, which is lower than the growth reported in the first two quarters of 2014.
CA SSS growth required to beat Q3 guidance
We now use the historical relationship between CA SSS and Amazon actual numbers to understand what Amazon will have to do in August and September 2014 in order to beat its guided range of revenues.
| | |
| --- | --- |
| | ChannelAdvisor sss (Y/Y growth) |
| Jul-14 | 40.40% |
| Guidance (Y/Y growth) | 20.53% |
| Q2 2014 implied growth in CA SSS (at 1.3 in favor of CA SSS) | 26.70% |
| Required growth in CA SSS in August and September 2014 | 19.83% |
Using the Q2 relationship of 1.3 between CA SSS and Amazon actual revenue growth, Amazon requires a 19.83% YoY growth in same store sales over the two months of August and September in order to beat its Q3 guidance. This is lower than the same store sales growth reported by Amazon since February 2014. Also considering the current trend in the SSS growth (as seen in chart above), It is highly likely that Amazon will see a SSS growth rate far higher than what is required to beat its guided revenue range. By extension, Amazon could well be on the way to deliver a solid revenue beat in Q3.
Will a revenue beat be enough?
While it is clear that Amazon could deliver yet another revenue beat in Q3, a lack of profitability and earnings growth seems to have bothered Amazon investors as reflected by the Amazon stock price action following the last two quarterly earnings releases. In spite of a revenue beat in Q2 2014, Amazon stock price has fallen by 6.8% since the release of its Q2 2014 earnings report. This was mainly fuelled by the 9 cent miss on earnings and the higher than anticipated loss forecast for Q3. Investors are beginning to ask for earnings and sooner or later Amazon will be unable to impress the market solely with topline growth.
In conclusion, Amazon will, in all probability, beat its revenue guidance in Q2 and probably trump the current consensus estimates of $20.8 billion Q3 revenues. However, investors are beginning to take note of the company's stagnant bottom line, which has remained in the red for far too long. Amazon's topline focused strategy could end in trouble, given Amazon's high price earnings ratio and the current trends in the company's efficiency metrics. In view of the falling efficiency levels, Amazon's topline focused model represents a huge risk for investors.
Disclosure: The author has no positions in any stocks mentioned, and no plans to initiate any positions within the next 72 hours.
The author wrote this article themselves, and it expresses their own opinions. The author is not receiving compensation for it. The author has no business relationship with any company whose stock is mentioned in this article.