My earlier article on Hain Celestial (NASDAQ:HAIN) discussed the structural foundations, possible weaknesses, and core strengths of HAIN's business model. HAIN's latest numbers drove an ~11% share price increase on solid fundamentals.
Great Sales Results From Unexpected Places
HAIN reported a 26% year-over-year increase in revenue with a commensurate 27% increase in EBITDA. Most notably, these gains arrived primarily from across the pond - UK sales rose 60% to a record $200.5 million in the 4th quarter. This is great news, and it further cements HAIN's reputation in the US/UK markets (90% of its revenue).
Solid Record On Productivity & Organic Growth
HAIN's release also confirms that management is aware of the company's weaknesses and has a firm grasp on their plans.
First, operating margins improved notably:
On an adjusted basis operating income was 12.7% of sales this year increasing 200 basis points from 10.7% of sales in last year's fourth quarter. Operating income on a GAAP basis was 10.3% of net sales which compares to 8.6% last year.
Second, management actively works to support organic growth in operations and keeps a close eye on this vulnerability (slow organic growth would signify HAIN had lost its way with acquisitions):
Importantly, we had strong Q4 organic growth of 7.5%. This was achieved despite funding a $3 million shift to account-specific, point-of-sale programs. These programs, as we discussed last call, are classified as a reduction of sales. The impact of this shift reduced our net organic sales increase by a 100 bps from what would have been 8.5% to a still strong 7.5% organic sales increase.
Investors Should Keep A Close Eye On Goodwill & Intangibles
Yaron Ron Reuven made an excellent comment on my earlier article, questioning HAIN accumulation of goodwill and intangibles from (potentially) overzealous acqusitions.
Before going to the balance sheet, it's worth keeping an eye on definitions: An acquisition has public value (what it's worth to everyone else) and private value (what it is worth to management), and the difference creates goodwill.
It is not inherently troubling that an acquirer places a higher private value on a competitor than the market's original public value of that competitor. In fact, given HAIN's success record on delivering rapidly growing sales and strong margins around consistently good acquisitions, it is not surprising that HAIN would accumulate some goodwill.
However, if management's proposed synergies fail to appear or if management fails to deliver organic growth down the line, routine over payments (accumulating goodwill/intangibles) can become dangerous.
Looking then at HAIN's latest balance sheet, we see a continuation of a worrisome trend, beginning in 2010:
| | | | |
| --- | --- | --- | --- |
| | 30th June 2014 | 31st March 2014 | 30th June 2013 |
| Goodwill | $1134 million | $1097 million | $876 million |
| Intangibles | $651 million | $609 million | $498 million |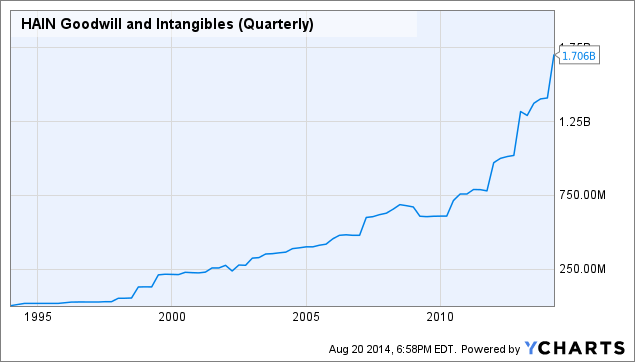 HAIN Goodwill and Intangibles (Quarterly) data by YCharts
That said, there is no immediate cause for alarm. As long as management integrates acquisitions, creates long-term organic growth, keeps a lid on expenses, maintains solid margins, and purchases similar brands ("organic" products), there is no reason to think this expansion of goodwill represents anything sinister.
Ultimately, management's routine overpayments are an area for improvement (clearly they need some help at the negotiating table), but HAIN's otherwise healthy business model gives them a lot of room to move.
Disclosure: The author has no positions in any stocks mentioned, and no plans to initiate any positions within the next 72 hours.
The author wrote this article themselves, and it expresses their own opinions. The author is not receiving compensation for it (other than from Seeking Alpha). The author has no business relationship with any company whose stock is mentioned in this article.