Darden Restaurants (NYSE:DRI) has been an underperformer over the past three years. Shares have traded in a sideways pattern since 2011 and been stuck between $40 and $50. The only saving grace for shareholders during that time has been its dividend yield. Its current dividend yield of 4.63% is one of the highest in the restaurant industry.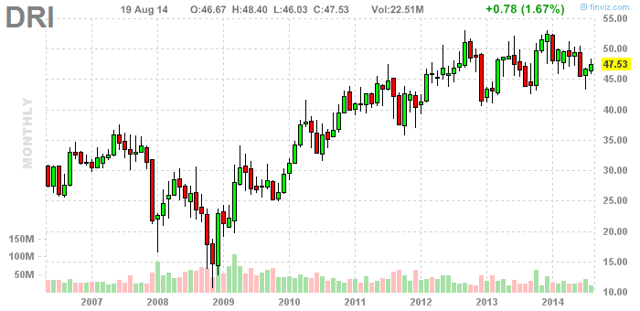 Click to enlarge
This underperformance has caught the attention of activist investors Starboard Value and Barrington Capital. Most of their ire has been directed at the board of directors and in how Chairman & CEO Clarence Otis has run the company. Most of their recent anger is because the sale of Red Lobster went through without a shareholder vote. Starboard Value now owns 8.8% of Darden Restaurants and has been building their position since 2013. Since that time they have publicly vented their frustration with Darden's share price and how the company has been run.
However, change is brewing at Darden Restaurants. For one, CEO Clarence Otis is stepping down as CEO by December 31. Otis started working at Darden in 1995 and has been CEO since 2004 and Chairman since 2005. He is the one that built Darden into what it is today and his missteps are the reason for Darden's underperformance. He was building Darden's collection of casual dining brands while consumer preferences changed towards fast casual concepts like Chipotle Mexican Grill (NYSE:CMG). He also failed to turn around the struggling Olive Garden and Red Lobster chains. The sale of Red Lobster for $2.1 billion is seen by Starboard Value as a transaction that "woefully undervalues Red Lobster and its real estate assets." Darden has hired executive search firm Russell Reynolds Associates to find his replacement.
And second, the real battle for the future of Darden is going to happen at the annual meeting on September 30. Darden's board has 12 members and they've agreed to let Starboard nominate three board members. However, that is not enough for Starboard Value. They want to replace the entire board at the annual meeting with its own slate of directors. Right now it's a war of words between the board and Starboard Value. The board has even gone so far to tell shareholders that the $2.20 dividend could be threatened if Starboard Value is successful.
I think the board knows that Starboard Value has a good chance of winning and is resorting to scare tactics. Three nominees is a concession, but it's not enough to affect change and that's what needs to happen at Darden. I think we're going to see changes on September 30 and here's why.
For one, current shareholders are not happy. Darden has significantly underperformed the market and its peers. According to Starboard Value, over the past five years, Darden has underperformed the S&P 500 by 66%, the Russell 3000 by 108%, and its closest direct peers by 296%. Matter of fact, in the two months following the announcement of the Red Lobster sale, shares dropped over 11%. Shares have started to tick up recently from their 52 week low of $42.79. I think this comes as value investors like myself have picked up shares anticipating change in September.
And two, I like the plan Starboard Value has proposed. They want to break up the company into three parts - real estate, Olive Garden, and the Specialty Restaurant Group. This plan makes a lot of sense. The Specialty Restaurant Group is being overshadowed by the struggles at Olive Garden. Matter of fact, within the Specialty Restaurant Group is Yard House, which the Nation's Restaurant News ranked as the second-fastest growing chain in the country. The Yard House was even ranked two spots ahead of Chipotle Mexican Grill, which came in at number four. A break up would paint a clearer picture for investors. Investors could then bet directly on a fast-growing chain like Yard House or directly on Olive Garden's turnaround.
Bottom line
While Starboard Value might not get the entire board replaced, I think it will win more than three seats. Noted retail analyst, Hedgeye's Howard Penney, sees Starboard possibly winning seven seats on the board. If this were to occur, Starboard Value would then have majority control of the board and we would then see the changes that I am looking for. Corporate governance expert Charles Elson told Reuters that "it looks pretty good at this point for the dissidents."
One thing is for sure and that's Clarence Otis is gone. He has been at the root of the problem for the past several years. We'll have a new CEO by the end of this year and that CEO can put their own imprint on the company. Hopefully, for us shareholders, it'll be for the better. Either way, change is going to happen at Darden Restaurants. I'm hoping it comes from Starboard Value because they have shown a history of being long-term investors. As Starboard Value's Jeffrey Smith said in his letter:
"We believe Darden is a valuable company worth improving and represents one of the most compelling investment opportunities currently available."
A win by Starboard Value at the annual meeting is a win for all shareholders. My vote is for Starboard Value and its 12 nominees.
Disclosure: The author is long DRI.
The author wrote this article themselves, and it expresses their own opinions. The author is not receiving compensation for it (other than from Seeking Alpha). The author has no business relationship with any company whose stock is mentioned in this article.