My husband often says, "There is only one difference between bravery and stupidity. Success." I do not know whether the decision to buy Horizon North Logistics (OTC:HZNOF) was brave or stupid...yet. Only time will tell. However, I have good company in my decision. Out of the nine analysts that cover HNL, seven rate it a Buy, one rates it a Strong Buy and one rates it an underperform. 12-month Target prices range from the analysts range from a low of $6.50 and a high of $9.50 and a mean of $8.28 - a gain of 50%!
Company insiders have been buying. Since July 31st the CEO, CFO, officers and directors have been buying in the public market (175,000 shares) at prices ranging from $6.17 to $5.64.
This is not a typical dividend-growth company, so let me explain my interest in this company. About 80% of my portfolio contains some of the usual suspects of a dividend-growth portfolio, with an emphasis on Canadian companies, since I am Canadian. Another 10% are more growth oriented companies with smaller dividends (like Visa (NYSE:V), and Canadian National Rail (NYSE:CNI) and Alimentation Couche-Tard (OTCPK:ANCUF), where I expect the dividend to become more of a priority as time goes on. For someone with 20 years to retirement, I am not only looking at income now, but income for the future. Hopefully, these more growthy names will give the portfolio a little kick, and so far they have. These are monitored more closely and though I hope to partner with them for many years to come, they are certainly not in the same class as Johnson & Johnson (NYSE:JNJ), McDonald's (NYSE:MCD) and Procter & Gamble (NYSE:PG).
Another segment of my portfolio contains value plays or traders. WisdomTree (NASDAQ:WETF), Goldcorp (NYSE:GG), Vale (NYSE:VALE), are current holdings in this category. WETF has no dividend, GG has a small dividend and Vale is a high-yielder. This category is where Horizon North Logistics comes in.
Chatter about Horizon North has fallen off in this calendar year. A poor earnings report decimated the share price, creating the attractive yield over the past month. Reading the earnings report business has been dismal over the past quarter, however there are also signs of improvement to come over the next quarters.
But what does Horizon North Logistics do?
Horizon North Logistics is in the hotel business, but does not compete with your typical Holiday Inn. It has a solid reputation as a quality camp provider for the resource industry in Western and Northern Canada. Employees seem happy with their jobs and several have recommended I join them. (No, thank you, but if I ever want a job out-of-town, or if I was a university student, or if I was a single, semi-retired person, I might actually consider it.) Horizon North does more than just camps. They currently operate in three separate segments; Camps and Catering, Manufacturing (of modular and temporary buildings) and Matting. Matting is making temporary roads over swampy land for equipment access. This picture from their website shows a road built with matting.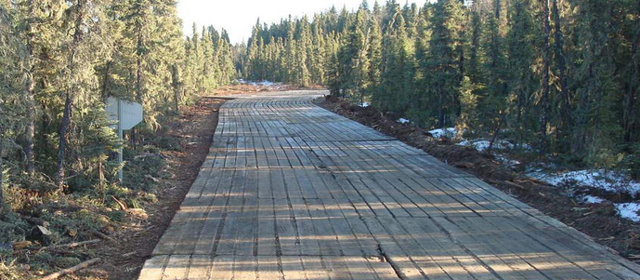 The manufacturing segment is the one that had the most trouble this quarter.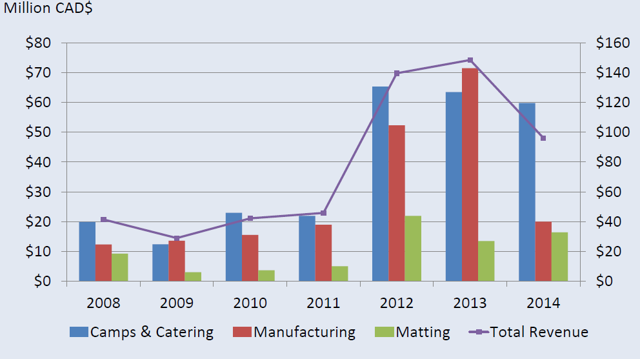 What interested me about the stock?
Technical analysis is what has me interested and investing in this company. The fall from the $10 range was not enough to make me take on the risk of this company, but the fall from the $8 range to $5.50 is. The three-year chart shows clear support at around $5.50 and I have been waiting for signs of a bottoming. The strong bolting action this morning made me take a leap and buy in. Often I will wait for a second bounce to confirm a bottom, but I am not convinced there will be that opportunity. There are others like me waiting for an entry.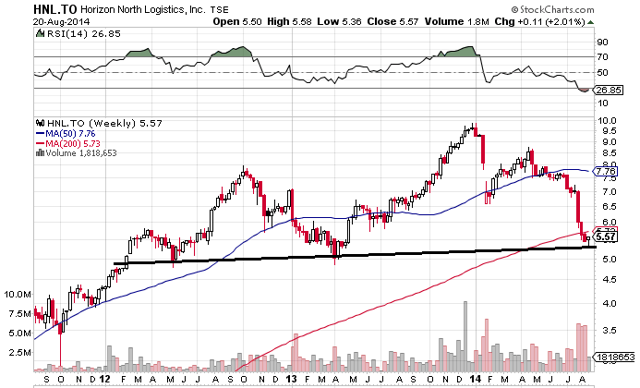 The Dividend
Horizon North Logistics pays a 5.8% dividend quarterly. The next ex-dividend date is September 30th and the dividend of 8c. has been confirmed by the company. This is an historically high yield for the company, which initiated its dividend in June 2011. Since then, there have been annual raises. Based on earnings, I would expect a very small raise, if any, next year. This yield may provide further support and new investors can enjoy the 'paid to wait' for better times for the company. If I wanted to hold this company long term I would be keeping a close eye on the dividend.
What is my plan for this holding?
It is always best to have a plan for any holding you buy. Why did you buy it? What do you expect/need from it? When do you plan to sell it?
Horizon North is not going to be a long term hold for me. I am not that confident in the company, the stock, resource prices, or the oil sands.
The FAST Graph is very encouraging and shows dividend growth, and significant undervaluation. This gives me more confidence that the trade will be successful, as long-term investors become aware of the yield, share price growth opportunity, and follow the insiders' lead.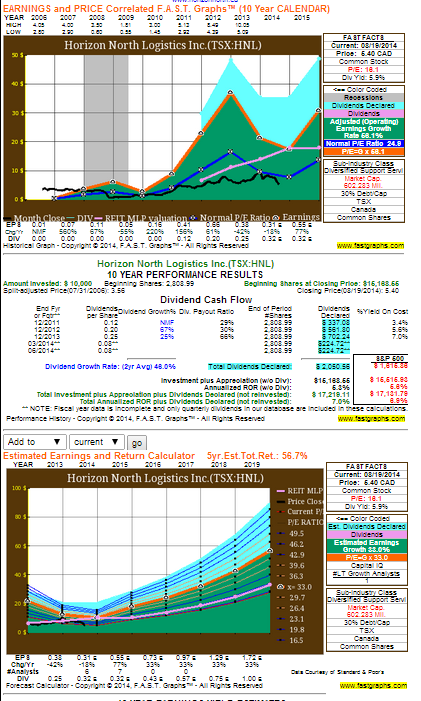 For me, this is a trade and my trading rules need to come into play. I will risk only 0.25% of my portfolio on this trade, so if it falls by that dollar amount, I will sell with no regrets and wander off to other opportunities. I do think the strong technical support here will hold, and if not, I will be out quickly before the loss is even noticeable in the portfolio. My minimum goal is 15%. Actually, I will be a little disappointed if I only receive that. I expect to hold it at least until the next dividend payment at the end of September, but will evaluate on a day-by-day basis. Possibilities are quite good that it will return to the $7.50 range and I would be happy to walk away with 30-40%, even if the share price continues up 50% to the previous highs.
No, the swing-trader is not back. She is just taking advantage of the occasional opportunity where the risk-reward seems to be attractive. Mr. Market has been pretty stingy handing out attractive opportunities this year in the dividend-growth arena, until recently when I have made a series of purchases. This is just a small side excursion while I await better long-term opportunities.
Disclosure: The author is long CNI, V, GG, VALE, WETF.
The author wrote this article themselves, and it expresses their own opinions. The author is not receiving compensation for it (other than from Seeking Alpha). The author has no business relationship with any company whose stock is mentioned in this article.
Editor's Note: This article discusses one or more securities that do not trade on a major U.S. exchange. Please be aware of the risks associated with these stocks.