Not too many years ago, Yahoo!'s (NASDAQ:YHOO) future looked highly uncertain. Today, the company is on the road to establishing itself more fully, having put a great deal of effort into mastering a variety of methods for creating value for and make itself more attractive to shareholders.
Early Strides into China
Yahoo!'s management had to take a conceptual "leap of faith" to fully capitalize upon its collaboration with Alibaba. Since 1999, Yahoo!'s strategy in China has shown patience and commitment. That year, Yahoo! China launched to a muted response. Though Yahoo! China faced stiff competition from Chinese tech companies, the site grew to service over five million users every month. Overall, Yahoo! China was a steady source of income during the first years of the century. By 2005, however, Yahoo! management frankly realized that it wasn't doing a good enough job of adjusting to local realities in China. Yahoo! China hadn't established the dominant market position that the company craved.
In 2005, Yahoo! representatives met with Alibaba's Jack Ma for the first time. Immediately, both parties recognized tremendous potential for cooperative collaboration. By purchasing 40% of Alibaba, yet letting Ma and his team retain managerial control, Yahoo! proved it had humility to go along with its resourcefulness.
By offering auctions and competing directly with eBay, Alibaba exemplified courageous intelligence early on. Over time, Alibaba was able to grow and diversify in ways that have impressed and defied expectations.
Yahoo! Poised To Earn Back Its Investment Many Times Over
Insiders have revealed that Yahoo! spent over two months crafting the partnership agreement with Alibaba. Ultimately, Yahoo! invested over $4 billion in Alibaba. As Alibaba's IPO approaches, Yahoo! is poised to earn back its investment many times over.
In engaging with China, Yahoo! demonstrated the ability to turn developmental problems into learning opportunities, loosening control over its Chinese operations.
Could Yahoo! Be Acquired By Alibaba?
Murmurings of Yahoo! being acquired by Alibaba have recently surfaced. Forbes suggests, in this case, that Alibaba could flip Yahoo!'s core business to another company, with the US government's blessing. This takeover and splitting apart of what CEO Marissa Mayer has built over her short tenure does not seem wholly unreasonable, and investors could even cheer the news; however, the scenario likely still hinges on the outcome of Alibaba's impending IPO.
For Yahoo! Shareholders:
Yahoo! shareholders should expect a boost, regardless of the company's future outcome, at the time of (and leading up to) Alibaba's IPO.
Already, the run-up is evident.
(Nasdaq.com)
Compared with rivals eBay (NASDAQ:EBAY) and Google [(NASDAQ:GOOG) (NASDAQ:GOOGL)], Yahoo! stock is very competitive YTD.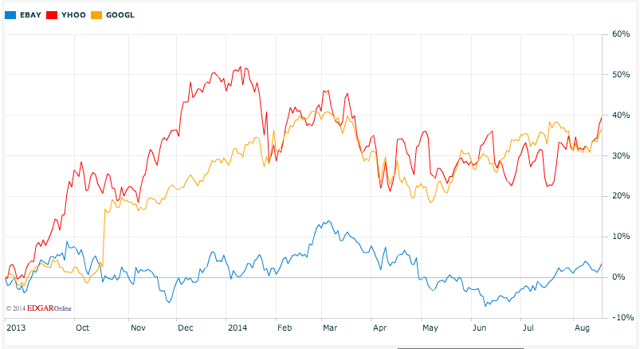 Click to enlarge
(Nasdaq.com)
While Q2 earnings were not satisfactory to the company (GAAP revenues down 4%, GAAP net earnings per diluted share down 15%, from the same quarter in 2013), the enormous influx of cash from the impending Alibaba IPO could allow Yahoo! the power and flexibility to truly invest in areas of business, such as mobile advertising - drawing top talent, with competitive salaries, from other tech rivals.
CEO Marissa Mayer could continue an already impressive series of acquisitions to boost the company's depth and diversity of talent.
We do not suggest investors sell off their YHOO shares until seeing what steps Yahoo! or Alibaba take with their newfound riches.
We invite readers wishing to join the discussion on the ongoing Yahoo! and Alibaba partnership to click +Get real time alerts above the title of this article.
Disclosure: The author is long YHOO.
The author wrote this article themselves, and it expresses their own opinions. The author is not receiving compensation for it (other than from Seeking Alpha). The author has no business relationship with any company whose stock is mentioned in this article.