For a company whose market capitalization is under $1 billion, Molycorp, Inc. (MCP) sure has a lot of rabid interest. Longs think the company offers an opportunity to get in on the ground floor of a rebound in rare earth prices. Shorts think the company is headed for bankruptcy. My previous short thesis projected the company running out of cash by Q1 2015. Below were my original cash burn projections: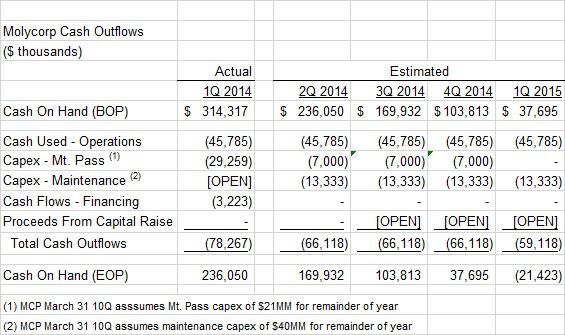 Q1 2014 is traditionally Molycorp's lowest quarter due to seasonality, so taking cash out flow from operations of $46 million and projecting that out was not very popular with longs. Based on the high level analysis, I projected the company could run out of cash by Q1 2015. A commenter on my previous article implied that by projecting off of a trough quarter, I was purposely making the cash burn look worse than it actually was:
Shock Exchange is intentionally misinforming the public for a purpose. He [is] simply, mindlessly, projecting an operating loss as if it were fact, taking one trough quarter and intentionally projecting them to run out of cash in Q1 2015.
After Molycorp announced its $400 million financing package with Oaktree Capital, the short thesis went POOF! and Molycorp's cash burn issues became an afterthought. The shares rallied after news of the financing overshadowed the Q2 earnings report. However, the stock has fallen below $2.00 per share as Wall Street turned sour on Molycorp. Below is the one month stock chart for Molycorp:
The stock rallied above $2.30 per share after earnings were announced in early August. Yesterday it closed below $2.00 per share as negative sentiment from Wall Street and a shelf registration to sell up to 23.8 million shares by major shareholders began to sink in.
Q2 Cash Burn Worse Than Projected
Hidden among the initial euphoria was [i] the $400 million Oaktree financing at 12%, which further weakens Molycorp's capital structure and creates additional interest burden, [ii] Q2 cash burn, excluding a $13 million legal settlement with M&K Chemical Engineering, was about $93 million and [iii] sans the Oaktree financing, the likelihood of a Molycorp bankruptcy by Q1 2015 had gotten more realistic. Below are my revised cash burn projections: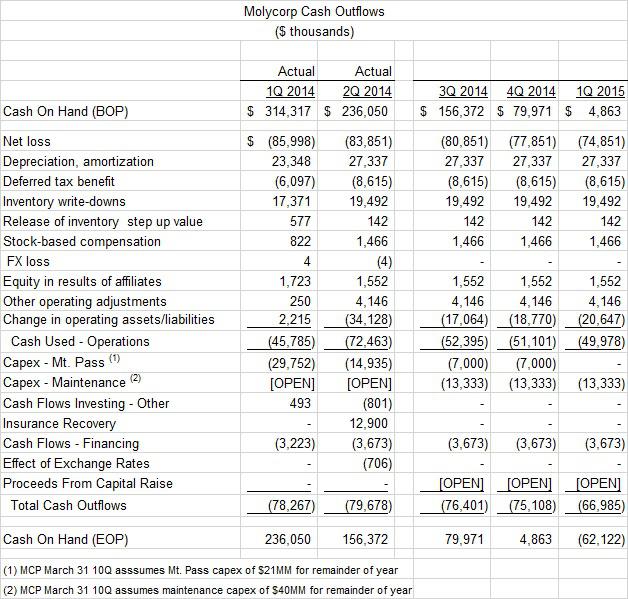 Molycorp's Q2 cash burn was actually $80 million, exceeding my original estimate of $66 million.
Excluding the legal settlement which netted the company $13 million, cash burn would have been an abysmal $93 million. Cash at the end of the quarter was $156 million.
The biggest difference between the previous estimate and actual cash burn for Q2 was in cash used in operations. The previous estimate was about $46 million, actual results were $72 million.
Built into the cash used in operations estimate was a positive change in operating assets/liabilities of $2.2 million. The actual change was an out flow of $34 million.
As Molycorp looks to grow, it will have to invest in working capital such as inventory and accounts receivable.
In the above estimates, I assumed that [i] cash out flow from operating assets/liabilities for Q3 2014 was half that of Q2 2014 and would grow 10% each quarter thereafter.
I also assumed net losses would decline by $3 million per quarter. The other line items were kept constant, except for a few tweaks to capital expenditures.
Based on these high level assumptions, cash declines to about $5 million at the end of the year and the company runs out of cash in Q1 2015.
The takeaway is that a combination of the Oaktree financing, declining rare earth prices and Molycorp's ramp up in volume has the potential to create the perfect storm. The company is generating operating losses, increasing cash burn, while layering on additional interest expense. Without the Oaktree deal, there is a high probability that the company would have run out of cash in Q1 2015, if not sooner. The market is implying that with the financing, Molycorp may have simply delayed the inevitable.
Conclusion
The euphoria over the Oaktree financing overshadowed Molycorp's Q2 earnings. The company reported a net loss of $84 million and cash burn of $80 million. That said, its Q2 performance made previous cash burn estimates appear more prescient than once thought. Given operating losses and cash burn unabated, I would advise investors to avoid the stock.
Disclosure: The author is short MCP.
The author wrote this article themselves, and it expresses their own opinions. The author is not receiving compensation for it (other than from Seeking Alpha). The author has no business relationship with any company whose stock is mentioned in this article.