Last week, we maintained our recommendation on NYSE Euronext Inc. (NYSE:NYX) at Neutral, based on its disciplined expense management and improved cash flows, partially offset by weak top line growth.
NYSE's third quarter earnings of 46 cents were three pennies ahead of the Zacks Consensus Estimate, benefiting from various cost reduction programs. These programs helped reduce the fixed expenses by 6% year over year.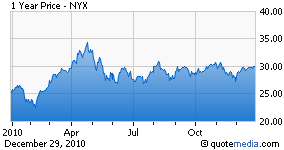 However, the top line was marred by weak transaction and clearing volumes, particularly in the European cash and derivatives trading. This also affected the decline in earnings from 53 cents per share in the year-ago quarter and 64 cents per share in the prior quarter.
NYSE continues to suffer from sluggish top line growth due to weak seasonal factors that directly affect the volumes, derivatives and cash trading markets. Moreover, economic and market conditions, volatility of interest rates, inflation and changes in price levels of securities have also played a significant role in weakening the average net rate per contract.
Besides, the current initiatives taken up by regulators and governments, such as restrictions on high frequency trading and taxes on securities transactions are liable to cast a materially adverse effect on overall trading volumes.
NYSE's top-line growth has also been marred by declines in market data and cash trading revenues that plummeted on lower listing fees, foreign currency fluctuations, decreasing trading activity and market competition from a strong peer, which includes Nasdaq OMX Group Inc. (NASDAQ:NDAQ) and CME Group Inc. (NASDAQ:CME).
However, at the end of third quarter, NYSE also reduced it headcount to 3,030, down 10% and 11% from December 31, 2009 and September 30, 2009, respectively, while also reducing its fixed costs. Cash flow from operations was $356 million at the end of the September 2010, up from $110 million at the end of September 2009.
With a modest cash flow from its diverse business model, NYSE recently reduced its debt, thereby increasing leverage and mitigating financial risk. Despite the various ongoing developmental initiatives taken up by the company, total debt declined $0.2 billion from the end of 2009 to $2.5 billion at the end of third quarter of 2010. Going ahead, the debt reduction strategy will empower the company to capture long term growth opportunities.
Nevertheless, disciplined fixed expense control, improved cash flows and de-leveraging of the balance sheet through debt reduction is expected to give a big boost to the company's long-term growth strategies of developing clearinghouses in London and Paris by the end of 2012, the launch of new data centers, the NYPC platform and futures interest rate contracts, among others.
Although NYSE's long-term growth initiatives carry an initial cost and regulation burden, they are expected to drive valuable upside to the stock, while also mitigating competition, pricing, volume, currency and operating risks for the company in the long run.
Hence, we reaffirm a Neutral recommendation on the stock with a Zacks #3 Rank and target price of $31.00, based on a P/E of 14.8x our earnings estimate for 2010. With an annual dividend of $1.20, this price target implies a total return of about 5.9% over that period.
This is consistent with our long-term Neutral recommendation on the shares. We believe NYSE's operations will gain momentum once the global economy stabilizes and rebounds to its historical highs.