Introduction
In our previous complete Q3FY13 cost analysis, we went over a number of the industry's all-in costs to mine an ounce of gold in 2013 and discussed one of the most important metrics to analyze the gold industry, the actual cost of mining an ounce of gold, which can help an investor figure out whether it is time to buy GLD and/or the gold miners. In that analysis, we used the 2013 financials to calculate the combined results of publicly traded gold companies and come up with a true all-in industry average cost of production to mine each ounce of gold.
In this analysis we will calculate the true all-in costs of Iamgold (NYSE:IAG), a mid-tier producer with six operating mines (including current joint ventures) in North America, South America, and Africa. Additionally, the company has one of the world's top three Niobum mines, and the company has a world market share of approximately 8% in ferro-niobium which contributes a little less than 20% of the company's revenues.
How to Use Our All-in Costs Analysis with Your Investments
In the previously mentioned article, we gave a thorough overview of the current way that mining companies report their costs of production and why it is inaccurate and significantly underestimates total costs. Then we presented a more accurate methodology for investors to use to calculate the true costs of mining gold or silver. Please refer to that article for the details explaining this methodology, which is an important concept for all precious metals investors to understand.
The best way to use this analysis for individual companies is to compare the different production cost metrics with the company's profits to look for any anomalies (e.g. large net profits but high costs). Also, we provide historic data to allow investors to check out any trends in regards to costs or production totals that may be an early warning to future successes or failures for the company. Ultimately, this analysis is best used as a first step to further investigative work, and that is our purpose with releasing this series.
Explanation of Our Metrics
For a detailed explanation of the metrics and each metric's strengths and weaknesses please check out our previous full quarterly all-in costs gold report where we discuss them in detail. But the main two costs we use in detail are the following:
Costs Per Gold-Equivalent Ounce Excluding Write-downs (Core Costs) - These are all costs except for derivatives, foreign exchange, write-downs on properties and investments, and asset sales. Everything else is included and we think this measure is one of the best ways to estimate the true costs to produce each ounce of gold, since it has everything (including taxes) except for write-downs.
Costs per Gold-Equivalent Ounce Excluding Write-downs & Taxes (Core Non-tax Costs) -This measure includes all Core Costs for gold production except it REMOVES taxes. Essentially this is the bottom dollar costs of production with an artificial 0% tax rate (obviously unsustainable) which works well because it removes any estimates of taxation due to write-downs or seasonal fluctuations in tax rates, which can be significant. The negative to this particular measure is that since it does not include taxes, it will underestimate the true costs of production.
True Costs of Production for Iamgold
Let us use this methodology to take a look at the company's results and come up with the true cost figures for each ounce of production. When applying our methodology, we standardized the equivalent ounce conversion to use the average price for Q2FY14 which results in a Niobium-to-gold ratio of 31.5:1 (assuming a Niobium price of around $41 per kg).
Since our conversions change with metal prices, this may influence the total equivalent ounces produced for past quarters - which will make current-to-past quarter comparisons much more relevant.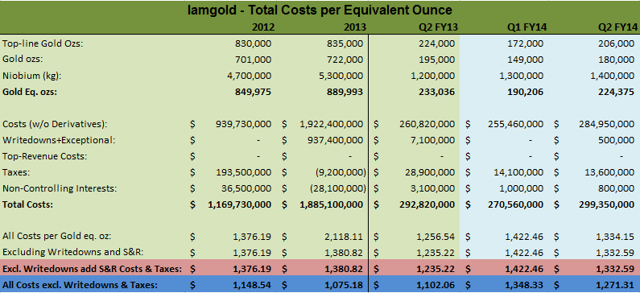 Click to enlarge
Notes about All-in Costs Table
As we've mentioned in our previous articles, IAG changed the way it does it accounting as of Q1FY13 to account for the Sadiola and Yatela mines as joint ventures instead of joint operations. In layman's terms, the company is treating these mines as an equity investment and thus is including only its share of net earnings on its income statement and not including their costs as expenses on the company's income statement - thus we have to remove their attributable production from the Iamgold total.
Observations for Investors
As investors can see, Iamgold has been working hard to reduce core costs (costs including taxes) and reduced these costs from Q1FY14 from $1422 to $1333 - an impressive reduction based primarily on increasing production (Essakene increased production by 35% (or 25,000 ounces) from the first quarter). Additionally, Westwood production increased sequentially from 1,000 ounces in Q1FY14 to 9,000 ounces in Q2FY14, which also contributed to the increase in production (and decrease in core costs per gold-equivalent ounce). The improvement should be noted positively by investors but core costs still remain over $1300 per gold-equivalent ounce so investors need to see this trend continue.
As for core non-tax costs (costs excluding taxes) they also fell on a sequential basis from $1348 to $1271 per gold-equivalent ounce, though by this metric the company hasn't been improving over their FY2012 and FY2013 numbers - which tells us that taxes are biting into company profits at a higher ratio than in the past. But taxes are a notoriously volatile number on a quarter-to-quarter basis so we want to see if they lower in the second half of the year or if the current tax rate is what investors can expect for the foreseeable future for the company.
Here is how Iamgold compares with the other companies we've published analysis for:
As investors can see, Iamgold needs to improve its core non-tax production numbers to compare favorably to other gold mining competitors as they rank towards the bottom of the list at $1271 per gold-equivalent ounce.
Conclusion for Investors
Iamgold has been a bit of a roller-coaster ride for investors and we've been seeing positive signs in FY2014 as the company has sequentially cut costs on both a core and core non-tax basis primarily due to rising production numbers.
But there is plenty of work for the company still to do to get core costs below the current gold price (they remain over $1300 per ounce) and in our opinion that hope lies on increased production from Westwood. That may be very possible as CEO Steve Letwin mentioned in the company's second quarter earnings report:
At Westwood, the success of our operation and development teams in advancing underground productivity allowed us to achieve commercial production on July 1st. Westwood remains on track to produce between 100,000 and 120,000 ounces in 2014, including the contribution from Mouska. Together with the anticipated improvement in grades at both Essakane and Rosebel, we expect a strong ramp-up in production in the second half.
If Westwood produces 100,000 to 120,000 ounces of gold in the second half of the year that would be an average of 45,000 to 55,000 ounces more per quarter than the first half (by our calculations the company produced 10,000 ounces in the first half of the year from Westwood). As long as Westwood production costs aren't high (and we will get to see more on that as production is ramped) then we think the company could surprise investors in terms of its profitability in the second half of the year.
We like to pair the positive and the negative though and one of our larger concerns with Iamgold is the debt levels, (which we do not have an opportunity to discuss now) which investors should monitor this situation carefully as that can eat into profitability no matter how much core costs improve. There should not be a problem over the next two years meeting debt payments as the company has more than $200 million in easy liquidity, but it needs to be noted.
There's plenty of work to do here for management but we do see some optimism that costs can be dropped significantly in the second half of the year and that may surprise some Iamgold pessimists.
Soon we'll complete and publish (on Seeking Alpha) our complete FY2013 and first half 2014 all-in costs for the industry, so if you are interested in receiving it and keeping up-to-date on consider following me (clicking the "Follow" button next to my name).
Disclosure: The author is long EGO, GOLD, AGI.
The author wrote this article themselves, and it expresses their own opinions. The author is not receiving compensation for it (other than from Seeking Alpha). The author has no business relationship with any company whose stock is mentioned in this article.
Additional disclosure: The reason why we do not invest in IAG is because we have a management requirement not to invest in high-debt companies and thus even if there is an opportunity we cannot make the investment.