With U.K. Housing prices poised for a rebound, increasing 1.4% in July and 3.6% for the quarter, subprime lending may not be as big of a risk as it was just a few years ago.
The increased confidence in U.K. housing has prompted Blackstone Group (NYSE:BX) and TPG Capital Management to make a bid for Investec's (OTC:IVTJY) London based mortgage business.
Kensington's Appeal
Investec purchased the troubled subprime mortgage lender, Kensington Group, in May 2007 for £283 million. At the time the deal was completed it was anticipated that Investec's access to cheaper funding combined with Kensington's expertise in the subprime mortgage market would result in a powerful combination. Unfortunately, the timing of the deal could not have been worse with the financial crisis embroiling the markets months later.
Deal Details
Investec placed Kensington up for sale in February of this year looking to get between £200-£250 million. The division holds approximately £1 billion of assets on its balance sheet and services an additional £2 billion in securitizations. The deal has not been finalized and, if it is, will most likely be announced later this week.
Sky News, a television and multimedia news agency first broke the news early Monday and stated that Kensington would be taken over by Blackstone's Tactical Opportunities division and TPG Capital's special situations and credit platform and also plan to make a significant cash infusion to further grow the company.
The deal is being managed by Fenchurch Advisory with Lonestar, Virgin Money and Goldman Sachs having also shown interest in the business.
Deal a Positive for Blackstone
Blackstone's stock price remains virtually unchanged from the beginning of the year. Although its 4.2% forward annual dividend rate makes it attractive to some investors, its 12.6 P/E compared to an industry peer average of 18.1 means there is more room for stock price appreciation.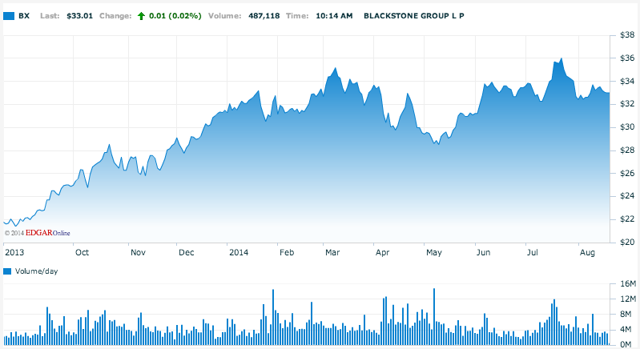 Click to enlarge
(Nasdaq.com)
The Kensington deal will allow Blackstone to leverage the improving U.K. Housing market. In addition, Blackstone recently announced a purchase of Royal Dutch Shell's (NYSE:RDS.A) 50% stake in the Haynesville Shale for $1.2 billion, which is anticipated to close by the end of the year.
Blackstone's portfolio continues to be dominated by real estate, energy and collateralized loan obligations (CLOs). With the need for private equity firms to focus on operational improvements, as opposed to multiple expansion or incremental leverage, focusing on only a few industries or asset classes will allow it to quickly identify senior leaders in those markets and drive increased performance within tight investment windows allowing it to realize investment gains.
As these gains are returned to limited partners Blackstone's skill at raising additional capital will allow it to continue to prosper.
Optimistic Conclusion for BX Shareholders
Overall Analyst opinion remains optimistic, with 14 out of 16 Analysts rating the stock a buy or strong buy and a price target of over $40 per share.
Having beat analyst estimates for earnings and revenues for the past two quarters, BX again reported better-than-expected numbers for Q2 2014, highlighting total assets under management of $278.9 billion and more than doubled distributable to $770.8 million.
We suggest investors remain optimistic, as we are, on BX, moving forward in 2014.
We invite readers wishing to join the discussion on Blackstone to click +Get real time alerts above the title of this article.
Disclosure: The author has no positions in any stocks mentioned, and no plans to initiate any positions within the next 72 hours.
The author wrote this article themselves, and it expresses their own opinions. The author is not receiving compensation for it (other than from Seeking Alpha). The author has no business relationship with any company whose stock is mentioned in this article.