Abbott (NYSE:ABT) just announced that it has joined forces with the United States Department of Defense for developing portable blood tests in order to evaluate potential concussions, also known as mild traumatic brain injuries ("TBIs"). The test will be developed for use on Abbott's handheld diagnostic i-Stat System, which is currently used for several other Point of Care testing, including among military service members.
TBI is a serious health issue in the United States, with at least four TBIs occurring every minute that costs Americans nearly $77 billion each year. I believe that upon successful development of the blood tests, Abbott will be able to generate significant revenues from TBI diagnosis not only from the military personnel, but also from civilian people in general.
TBI Diagnosis: An Opportunity for Abbott
A TBI is usually caused by a sudden blow on the head that disrupts the normal functioning of the brain. TBIs are classified from mild to severe based on the seriousness of the injury, although in most of the cases, both civilian as well as military, TBIs are mild that are also known as concussions. TBIs can cause a variety of physical, cognitive, and emotional symptoms, which may not be identified if subtle. Proper diagnosis of a mild TBI is difficult since brain imaging with CAT scan, MRI, SPECT and PET scan may not show abnormalities. Moreover, symptoms can be similar to other medical conditions. Beth McQuiston, M.D., a board certified neurologist and medical director, Diagnostics, Abbott, said:
Medical advances are needed to help more quickly assess concussions. The collaboration between Abbott and the Department of Defense is an important step in ensuring that military service members, and ultimately civilians, receive proper evaluation. These new tests could open the door to many possibilities for evaluating concussions and helping clinicians optimize care and outcomes.
Through a contract, Abbott has been awarded $19.5 million by the Department of Defense to assess and verify traumatic brain injury biomarkers, which can be used to formulate the diagnostic blood tests for TBI. The blood tests will be performed using Abbott's i-Stat portable device. The contract is the first phase of what Abbott said would be a multi-phased contract, which extends through August 2016. I expect that Abbott will finally launch the blood tests within 2017.
Clinical Potential of TBI Diagnosis
Research suggests that certain types of proteins are released in the bloodstream following a TBI, which could be effective in diagnosing TBI. Jeffrey J. Bazarian, M.D., M.P.H., an associate professor of Emergency Medicine, believes that measuring a combination of two proteins released into the bloodstream after a head injury might be the best way to diagnose a mild TBI. The two proteins are known as S100B and Apoa-1. Abbott's diagnostic tests will be based on evaluating the proteins that are released in the bloodstream.
Typically chronic TBI is associated with major secondary molecular injuries, including chronic neuro-inflammation. Such neuro-inflammation can lead to the death of neuronal cells in the CNS (central nervous system), which is irreversible. But a recent study has shown encouraging results.
In the study researchers have found that a combination of human umbilical cord blood cells (hUBCs) and granulocyte colony stimulating factor (G-CSF), a growth factor, could be effective for healing TBI. The study's lead author Cesar V. Borlongan, PhD, said, "Our results showed that the combined therapy of hUBCs and G-CSF significantly reduced the TBI-induced loss of neuronal cells in the hippocampus."
TBI patients can suffer a range of motor, behavioral, intellectual and cognitive disabilities, while clinical treatments are few and largely ineffective. There is a strong possibility that in future TBI will be treated effectively using hUBCs and G-CSF, as mentioned above. In that case, Abbott's diagnostic tests could come handy to healthcare providers.
Abbott's Valuation
GlobalData, an industry analysis specialist, estimated the TBI therapeutics market in 2010 to be worth $1.54 billion and forecasts it to grow at 3.8% annually for the next seven years to reach $2 billion by 2017. Since Abbott's blood tests won't require any specialized diagnostic equipment other than its already existing i-Stat System, the tests could generate yearly revenues of approximately $200 million by 2017, roughly 10% of the projected TBI therapeutics market size. If a net margin of 12% is applied on the revenue figure, the TBI diagnostic tests could add nearly $24 million to the company's net income, which is nearly 1% of Abbott's trailing 12-month net income of $2.396 billion.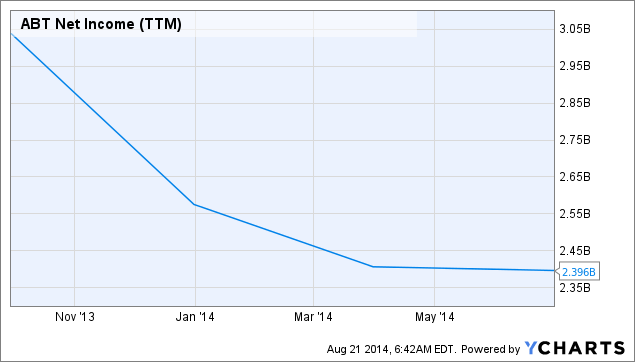 ABT Net Income (NYSE:TTM) data by YCharts
Abbott is trading at a significant discount in terms of EV/Revenue compared to peers, such as Teva Pharmaceutical (NASDAQ:TEVA), Roche Holding (OTCQX:RHHBY), Johnson & Johnson (NYSE:JNJ), Nestle (OTCPK:NSRGY) and Pfizer (NYSE:PFE). The reason for such discount could be Abbott's predominant reliance on nutritionals, its largest segment. Since nutritionals are nothing but consumer staples, they've limited growth prospects and hence could have a negative impact on the company's valuation.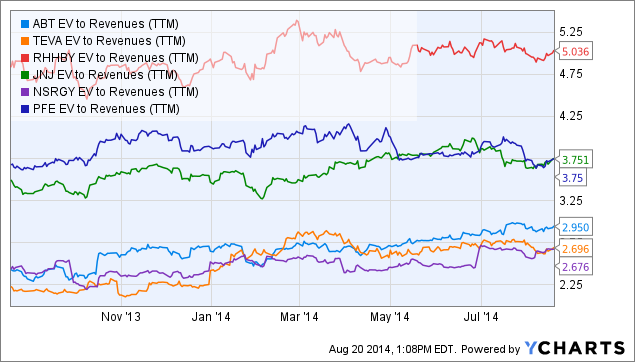 ABT EV to Revenues (TTM) data by YCharts
However, I expect that going ahead Abbott will be able to expand its growth and margin significantly based on fresh capital deployment in sectors such as vision care and diagnostics. Diagnostics has been delivering high single-digit operational revenue growth for Abbott since the past three years and I believe that TBI diagnostic has the potential to further strengthen the company's diagnostics segment. Abbott is relatively undervalued in terms of EV/EBITDA also, and the stock is expected to rise slowly but steadily over the medium-term.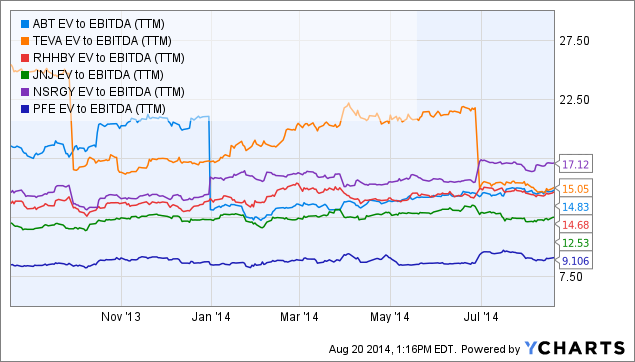 ABT EV to EBITDA (TTM) data by YCharts
Conclusion
Since 15% of people with mild TBI have symptoms that last one year or more, which may not be present or noticed at the time of injury and delayed days or weeks before appearing, I believe that Abbott's blood tests for detecting TBI will have a steady market. The tests could significantly boost Abbott's Point of Care sales.
Disclosure: The author has no positions in any stocks mentioned, and no plans to initiate any positions within the next 72 hours.
The author wrote this article themselves, and it expresses their own opinions. The author is not receiving compensation for it (other than from Seeking Alpha). The author has no business relationship with any company whose stock is mentioned in this article.