Shares of Groupon (NASDAQ:GRPN) have been a perennial underperformer since IPOing in 2011. Shares tumbled after Q2 results, falling as much as 18% in a day. They've since climbed back. While the volatility has been great news for traders, for investors, it's been a sickening roller coaster ride.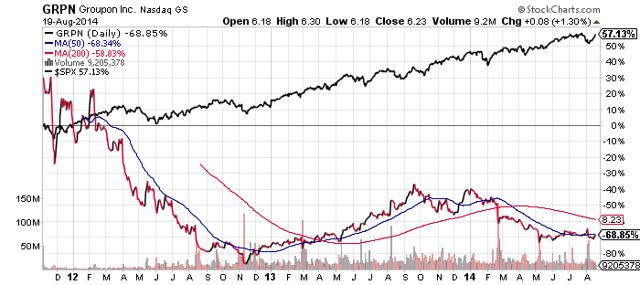 Recent quarterly results rigamarole
Its Q1 results from earlier this year were mixed. Revenues were up 26% y/y, but consolidated segment operating income came in at $5.6 million -- down 90% y/y. Along with Q1 results, Groupon guided for Q2 revenue to be $725 million to $775 million -- below $754 million consensus.
For Q2, revenues came in at $752 million, increasing 23% y/y. But its consolidated segment operating income was again down year-over-year, coming in at $24.5 million -- down nearly 60% y/y.
But there were positives, where Q2 was a record quarter in terms of demand and worldwide billings, reaching their highest level ever. Worldwide billings was $1.82 billion, against $1.41 billion in the previous year.
What to expect for the rest of the year
The outlook for Q3 2014 revenue and EBITDA was below expectations. Q3 guidance is for revenues to come in between $720 million and $770 million, compared to the previous consensus of $760 million. As well, EBITDA guidance of $50 million to $70 million was well below consensus of $77 million.
Full year 2014 EBITDA is now expected to come in around $270 million, versus previous consensus at $293 million. Along with its guidance, the company made comments that it could do a better job of cutting marketing spend, but prefers to focus on long-term growth.
Groupons future growth strategy
Management is attempting a three pronged strategy for growth:
(1) One is to reignite growth in North America. Management believes that the improvement in revenues will be the result of people willing to buy more products, most notably, in their willingness to utilize mobile for purchases. The company remains poised to deliver double-digit year-on-year revenue growth in North America.
(2) The second prong is to drive improvements in margins, especially in North America. For some time now, the company's costs have increased sharply, but it does plan to make strategic changes to reign in costs.
These changes include moving the bulk of its business to a drop ship platform, handling more fulfillment from its own facility in Kentucky and increasing the number of units per order.
(3) Groupon plans to continue pouring money into marketing initiatives with no clear idea of the long-term return on investment. Marketing expenses were $64 million in Q2 2014, up from $56 million in the same quarter last year. But the big question remains; can Groupon continue growing revenues while tapering marketing spending?
Then there's mobile
The company is witnessing progress in its mobile segment as it navigates the consumer transition from desktop to mobile. Some 92 million people have downloaded its app and it ranks as one of the top mobile e-commerce companies in the world.
The ability to successfully execute on mobile will rely a lot on its ability to continue to innovate. For example, being able to attract more merchants by providing them with the capability of variable deals, such as the time of day and day of the week.
Two new products Groupon has in the works are Pages, which will create a web and mobile presence containing useful information about every merchant; and Genome is the new operating system to facilitate the redemption from merchants by customers of Groupons.
Bottom line
Groupon does compete with the Google (NASDAQ:GOOG) service, Google Offers. With that, could Google buy Groupon? Regardless, Google has a leg up with its Google Maps and other services, which provides a better daily deals experience. Google tried to buy Groupon in 2010 for almost $6 billion, but Groupon turned down the offer. Its market cap is now $4.2 billion.
The big issue is that Groupon has yet to demonstrate that it can grow consistently and profitably. We aren't buyers at these levels, and wouldn't be until Groupon proves it can prove that it can reign in marketing and selling expenses to the point that it can generate positive income.
Disclosure: The author has no positions in any stocks mentioned, and no plans to initiate any positions within the next 72 hours.
The author wrote this article themselves, and it expresses their own opinions. The author is not receiving compensation for it (other than from Seeking Alpha). The author has no business relationship with any company whose stock is mentioned in this article.