Theravance (THRX) is probably a familiar name to many of you. The pharmaceutical company has received extensive coverage on Seeking Alpha over the years. What's surprising is how little attention their recent spin off has received.
If you're not familiar with it, Theravance is a biopharmaceutical company focused on small molecule medicines across a number of areas but they are probably best known for their products for respiratory disease. Marketed under names like Relvar / Breo Ellipta and Anoro Ellipta, they are a leader in treatment for COPD in partnership with GlaxoSmithKline (NYSE:GSK).
On June 2nd, Theravance completed a spin separating their business into two pieces - Theravance and Theravance Biopharma (NASDAQ:TBPH). Going forward, Theravance will be a royalty management company and Theravance Biopharma will be the R&D company. The theory was that as a combined entity shares were not properly valued because some investors didn't like the R&D expense/risk, so split it up and let investors value each piece separately. Seems reasonable, spins have definitely been done for less thoughtful reasons.
Now in a typical spin, management goes out of their way to sing the praises of the two entities; again, the whole reason for the spin is to maximize value so why not promote them a little. It's also not uncommon for management to upstream cash or push down debt to the entity being spun off - one last opportunity to maximize value for the surviving entity. Strangely, management did the opposite with Theravance Biopharma. As detailed in the Form 10 Theravance Biopharma was capitalized with $400 million of cash, "expected to fund operations through significant potential milestones over the following two to three years." So it's a well capitalized spin, not the typical leave them hanging in the wind spin - interesting?
On the most recent earnings call for Theravance, Rick Winningham, the long time CEO since 2001, announced that he was handing over the reigns effective August 15th to take a permanent position as CEO of Theravance Biopharma. So the guy you probably has the most information about both businesses decided that it would be better for him to be part of the smaller (TBPH has a market cap of $950 million vs. THRX at $2.6 billion).
So what could be so great that insiders expect to see "significant milestones" over the next two years and felt motivated to vote with their feet and move to the smaller spin? Well, management offers a glimpse into the product pipeline with their one public presentation from July.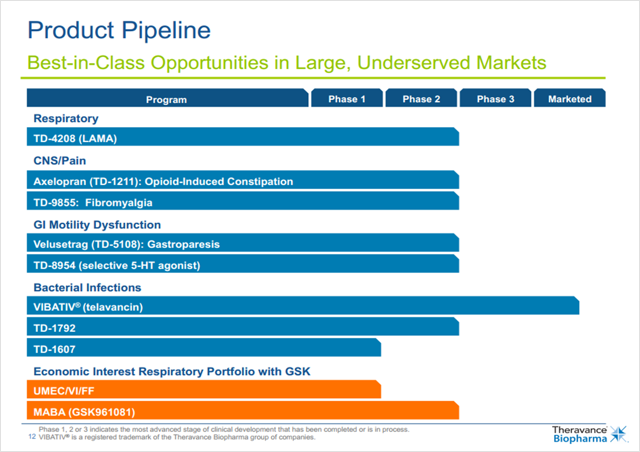 Click to enlarge
Source: Theravance Biopharma
Now I am far from an expert on each of these products, but I do know that management has been talking up the UMEC/VI/FF product. On earnings calls they typically refer to this as the "triple therapy". It combines an inhaled corticosteroid (used to control asthma), a long acting muscanrinic antagonist (for COPD) and a long acting beta2-adrenergic agonist (for muscle relaxation).
While these terms may sound foreign, you've probably seen ads on TV for Spiriva or Advair. Advair, marketed by GSK, and Spiriva, marketed by Boehringer Ingelheim, are dual therapy treatments. Triple therapy, which Theravance Biopharma is working on, would be a breakthrough in the product category. Why is it a breakthrough? Because many patients with COPD are taking both Spiriva and Advair combined.
Imagine that you're one of those patients - filling two prescriptions every month, carrying around two inhalers, having to do every step twice. Wouldn't you want to switch to a single product if it became available? I haven't been able to locate a firm statistic on how many patients are taking both but I personally know people who are and if you take a quick look at health blogs/forums, there are a lot of other people out there also on both.
So let's dream a little and see how big "triple therapy" could be for Theravance Biopharma. In the first half of 2013,Spiriva sold $2.5 billion. If we annualize that it's $5 billion in sales. In 2013 Advair had sales of $8.7 billion. Combined that's a $13.7 billion market and this is before accounting for continued growth in diagnosed patients. The American Lung Association estimates that only half of COPD suffers are aware of their condition.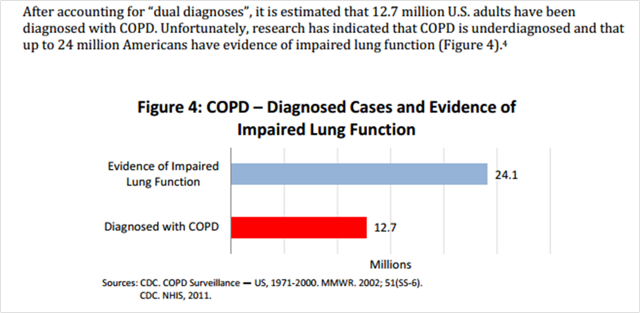 Click to enlarge
Source: American Lung Association
Having to take a shot in the dark here, let's be conservative and aim low. What is the addressable market if 10%, 20% or 30% of Spiriva users are actually taking both products and would like to switch to a triple therapy?
| % interested in triple therapy | Potential Annual Sales |
| --- | --- |
| 10% | $1.4 billion |
| 20% | $2.8 billion |
| 30% | $4.2 billion |
What does that mean for valuation? Well, The S&P 500 Pharma Index trades at 3.9x sales. So let's assume Theravance Biopharma can get a pharma market multiple on sales. At the low end, $1.4 billion in sales x 3.9 = $5.5 billion in market cap. Because it's being developed in partnership with GSK, Theravance Biopharma gets a 85% share. So a single line item in the pipeline could be worth $4.7 billion in market cap. Not bad considering management lays out nine other noteworthy projects in their public presentation. And how does that compare to today's valuation? TBPH has a current market value of $960 million with $400 million of that in cash. It doesn't take heroic assumptions to see a double, triple or quadruple out of this stock over the next two years. Clearly this is the upside that management is seeing. Why haven't others noticed? Management didn't exactly go out of their way to draw attention to the opportunity, probably so they could get their options granted low and lock in value for themselves. The only sell side coverage I can find comes from three firms - EVA, Spin-Off Research (the only one with a buy rating) and Robert Baird. Not exactly your main street firms. Compare that to the larger Theravance which has sell side coverage from triple the number of firms, including some of the big guys like Sanford Bernstein.
This is a rare gem in today's market. Don't miss this opportunity.
Disclosure: The author has no positions in any stocks mentioned, and no plans to initiate any positions within the next 72 hours. The author wrote this article themselves, and it expresses their own opinions. The author is not receiving compensation for it (other than from Seeking Alpha). The author has no business relationship with any company whose stock is mentioned in this article.