Executive Summary
Jones Energy (NYSE:JONE) is an E&P company operating in the mid-continent, primarily focusing on the Cleveland play in the Anadarko Basin. The Jones family manages the business and has multi-decade experience in the region, having drilled over 500 horizontal wells in half a dozen mid-con formations.
The company is an industry leader in terms of well-level cost. The low cost structure has led to best-in-class well-level economics. Furthermore, the company has shown an ability to easily and cheaply replenish its drilling inventory, ensuring continued future growth.
JONE has grown quickly in recent years. It has grown proved reserves at a 38% CAGR between 2010 and 2013 and production by 45% over the same period.
JONE has a strong financial profile. The company had ~$300 million in liquidity as of June 30, 2014. The 2014 drilling program will be funded primarily from cash flow. Debt levels are moderate at <3x Debt/LTM EBITDAX. There is ample liquidity to meet its exploration needs over the next 12 to 18 months.
Appears Undervalued
With strong family and financial sponsor ownership, JONE shares have become orphaned following the company's 2013 IPO. The shares have traded listlessly and become disconnected from the positive business developments at the company.
JONE recently announced that it will adopt a new frack design that should see the company shift its production mix more toward oil and liquids. Moreover, JONE has a clear drilling runway and the wherewithal to meet and potentially exceed its current drilling plan.
Wall Street analysts and the market have marked JONE's shares to roughly asset value, while ignoring the obvious positive momentum the company has in the Cleveland. Not to mention, JONE has massive stacked pay potential in the Anadarko with Tonkawa, Marmoton, and Granite Wash potential on its acreage (among others).
JONE should receive a premium valuation that reflects its industry leading operations, cost structure, returns, and potential growth.
I value JONE shares between $27 and $40 per share on a sum of the parts basis, representing 50% to 125% upside from current levels.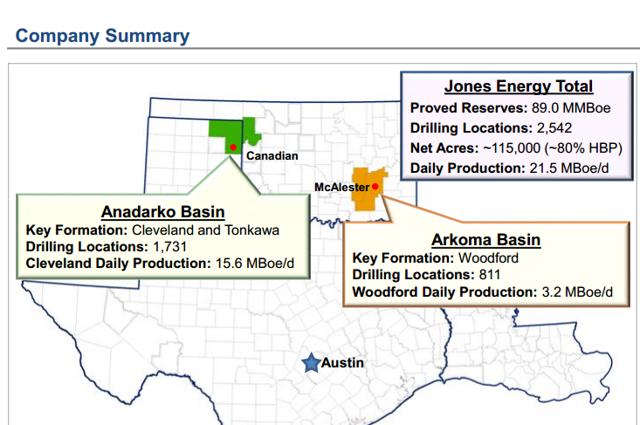 History
Jones Energy has operated as a family-owned business in the mid-continent for a number of decades and has drilled several hundred wells in at least five different mid-con plays. In recent years the company has grown via acquisition and has focused on expanding its leading position in the Cleveland play.
Source: TPH Hotter 'N Hell Energy Conference
In December 2009, JONE made its first significant acquisition by partnering with Metalmark Capital, a private equity fund, as the winning bidder in the bankruptcy auction of Crusader Energy Group, Inc. The acquisition included approximately 13.7 MMBoe of proved reserves and an extensive drilling runway. The acquisition price was $241 million.
In April 2011, JONE acquired estimated proved developed reserves in the Arkoma Woodford shale formation of approximately 31.1 MMBoe as of December 31, 2012, which is referred to as the Southridge acquisition. This marked JONE's entry into an area Newfield Exploration (NYSE:NFX) refers to as the SCOOP (South Central Oklahoma Oil Province). This transaction was $165 million.
In December 2012, JONE acquired approximately 22,000 net acres in the Anadarko basin, including 36 gross productive wells, in the Cleveland and Tonkawa formations, from a group of sellers including Chalker Energy Partners III, LLC, a private exploration and production company. The acquisition price was $250 million.
Finally, in November 2013 (IPO proceeds financed the majority of this transaction) JONE announced the acquisition of Sabine Oil & Gas for $195 million. The transaction included 26,000 net acres in the Cleveland, Tonkawa, and Marmaton plays in the Texas panhandle and western Oklahoma, 225 drilling locations (~180 in the Cleveland), 3,400 boe/d of existing production, and 92 producing wells (54% liquids).
Source for deal information: S&P's Capital IQ - Alternative Source: JONE 10-K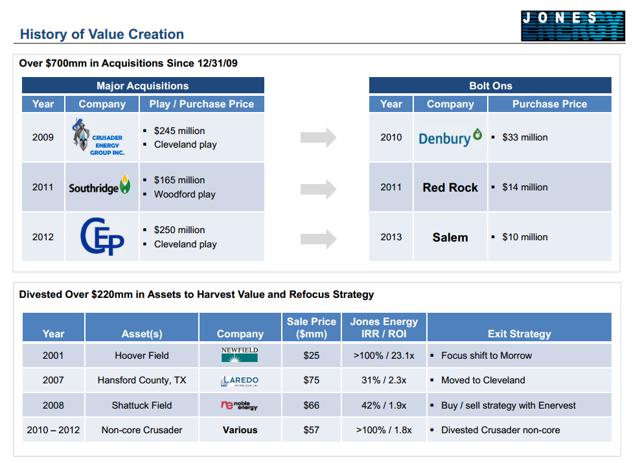 Source: Barclays CEO Energy-Power Conference
History - IPO
JONE decided to conduct its IPO in order to take advantage of an M&A frenzy that had overtaken the Texas Panhandle (mentioned on the Q3 conference call; CEO: "at least 4 data rooms open that I can think of…"). Q3 Call Link
The IPO was slated to sell 14 million shares in the $17-19 range, but the offering was downsized to 12.5M shares at $15. Interestingly, the Jones family purchased 1.3 million shares of the offering in the IPO and the CFO acquired 30k shares. The IPO proceeds of $177 million were used to pay down the revolver (which was then utilized to fund the Sabine transaction).
Metalmark did not sell a share in the IPO. Therefore JONE's float is only about 11M (12.5M offered less 1.36M taken down by insiders) shares, or 28% of the capitalization. The stock is currently not investable for funds looking to amass large positions given the low float.
History - Subsequent Events
On March 24, 2014, JONE announced the issuance of $300M in senior unsecured notes due 2022. This high yield issuance was upsized 3 days later to $500M at 6 ¾% - a very strong offering. This offering left JONE with over $300M in liquidity, which would be used to accelerate their drilling effort in the Cleveland.
Cleveland Play
The Cleveland play is an exciting unconventional resource play in the mid-continent. JONE is active in the liquids-rich window of the play. While the wells are not necessarily explosive (<600 boepd in 30 day rates), the economics can be very intriguing so long as costs are contained. JONE has shown itself to be a clear leader in cost management.
JONE's type curve with 440 MBoe Gross EURs and $3 million well costs suggests that the single well-IRRs in the Cleveland could be in excess of 100% under various pricing scenarios. (Under the new frack design the Cleveland EURs should bump up and returns remain comparable.)
These returns are unparalleled in the Anadarko Basin, which give JONE a natural competitive advantage in both M&A transactions and basic acreage leasing. I will let the type curve and operating data slides speak for themselves. They are impressive.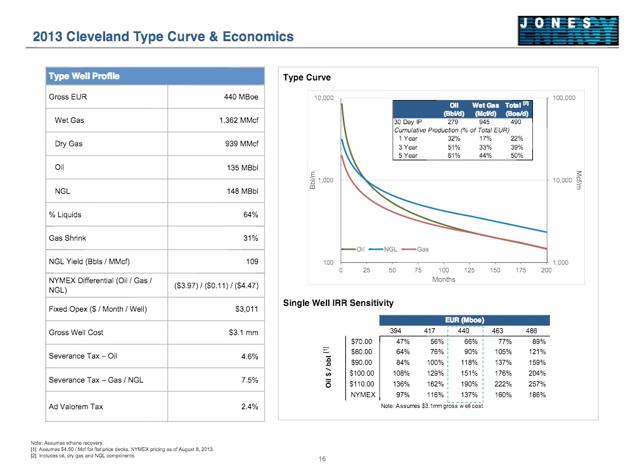 Source: Barclays CEO Energy-Power Conference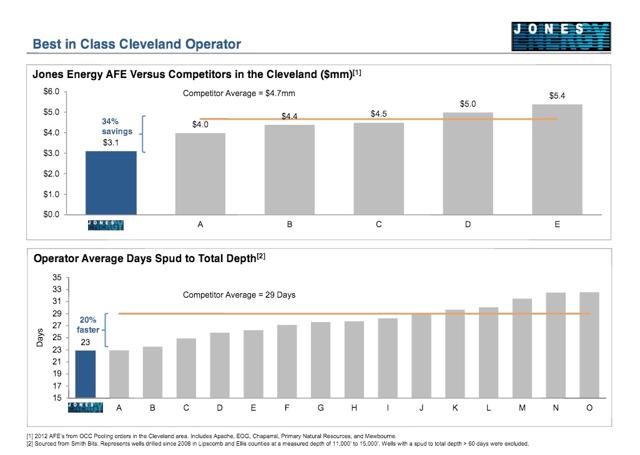 Source: Barclays CEO Energy-Power Conference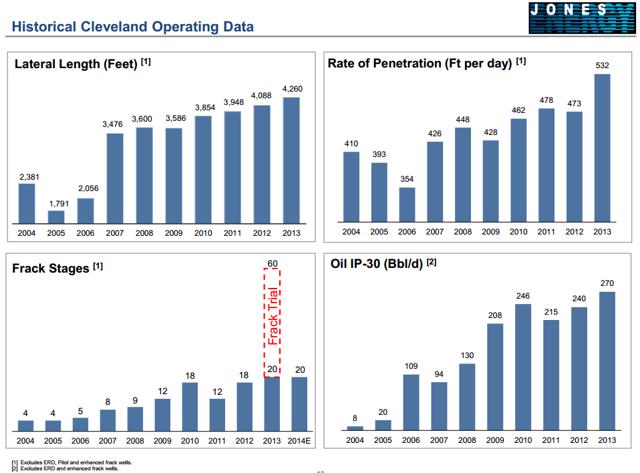 Source: TPH Hotter 'N Hell Energy Conference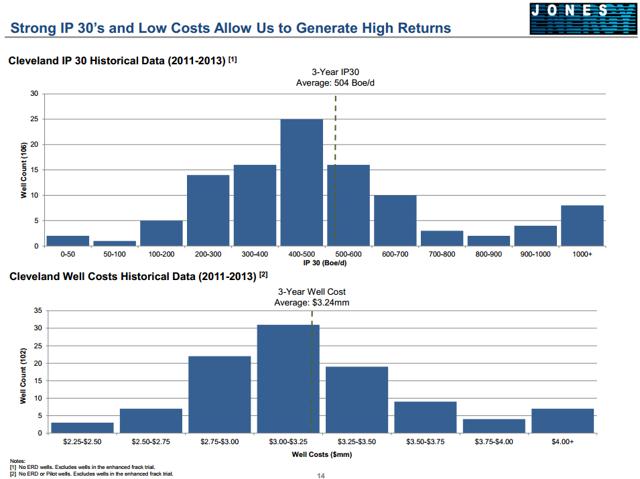 Source: TPH Hotter 'N Hell Energy Conference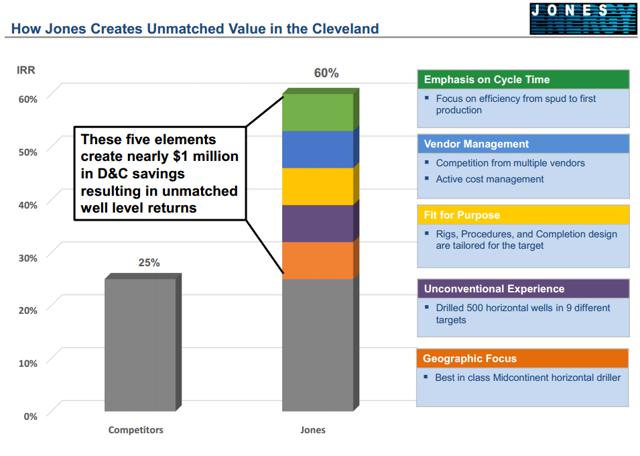 Source: TPH Hotter 'N Hell Energy Conference
Cleveland - New Completion Design
Much of the market confusion surrounding JONE over the last year is related to its new frack design, for which it ran a half year trial on 20 wells. The market was very focused on the trial as the economics of the design were uncertain. The new cased+perf design would increase the number of frack stages by a factor of 3 and require far more proppant and water than the tried-and-true open hole design.
The additional costs were approximately $1M per well, which could severely impact JONE's well-level economics and the company's competitive advantage if the trial proved not to be fruitful. Moreover, the increased cost of each well would require significant capital input from the company - capital it would have to raise in the markets. Meaning JONE would either have to upsize their capital budget or slash the number of wells in their drilling plan for the year. Fears of an adverse outcome have weighed on the stock from time to time.
An illustration of the new design can be seen below.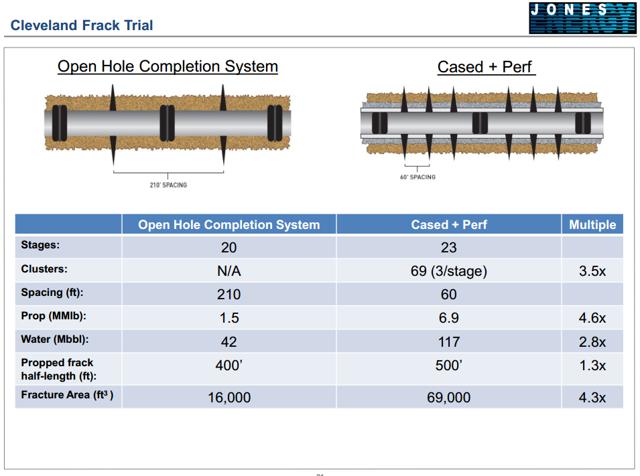 Source: TPH Hotter 'N Hell Energy Conference
After many months of tense waiting by Wall Street analysts, management delivered good news on the Q2 conference call. The results of the frack trial showed the extra cost worthy of investment as it generates a consistent 30% oil uplift, which pays for the added investment in roughly 6 months. Jonny Jones on the Q2 call:
The good news is as the uplift is so significant that's it really no-brainer to spend the additional capital with getting 7,200 barrels in the first six months in essence we've gotten close to break even on the project.

Yes, I think the easiest way we are looking at that now is an all cases the uplift is 30% or greater than the previous numbers that you saw in type curve for production. We are seeing it being consistent over all of the time period.
As was expected, management boosted their 2014 capital plan by over $100M to account for the new design. The lion's share of the capex increase will be directed to Cleveland development under the new design. We should also expect JONE's total production to become more oily as development in the gassy Woodford is slowed in lieu of the liquidy production in the Cleveland.
Cleveland - NPV of New Design
My analysis shows the value of the new completion design is worth ~$300M in net present value of future oil income in JONE's untapped drilling inventory. Over the life of a Cleveland well, the oil uplift could represent more than 40 MBbl of oil, the present value of which is close to $1M per well.
Given that JONE has ~500 remaining locations in its Cleveland inventory, we are talking about a serious amount of value that will be accelerated to JONE shareholders over the life of the Cleveland inventory. Oddly enough, JONE shares have fallen since the announcement - a not-so-intuitive reaction to such positive news.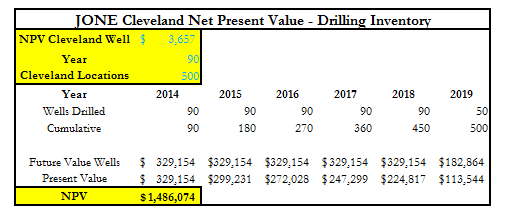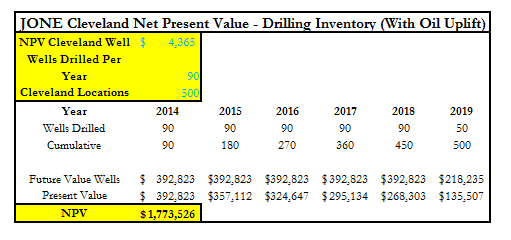 Source: Author's Figures
Valuation - Enterprise Value
JONE trades cheap on its earnings power at 6.7x LTM EBITDA, 4.8x 2014 EBITDA, and 3.2x 2015 EBITDA. This valuation is just too cheap when you consider JONE's multi-year drilling inventory, ample liquidity to tap their inventory, strong well-level economics, favorable oily/liquidy mix shift, relatively unburdened balance sheet, and strong management team. (JONE makes mid $30s cash EBITDA per Boe. That is Revenue per Boe less lease operating expenses, taxes, and cash G&A per Boe.)
The totality of JONE - Management, Competitive advantage, Returns-based drilling, etc. - signals a much higher valuation than what it is currently afforded in the marketplace.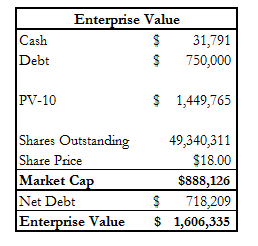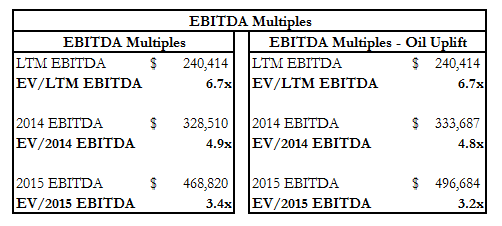 Source: Author's Figures
Valuation - Sum of the Parts
I value JONE on a sum of the parts basis between $27 and $40 per share. See below charts for rationale.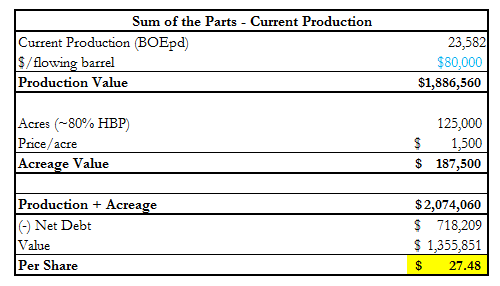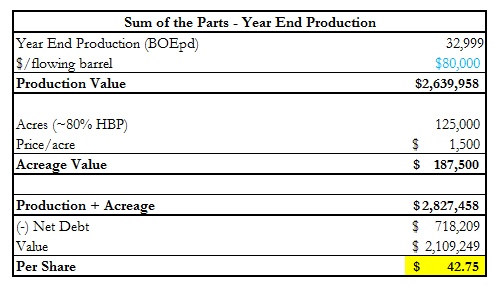 Source: Author's Figures
Discussion
JONE is cheap for many reasons.
Thin Trader: First and foremost, it is cheap because it is a very thinly traded, closely-held company. Many bigger funds cannot build a position, and so they simply will not. Therefore, the shares trade listlessly with no support from strong market hands.
Anadarko Not So Sexy: The second reason it is cheap is because the Anadarko/Cleveland play isn't viewed as a sexy area for domestic production like the Eagle Ford, Bakken, Utica, etc. The IPs aren't headline grabbers, and so no one appears to care much about the Cleveland. (If only folks would look a bit closer at the returns!)
No Comps: Finally, it's cheap because there are no comparable companies. There are no other publicly traded Cleveland-focused operators out there, meaning there is no way to ascribe relative value to the company. The Wall Street reflex to this relative value vacuum has so far been to mark JONE's shares to essentially asset value, while ignoring the company's clear ability to grow production and organically expand its acreage and inventory.
JONE Is a Breath of Fresh Air: In a market environment where it is all too common for E&P companies rack up breathtaking free cash flow deficits and huge G&A budgets, it is refreshing to see a management team so astutely focused on returns.
Alas, the market appears to ascribe no value to management's thoughtful decision making. For instance, the market viewed the temporary discontinuation of development in the Woodford negatively. JP Morgan even downgraded the stock citing the suspension of the Woodford program.
Frankly, focusing on the suspension of Woodford development is willful ignorance to the obvious momentum taking place in the Cleveland (not to mention its superior returns). The reallocation of capital to higher return basins highlights management's commitment to both returns-based drilling and to shareholder value.
My investment is in very good hands with Jonny Jones and his team at Jones Energy. I anticipate that management will continue to make rational decisions that are in the best long-term interest of shareholders.
Trading at 3x 2015 EBITDA, the risk in this name is to the upside.
Other Useful Items:
Sellside Watch (Spot the Outlier)
Q2 Call Memorable Quotations
Land Leasing: In early July, we issued a press release with an update on our 2014 leasing program. Through the first six months of the year, we've been able to add over 10,000 net acres. That equates to more than 78 net drilling locations in the Cleveland formation alone… We have spent approximately 50% of the leasing budget thus far our realized leased prices hovered about around $1000 per acre.
JONE is able to lease new acreage for roughly $1,000 per acre. This is a huge advantage over peers in other basins, who are forced to pay many times that amount for acreage that is often not nearly as prospective.
Management Focus on Returns-Based Drilling: Yes, I think it is clear at this point that our recent activity in the Woodford has not lived up to our expectations. When you take the fact and take that -- consider that we are seeing tremendous results in our Anadarko program and see positive initial results from both the Cleveland and the Tonkawa pilot. It's become hard justify allocating capital to an area that is not generating the type of super returns that we are seeing obviously over there.

Management on Leasing vs. M&A: Yes, there have been a number of deals in the market. We've really focused on the deals with large amounts of upside and on acreage acquisitions when you can pick up 10,000 acres at basically $1000 an acre and that represents 130 or so locations its really exciting.
Disclosure: The author is long JONE.
The author wrote this article themselves, and it expresses their own opinions. The author is not receiving compensation for it (other than from Seeking Alpha). The author has no business relationship with any company whose stock is mentioned in this article.