I know this is going to be a bit on the controversial side of things, but I am really wondering why investors pay so much attention to Wall Street analysts. Granted, the marketplace needs institutions which engage in equity research and valuation work (I do think, though, that investors should do their own work on investments and not rely too heavily on analysts). Ultimately, this contributes to higher market transparency and can help investors understand in what companies they are really investing.
I found it more surprising that many Wall Street analysts are spectacularly late to the Kinder Morgan acquisition party. In all fairness, some research shops have had a buy rating before Richard Kinder announced that Kinder Morgan, Inc. (NYSE:KMI) is going to swallow up a whole bunch of companies including Kinder Morgan Energy Partners, L.P. (NYSE:KMP), El Paso Pipeline Partners, L.P. (NYSE:EPB) as well as Kinder Morgan Management, LLC. (NYSE:KMR) for a total consideration of $71 billion.
As a result of this merger announcement, shares and units went through the roof and made investors quite a couple of dollars in a very short period of time.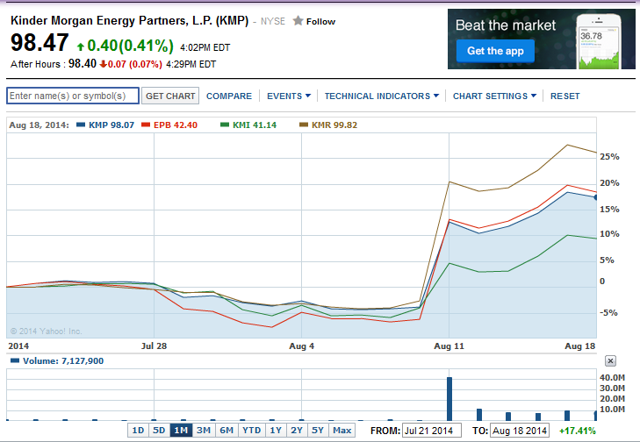 Click to enlarge
(Source: Yahoo Finance)
Kinder Morgan Management actually increased the most post-announcement, but the other Kinder Morgan entities also achieved quite decent gains.
More importantly, all shares and units involved in the merger continued their march north over the course of last week and the beginning of this week. Even the acquiring entity Kinder Morgan, Inc. continues to do well and has further risen after the merger announcement.
Analysts late to the party?
I am always skeptical when it comes to Wall Street analysts, because I believe they first and foremost serve themselves, though I respect other people's opinion about the subject matter.
What is striking, though, is how many analysts got the Kinder Morgan story so fundamentally wrong. After Kinder Morgan made the deal announcement and analysts had some time to digest the deal, a flurry of target price and rating upgrades hit investors:
Goldman Sachs raised its price target on Kinder Morgan, Inc. by 11% from $45 to $50 while maintaining its Conviction Buy rating.
Bank of America/Merrill Lynch upgraded KMI from Neutral to Buy.
Credit Suisse hiked its fair value expectation to $49 from $41 previously: An increase of almost 20%.
RBC Capital just increased its price target on KMI by 12.5% from $40 to $45 and rates it Outperform.
Units of KMP also received rating and target price upgrades:
Morgan Stanley upgraded KMP from Underweight to Equal weight with a target price of $105.
RBC Capital rates KMP as sector perform with an upgraded PT of $109 vs. $83 prior: A whopping hike of more than 31%.
The flow of rating upgrades and, most notably, the increase in price targets after the deal, only allow one conclusion: Investors should never, EVER pay much attention to Wall Street analysts.
The collective increase in price targets signals more than anything, than analysts are chasing the stock price. Nothing more and nothing less. It is an old phenomenon in the stock market and not a new observation for the seasoned investor: Analysts usually revise their target prices upward in a bull market (or after some major catalyst) and downward in a bear market.
Though I am long KMP and a strong believer in the growth story of the Kinder Morgan family of companies, I cannot help but shake my head about those upgrades. The pipeline company is one of the largest industry players with a market capitalization of $37 billion (pre-deal).
Is KMP really suddenly worth 31% more over night (see RBC Capital's price target revision) just because the entity is going to be consolidated into Kinder Morgan, Inc.?
I don't think so. In fact, I think the entity was worth just as much on a standalone basis before the merger transaction was announced and analysts are now simply playing the same old game: Catching up to reality and to the stock price.
Conclusion
Over the last six months I have regularly called out KMP as an extremely undervalued investment, not only because of its high distribution yield, but also because of its outstanding natural gas story and the fact, that Richard Kinder continued to purchase KMI shares in the first quarter of 2014.
I have also repeatedly voiced by skepticism with respect to Wall Street analysts and also have repeatedly mentioned, that analysts are part of the herd and interested in protecting their reputation as sell-side analysts.
If investors learned anything from the recent series in target prices and rating upgrades, it should be that Wall Street is spectacularly late to the party and its research pretty much useless.
Strong Buy with or without sell-side analysts.
Disclosure: The author is long KMP.
The author wrote this article themselves, and it expresses their own opinions. The author is not receiving compensation for it (other than from Seeking Alpha). The author has no business relationship with any company whose stock is mentioned in this article.