Earlier this summer, commenting on the bubble talk that prevailed as stocks rallied throughout the Spring, I pointed out four companies in the Dow Jones Industrial Average and its eponymous ETF (NYSEARCA:DIA) that:
were at record highs in price, but
were not at inflated levels of valuation.
I suggested that if such soaring companies did not have inflated valuations, it would be very hard to argue that the market as a whole was in a bubble.
The four stocks were 3M (NYSE:MMM), Disney (NYSE:DIS), Johnson and Johnson (NYSE:JNJ) and Intel (NASDAQ:INTC). All four had not only rallied to new highs, they had done so on top of impressive strength throughout February to June. If any Dow stocks were in a bubble, surely these were among them.
What happened to investors who avoided these shares, or, worse, actually sold them hoping to avoid a substantial decline in price? A picture is worth a thousand words...and selling these shares prematurely was worth thousands of dollars...in potential profits!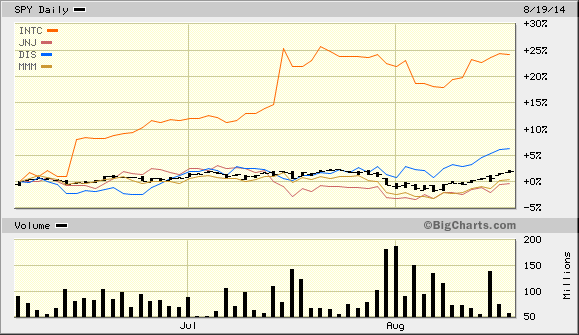 Source: bigcharts.com
Investors who were spooked out of Intel left a 25% gain on the table! And the shares are still fairly valued: leaving out the peak during the crash due to economic difficulties, the shares are still near the lower end of traditional PE ranges: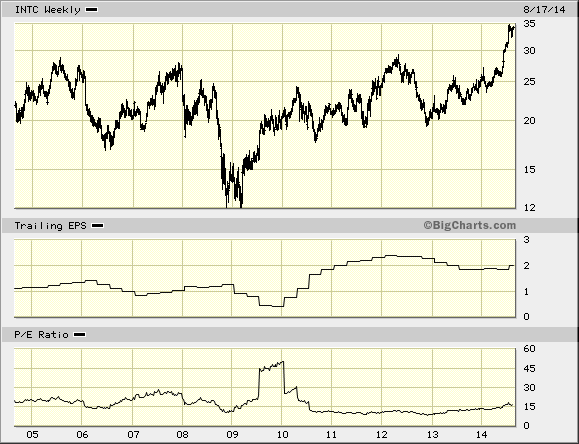 I ask: if a stock gains 25% in ten weeks and is still not in a bubble, why won't the bubble talk cease and desist?
Much the same can be said for Disney, up "only" 7% this summer.
Not only did these stocks advance, they beat the broad market as measured by the S&P500 ETF (NYSEARCA:SPY)!
And what of JNJ and MMM? Alas, they did underperform the market. Before you "bubbleers" celebrate too much, however, I can point out they both fell only a fraction of a 1% in price. Hardly a short seller's dream!
In fact, both companies reported higher earnings in the last few weeks and sport lower PE ratios than early June!
Perhaps not on the bargain counter. But not in a bubble, by any means. We are not, were not, and will not be, in a bubble any time soon.
Disclosure: The author is long XLK, IHI, XLY.
The author wrote this article themselves, and it expresses their own opinions. The author is not receiving compensation for it (other than from Seeking Alpha). The author has no business relationship with any company whose stock is mentioned in this article.
Additional disclosure: I own the shares discussed in this article via ETFs, not direct shareholdings. ETFs provide the diversification I need at lower cost.