As 2010 winds down, this seems like a good time to reflect on the weekly ETF Pullback strategy (see appendix below for explanation and performance data) I launched during the summer. This is a purely technical approach that looks for ETFs that have, generally, been enjoying good uptrends but which very recently pulled back. Notwithstanding the "corrections," however, this is very much a trend-based protocol. The idea, here, is that no trend can persist indefinitely in a straight line and that occasional counter-trend movements present worthwhile entry points.
Figure 1, a screen shot from the FolioInvesting.com account I use to trade the model, shows its real-money performance. As you can see, it started well but got more volatile as we approached winter and as of this writing is pretty much tied with the S&P 500.
Click to enlarge
Figure 1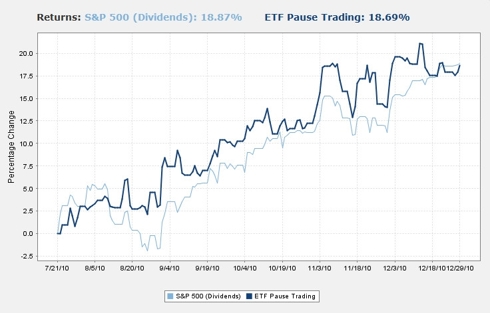 The question is what it all means, whether the model has made a worthwhile contribution to my investment efforts and most particularly whether I should continue with it.
A casual observer would probably suggest the model is pointless; a lot of fuss (weekly rebalancing) to ultimately wind up with what I could have had by buying-and-holding the S&P 500 SPDR ETF (NYSEARCA:SPY).
An academician would want to withhold opinion pending more detailed calculations, but ultimately, might be intrigued by a visual image raising the prospect of low correlation, lower volatility at times (mainly early on), and possibly the holy grail of investing: alpha. The idea behind the latter term (a word widely bandies about before 2008, back when hedge funds hogged the spotlight) refers to the component of investment return that comes from portfolio-manager skill, as opposed to getting what nature suggests you ought to get based on the level of risk you take on. A manager who assumes 20% risk more than that which is inherent in the S&P 500 would have no right to take a bow unless the return is more than 20% above that of the market. A 15% return would be considered a failure. By way of contrast, a manager who assumes only 80% of the S&P 500 risk could be toasted as a success if the return trails the S&P 500 by, say, 10%.
I would not want to actually compute alpha for a period of less than half a year, but visually, Figure 1 raises the possibility it may be present. Clearly, through September 19, the model produced market return with considerably less volatility (the academic definition of risk). Even afterward, when the model did start getting jumpy, correlation does appear low. I don't have the patience to delve into arcane portfolio-theory mathematics right now, and I'm sure you don't either, but suffice it to say that any time a quant sees low or even questionable correlations, they have reason to drool over the prospect of more alpha.
Now let's get practical and address the question in the mind of the regular investor, the person who thinks "Alpha, shamlpha, whatever ... just tell me if it pays to continue with this or would it be better to just buy and hold the SPDRs."
The short answer: I'm going to stay with the model for now.
First, I need to reiterate an important point I've made several times in the past. I trade this strategy at Folio Investing, a firm whose fee structure is set up as a once-per year fee that gives me unlimited commission-free trades so long as I'm willing to have them execute in bulk in one of the firm's two daily trading windows (one at 11 a.m. and the other at 2 p.m.). To implement a strategy like this, where turnover is often 80% to 100% per week, you need a brokerage arrangement (whether at Folio Investing or elsewhere) that renders commissions, essentially, meaningless.
Now let's get to that SPDRs comparison.
If I thought a matching of the market was what I could expect long-term, I would not continue with the model. Even if commissions are irrelevant, I still have to take the time to execute the weekly trades (as per my weekly Outlook/Blackberry reminders) and as long as I'm not actually in the SPDRs, every weekly trade holds the possibility of doing something that will screw things up. If you want SPDR returns, or you think you're going to get SPDR returns, then common sense says you should just do SPDRs and not try to get cute.
So obviously, to continue, you can correctly assume I think the recent past is an aberration and that over a prolonged period, the model can still beat the market.
Figures 2 and 3 in the Appendix below, which show longer-term backtest results, clearly suggest this is a lot more than an idle hope. But as you've heard every time you've seen such information, past performance is no assurance of future results. Funds and investment advisors tell you this because the lawyers force them to, but in this case, that's fine: the lawyers have it right. It really is important to think about why the past was what it was and how the future is likely to resemble or differ from the past.
Looking at the past since July 21, the period when this model was being invested live, an approximately five-month period, we see that the S&P 500, including dividends, rose 18.87%. That would translate to a compounded monthly return of nearly 3.49% and an annualized return of a bit more than 50%.
Do you think it's reasonable to assume that a 50% annualized return is what we can more or less expect from the S&P 500 going forward into 2011 and beyond?
Trading around New Year is often very odd. Traditionally, we talked of the January effect, wherein the market is led by the prior year's losers, and in recent years, we've seen such trading patterns start before Christmas as funds and investors take profits, realize losses, focus on tax strategies, and play all sorts of related head games with Mr. Market.
When evaluating performance, it's not a good idea to overanalyze things that occur this time of year. Along the lines of "what happens in Vegas stays in Vegas," investors should think "what happens in and around the January effect stays in and around the January effect."
While I couldn't even begin to guess what's going to happen with the market or this strategy in the next few weeks, I believe I can make a pretty confident assumption a 50% annualized return is not going to be representative of what will happen to the market long term.
If the economic recovery falters, the case for lesser performance (to use the polite phrase) would be obvious. Ditto if any of the international issues that came to the spotlight at various times in the recent past (Iran, North Korea, China trade tensions, Euro zone concerns) resurface in an ugly way. Ditto if political gridlock becomes a theme in Washington between the president and a divided Congress. Ditto if QE2 produces more inflation than investors are willing to accept.
Suppose we have good news in the year ahead. Suppose the known international tensions recede and aren't replaced by new problems. Suppose the economy really does continue to recover. Suppose the president and Congress figure out that gridlock benefits neither and find ways to avoid making too much of a mess. Suppose investors decide they can live with whatever inflation QE2 produces. Would scenarios like these suggest we could stay in a bullish trend?
At times like this, it's important to remember that the market is a "discounting mechanism." It does not reflect the present. It reflects expectations for the future, typically six months to a year ahead. That's important. Good news in 2011 will not give us a strong rally in the year ahead. That's already reflected in the advance we saw in late 2010. To justify bullishness in 2011 (beyond whatever comes about as the January effect winds down), we'll need to be expecting good things late in the year and well into 2012. That may turn out to be reasonable. But I don't know that we'll be able to expect so much good to keep a 50% annualized advance going much longer, if at all. We might settle into a slower pace of gain. Or we might even experience a wicked decline that sets the stage for a nice rally later on. (Long-term advances often occur in a saw-tooth pattern wherein the market alternately undershoots and overshoots "equilibrium" but is never actually at that point, that, by the way, being one of the reasons lawyers are so adamant about those past-performance disclosures and a reason why this model, which looks for counter-trend episodes within rallies, was created.)
Getting back to the model, yes, it has only matched the market so far. But I know past performance is not determinative of the future, and I strongly believe that the market environment we've seen since the model went live (a trend that is, essentially, a 45 degree up-slope) is not representative of what we're likely to see going forward. The backtest data shows plenty of instances of excess performance during a wide variety of market environments, and we saw a bit of this early in the real-money period. For that reason, I see no reason to abandon ship.
Also, take note of the nature of my "critique" of the model's live performance. During a period of unusual and likely unsustainable strength, the model matched the market, and possibly in such a way as to entice quants seeking alpha (hmm . . . that phrase seems familiar) and low correlation. If that's the result of a "cold" spell, I can live with it.
As we cross into the new year and possibly experience more January effect, here's are the ETFs I have:
Market Vectors Gaming (NYSEARCA:BJK)

iShares MSCI Chile (NYSEARCA:ECH)
First Trust DJ Internet (NYSEARCA:FDN)
PowerShares Dyn Leisure & Ent (NYSEARCA:PEJ)
PowerShares Dynamic Mid Cap Growth

(PWJ)
This is last week's list:
Have a happy New Year.
Appendix
To create this model, I started with a very broad-based ETF screen I created in StockScreen123.com.
Eliminate ETFs for which volume averaged less than 10,000 shares over the past five trading days

Eliminate HOLDRs (I don't want to be bothered with the need to trade in multiples of 100 shares)

Eliminate leveraged and short ETFs (I think of these as hedging tools rather than standard ETF investments of even trading vehicles)
Then I sorted the results and select the top five ETFs based on the StockScreen123 ETF Rotation - Basic ranking system, which is based on the following factors:
120-day share price percent change - higher is better (15%)

1-Year Sharpe Ratio - higher is better (15%)

5-day share price percent change - lower is better (70%)
The idea of using weakness as a bullish indicator is certainly not new. But often, it's an add-on to other factors that, on the whole, emphasize strength. Here, the weakness factor is dominant, with a 70% weighting.
This model is designed to be re-run every week with the list being refreshed accordingly. I trade through FolioInvesting.com, where I pay a flat annual fee rather than a per-trade commission, so I don't care about the fact that turnover form week to week is often 80%-100%. If you want to follow an approach like this but do have to worry about commissions, the strategy tests reasonably well with three ETFs, or even with one. (Cutting the number of ETFs is far preferable to extending the holding period.)
Figure 2 shows the result of a StockScreen123 backtest of the strategy from 3/31/01 through 12/30/10.
Click to enlarge
Figure 2

Figure 3 covers the past five years, a very challenging market environment that witnessed the fizzling of many strategies that had succeeded for a long time.
Click to enlarge
Figure 3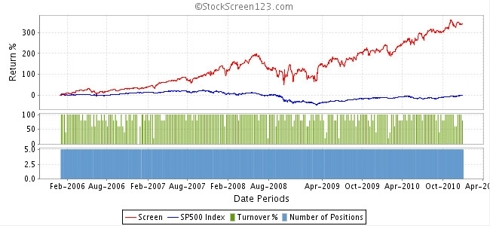 Disclosure: I am long BJK, ECH, FDN, PEJ, PWJ.