The commodity markets are relatively quiet outside of oil and copper, but we would not expect that to last very long. Copper is seeing supply constraints in the near-term, while oil is seeing oversupply in the US which is having the effect of driving WTI Crude lower and that, coupled with easing geopolitical tensions around the world is driving Brent lower. Yesterday's session saw 14 month lows hit in the oil market, which has had the effect of wiping out the typical rally traders see in the gasoline market ahead of heavy driving weekends and holidays.
Investors might need to begin to hedge ahead of another potential flare-up in Ukraine. We doubt that anything will happen before the two countries' upcoming meeting, but fear this shall be an ongoing long-term situation as Russia just today closed some American restaurants in Moscow citing health violations.
Chart of the Day:
Investors in physical gold and gold funds such as the SPDR Gold Shares (NYSEARCA:GLD) need to be paying attention to the price action in the yellow metal today as gold is trading below the $1,280/ounce level. That level has previously been support for bulls, so any breakdown in pricing below that level would be quite bearish. If the market takes gold lower and we enter a period of sub-$1,280/ounce gold, then the next key level for investors to watch will be the $1,200/ounce level. We have previously discussed how we thought that the gold market was set up for a breakout or breakdown move and this price action hints to a move lower.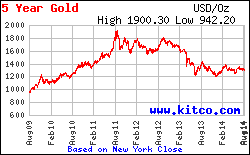 Source: Kitco
Commodity prices are as follows (at time of submission):
Gold: $1,278.60/ounce, down by $16.60/ounce
Silver: $19.40/ounce, down by $0.097/ounce
Oil: $93.71/barrel, up by $0.26/barrel
RBOB Gas: $2.7142/gallon, up by $0.0016/gallon
Natural Gas: $3.802/MMbtu, down by $0.021/MMbtu
Copper: $3.1785/pound, up by $0.0015/pound
Platinum: $1,420.00/ounce, down by $9.20/ounce
Ebola Drags Down Commodity Producers
We had speculated a month or two ago that if the Ebola virus were to spread to an area such as Nigeria that it could have a dramatic effect on resource production, especially if companies such as Royal Dutch Shell (NYSE:RDS.A) (NYSE:RDS.B), ExxonMobil (NYSE:XOM) and Chevron (NYSE:CVX) were forced to evacuate staff. Nigeria responded to their first Ebola cases quite well and have kept an outbreak from happening, however elsewhere on the continent we are seeing the initial effects of the virus on production and expansion plans at mines.
ArcelorMittal (NYSE:MT) has seen its iron ore mine expansion in Liberia disrupted by the outbreak in that country, although production has not yet been impacted. While an announcement has not yet been made concerning production at the company's mine, it might not be an unrealistic expectation down the road, especially after London Mining PLC announced that production from its Marampa Mine in Sierra Leone has been impacted by the outbreak in that country.
Permian Differentials
We came across this article (located here) from Reuters, which highlights the pricing differentials between Permian crude and others. As the market awaits the opening of Magellan Pipeline Partners, LP's BridgeTex pipeline to help transport 300,000 barrels of oil per day to the Houston market, the authors think that Apache (NYSE:APA) and Occidental Petroleum (NYSE:OXY) will be most impacted by the large differential. While those companies do have a lot of production in the area, we would instead look to names like Diamondback Energy (NASDAQ:FANG) and Rosetta Resources (NASDAQ:ROSE) who are building up production in the area and either do or could see a significant portion of their revenues resulting from production in the area. The longer the differentials last, the more important hedging programs become and the greater the risk to the bottom line and margins.
Those legacy producers and companies who have been producing in the basin for years and built up significant overall company production from the region are the names we would be most concerned about. We would also use any downturns in those companies' shares as a buying opportunity.
Disclosure: The author has no positions in any stocks mentioned, and no plans to initiate any positions within the next 72 hours.
The author wrote this article themselves, and it expresses their own opinions. The author is not receiving compensation for it (other than from Seeking Alpha). The author has no business relationship with any company whose stock is mentioned in this article.