Color me a crazy Brit (and you wouldn't be the first), but seeing the Fed's hawkish tone coming off as a surprise in the news is rather titillating. Ms. Yellen will be addressing the Jackson Hole symposium on Friday and traders will be eagerly awaiting her commentary, not only about domestic issues, but the geopolitical issues abroad that have influence on our economy.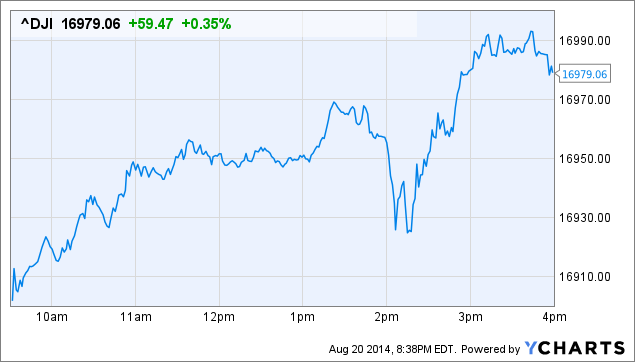 It's easy to see when the Fed minutes broke Wednesday around 2PM. But, what's news of a potential rate hike to stop this euphoric market? Equities rallied higher to finish the day, perhaps on sentiment that the rate hike is a signal that the market is on steady footing.
What we learned Wednesday while the market was open was basically what we already knew. The Fed is looking for a good time to raise rates, and by god, it's time. While this may have surprised some people, we consider this move to have been telegraphed for some time now. We're looking forward to the raise in rates, as we feel it's going to usher in a much needed correction. Rallies like the past 3 days leave us scratching our head as we're sure the momentum behind the bull market is really starting to sputter.
Thursday, the Fed will meet to talk about whether or not the labor market is healthy. As noted Wednesday on financial news, this was the issue that had the Fed torn as to when and how they're going to raise rates.
While we had initially thought rates could rise as early as October of this year, it's becoming clear that the realistic option is sometime during the middle of next year.
Mario Draghi, head of the ECB, will also speak Friday when Yellen does. Look forward to fireworks to kick off your weekend.

The Peel's Feel:
As we've stated, we're not sure this is the time to be throwing money into equities.
The question is when the big kahuna Janet Yellen finally starts to tip in one direction. There was an air of "let's see what Yellen says" today during the market rally that lasted into the close. While some of the Fed presidents from around the U.S. think that labor is significantly better and warranting of labor hikes, Yellen's opinion is ultimately what's going to drive the markets.
From our short experiences with Ms. Yellen, we can see her stubbornness, particularly in front of Congress, to admit that the economy has gotten fully healthy. It's tough for anyone to look at this five year chart and realize that the market is telling us another story.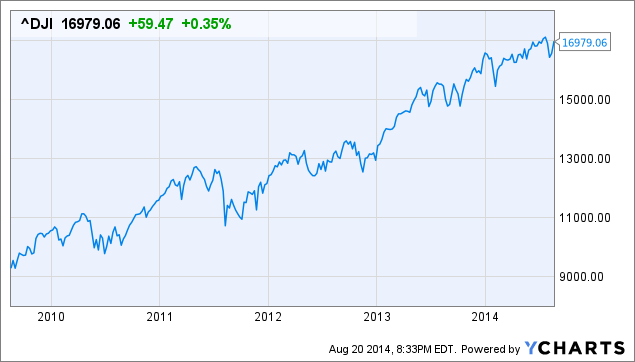 We think that a coming correction could put us, eventually, between a bull and a bear market, where the onus is going to be on companies to continue to show that they can grow. Scrutiny on high multiple names will likely intensify and deep value stocks will likely begin to get a bit puffy.
We remain cautious on equities and won't be surprised when Ms. Yellen finally starts to tip her hand that the economy is fully recovered; she's running out of metrics to cite otherwise.
Disclosure: The author has no positions in any stocks mentioned, and no plans to initiate any positions within the next 72 hours.
The author wrote this article themselves, and it expresses their own opinions. The author is not receiving compensation for it (other than from Seeking Alpha). The author has no business relationship with any company whose stock is mentioned in this article.