Earlier this month BHP Billiton (NYSE:BHP) announced that it would be splitting up into two companies. The new entity, named NewCo, will operate a broad swath of BHP's current assets. All of NewCo's assets will be in the southern hemisphere: Australia and South Africa. Most of the new company's operations will be decades-established facilities. Have a look: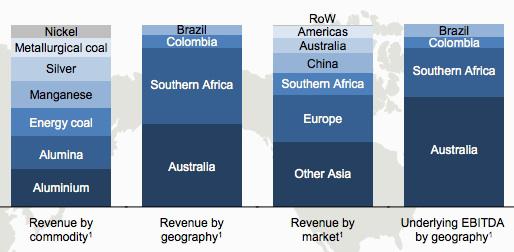 Courtesy of BHP Investor Relations
Based on minerals, NewCo will be quite a diversified operator, and will take many of BHP's older operations which the company no longer has the focus for. In a way, this is a sort of 'back to the future' scenario because last decade BHP acquired to pick up many of these very assets, especially the ones in southern Africa. Of course, that was a different time: As the world has gone from a time of heady economic growth to being hamstrung by major recessions and global imbalances, BHP has accordingly switched its focus from scale and growth to efficiency and high margins. That change in focus is the driving reason for BHP's spinoff here, and the move is grounded in solid reasoning.
But what about the new BHP Billiton? Beginning in 2015, BHP Billiton will be a company with fewer operations but a much tighter focus on projects which the company has already decided to spend big on.
Going forward, the new BHP Billiton will concentrate on Western Australia iron ore, LNG off the coast of Western Australia, copper in Chile, and oil and gas in the Gulf of Mexico and North American shale. What do these things all have in common? They all have among the highest EBITDA margins of the BHP units. They are also very cyclical, and earnings can vary greatly depending upon marcoeconomic conditions.
Taking a hint from continued results
Like most big mining companies, BHP Billiton has had to contend with the reality that the global economy is no longer booming as it was, and that slower growth is here to stay. Management of BHP was sharp enough to see the writing on the wall back in 2012, and while the dampening of enthusiasm and sharp reduction of capital spending at that time hurt share prices, doing so also gave BHP about a year to prepare for the cyclical slowdown. Management took advantage of this by focusing on production cash costs and by focusing on production increases from productivity growth.
While other big names were still going full-speed ahead in 2012, BHP Billiton saved billions in both operating costs and capex, by improving productivity and focusing on cash costs as opposed to funding growth-focused mega projects. The result has been almost $3 billion in EBITDA accretion, about half of which came from operating cash costs.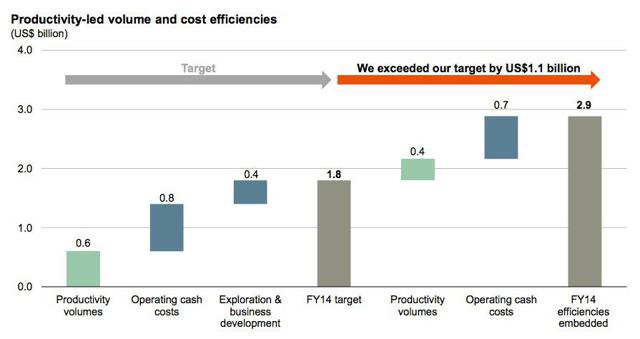 Click to enlarge
Courtesy of BHP Investor Relations
The important thing to understand is that BHP is not cutting too deep: Despite the focus on efficiencies and cost reduction, the company has actually increased production over this time. This period was no exception.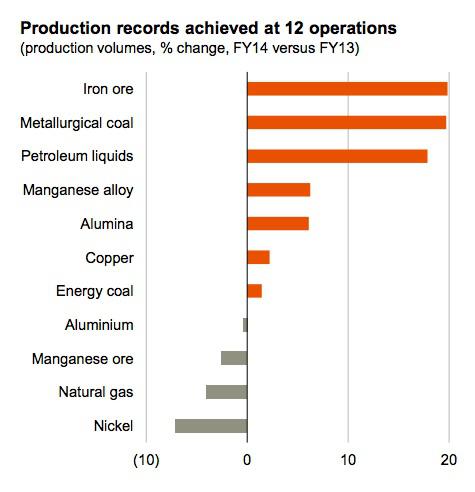 Courtesy of BHP Investor Relations
Overall, production by tonnage grew by 9%. Growth was lead by iron ore, coking coal and petroleum liquids. Not incidentally, much of the in-demand metals, such as copper, iron ore and petroleum, will be part of pro forma BHP Billiton.
This period, EBITDA earnings were even with those of last year, which is not a big surprise considering a sharp drop in realized prices. Other factors, such as inflation and non-cash impairments took a bite out of earnings, as well. This was all compensated for by a reduction in controllable cash costs, increased volumes from both growth and productivity, and finally a positive exchange rate boost which management, of course, cannot control. In controlling what it can control, management has kept BHP treading water despite falling prices in much of the metals it produces. The below chart illustrates how significant the company's progress has been.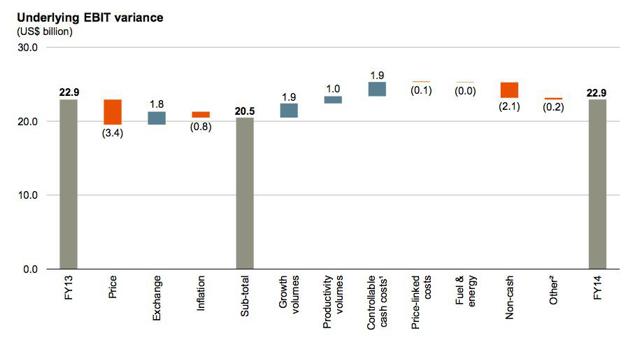 Click to enlarge
Courtesy of BHP Investor Relations
Valuation and conclusion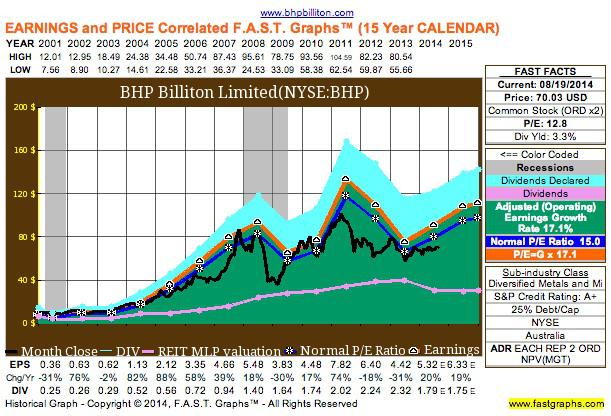 Image Source: FAST Graphs
For what it's worth, BHP is currently trading below both its Fair Value and its normal P/E ratio. There are a couple things worth mentioning here. First, a valuation based off of the PEG ratio may not be appropriate, not least because BHP Billiton can hardly be considered a growth company any longer. The better idea is to look at the company with average price to earnings in mind, but even price to earnings can be less than reliable in the mining industry where depreciation costs are high.
Despite a fairly benign 12.8 times earnings, a bet on BHP Billiton is still a wager on a healthy global economy and on global urbanization (if cities are being built, the minerals BHP produces will be in high demand). Even after the split, BHP Billiton will continue to be a very cyclical company.
That being said, the company is taking steps to make itself more profitable, and those efforts have thus far been meaningful. Going forward, we should see higher margins from a refocus on fewer resources thanks to the split. In addition, BHP is widening its efficiency and profitability lead over other big, diversified miners. If you'd like to buy a big mining company, BHP Billiton is definitely the best of breed. Also, although the market has not yet reacted positively to the idea of a split, it may still do so later on.
Disclosure: The author has no positions in any stocks mentioned, and no plans to initiate any positions within the next 72 hours.
The author wrote this article themselves, and it expresses their own opinions. The author is not receiving compensation for it (other than from Seeking Alpha). The author has no business relationship with any company whose stock is mentioned in this article.