Sprint Corporation (NYSE:S) has been very active in the last few weeks. First came the news that Sprint was dropping its plan to acquire its competitor T-Mobile (NASDAQ:TMUS). Almost immediately after scrapping the merger plan with T-Mobile, Sprint appointed a new CEO with the expectation that he could make the company more competitive. Within about a week of the change in leadership, Sprint introduced new pricing plans for families.
Is it a desperation move given that Sprint lost about 3.5 million postpaid customers over the last 24 months? Is it likely to help Sprint attract new customers and retain them? Has the move come a little too late given that other mobile wireless carriers have lowered their prices more than once and have introduced or matched a number of non-price initiatives during the first quarter of 2014? Or could it be a little too early given that Sprint is still going through its network overhaul, a key reason for losing customers?
How likely is it that Sprint's new pricing strategy will work? What are key hurdles the wireless carrier has to overcome for that to happen? Even if the new pricing strategy works, how is it going to affect its revenue?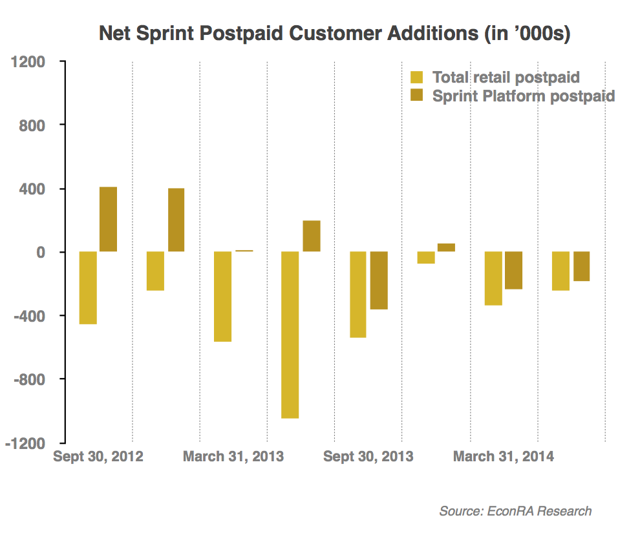 New Plan Pricing
On August 18, 2014, Sprint introduced its new pricing plans for families. After the initial promotional period expires on September 30, 2014, this plan will offer four lines and 20 GB data for $160. This is somewhat similar to the family plans offered by the market leaders Verizon and AT&T. The only difference being the new Sprint plan will offer more data. Sprint will also pay up to $350 if customers switch from a competitor.
Sprint has also decided to do away with its Framily plan which allowed friends and family to get on to one plan in exchange for discounts. Based on its internal research, the carrier found that the plan was confusing for consumers.
Network Issues
For the new pricing plan to attract and retain customers, Sprint needs a reliable wireless network. Sprint has been beset by poor network quality issues for some time. Sprint's management acknowledges that network service disruptions, particularly for voice services, have contributed to higher postpaid churn rates for Sprint's postpaid services in recent quarters.
The results from the RootMetrics performance report for the first half of 2014 confirm Sprint's inadequate network performance.
According to RootMetrics, Verizon (NYSE:VZ) and AT&T (NYSE:T) finished as the top two performers at the national level. T-Mobile, the third-overall-ranked wireless carrier, outperformed Sprint in network speed index, although it was slightly behind Sprint on reliability index.
One piece of good news for Sprint was that its recent network upgrades resulted in an improved network performance at the state level. However, that might not be enough.
The carrier's performance had been less than lackluster in 125 largest metros - Sprint did not rank as the top overall performer in any of those areas. Only in three of these metros, Sprint ranked as the carrier with the highest reliability index. Contrast that with T-Mobile's performance in these metropolitan areas. In 25 of these metros, T-Mobile was one of the best overall performers. Furthermore, T-Mobile's network was the fastest in 25 of these metros. In another seven metros, T-Mobile's network was tied for the first place.
RootMetrics score points out that in the areas where Sprint fully transitioned to the new network, it experienced improvement in network speed and network reliability.
According the Sprint's Quarterly Investor Updates, the wireless carrier has hit its mid-year target for LTE coverage which now covers approximately 254 million people in 488 cities. Sprint expects that the deployment of its 4G LTE network using 1.9 GHz will be almost completed by the end of the year.
For Sprint's new pricing plan to work, Sprint needs to have reliability of its network, which has been lacking for quite some time.
Clarity on Pricing
Sprint also needs to communicate its pricing, and non-pricing, plans in a clear and concise way.
Earlier this year, Sprint introduced Framily plan which allowed friends and family members to get on one plan in exchange for discounts based on how many people signed up on that plan. It was difficult for consumers to figure who were eligible to be part of the plan (e.g., another existing Sprint customer or a new Sprint customer), what happened if one of them left the plan, etc.
Contrast that with T-Mobile's messages over the 18 months. The initiatives used by the Un-carrier included no annual service contracts, faster device upgrade, reimburse early termination fees, elimination of overage fees. These moves were clear for consumers. Hence, it is not surprising that consumers switched and T-Mobile gained more than 4 million postpaid customers since the beginning of its Un-carrier campaign.
Sprint's internal research found that the Framily plan was confusing for consumers. Starting on Friday, Sprint will no longer offer its Framily plan.
If Sprint has to attract new customers, it needs to make comparing the plans across carriers easier not more confusing. Sprint's new pricing plan is a step in the right direction, which makes comparison across carriers easier. The future pricing plans should continue to do that.
Implications for Revenue
Even if Sprint's new pricing initiatives deliver new subscribers, they have the potential to negatively affect the carrier's revenue stream. Sprint has been experiencing a decline in its average revenue per unit (ARPU). In the second quarter of 2014, Sprint platform postpaid ARPU was $62.1, which represented a decline of $2.13 year-over-year and $1.45 since the first quarter of 2014.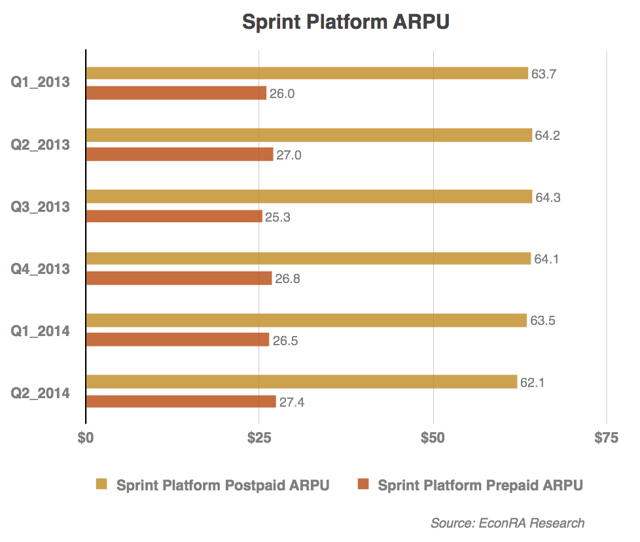 This was partially contributed by a higher mix of tablets, which usually have a lower ARPU than handsets. Sprint platform postpaid subscriber losses during the second quarter of 2014 included net losses of 646,000 handsets partially offset by net additions of 535,000 tablet customers.
Sprint platform prepaid ARPU fared relatively better. That segment experienced an ARPU increase of $0.42 year-over-year and $0.93 since the first quarter of 2014.
Discounted pricing plans are likely to add further downward pressure on Sprint's postpaid ARPU potentially affecting the carrier's net income.
Final Words
Sprint faces a difficult task of attracting and retaining new wireless customers. The carrier lost postpaid wireless customers in each of the last eight quarters. It has been frequently nagged by network service disruptions. Moreover, in recent years the carrier has been sluggish while responding to new pricing and non-pricing initiatives of its competitors which helped them in attracting new customers.
With the introduction of new pricing plans, the carrier intends to reverse the trend. Improved reliability of its network is going to be key in achieving that goal. Even if Sprint is successful in attracting new customers and retaining them, the carrier will face additional challenges in preventing a decline in its postpaid ARPU.
Sprint will have to endure the pain in the short-run to be able to effectively challenge its bigger competitors Verizon and AT&T.
Disclosure: The author has no positions in any stocks mentioned, and no plans to initiate any positions within the next 72 hours.
The author wrote this article themselves, and it expresses their own opinions. The author is not receiving compensation for it. The author has no business relationship with any company whose stock is mentioned in this article.
Additional disclosure: The author, an independent investor, owns Sprint stock. The views expressed here are based on his own research.