Heading into 2011, most investors would agree that the worst of the credit crisis is behind us. That being the case, there are still many analysts who believe that the next domino to fall will be the finances of states and municipalities. Facing a double whammy of falling revenues and mounting liabilities, a growing number of investors believe there will be no way for states to dodge the bullet, thus causing a cascade of defaults among municipalities across the country. Making matters worse, some argue that Republican control of the House will seriously diminish any possibility of a federal bailout.
While the mounting obligations of most states and municipalities are clearly a major problem, recent data suggests that the revenue side of the ledger may not be as bad as most would think. The chart below shows total revenues from US states on a trailing four quarter basis. Looking at the chart, the decline in revenues during what was the worst recession in over 75 years doesn't look that bad. At its worst, total state revenues declined by less than 5% (4.8%) from their peak level and are currently down by just 3.1% from their peak.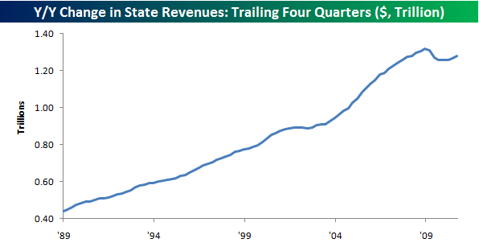 In addition, while the drop in state revenues was the biggest decline we have seen in at least 20 years, it is already back on the rebound. In the latest quarter, trailing revenues increased by 1.8% which is the first increase since Q1 09.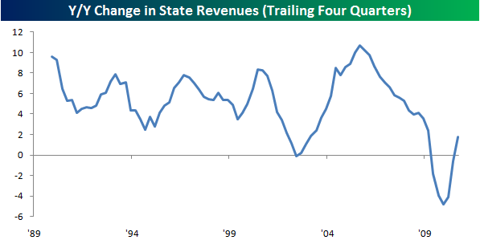 Turning our focus to individual states, we found that compared to Q3 of 2009, 42 of the 50 states saw revenue increases in the third quarter while only eight saw declines. On the positive side, nine states saw their revenues increase by more than 10%, with Alabama leading the way. Looking at the list of states with declines, the more notable aspect of that list may be the notable names that are absent. California, Illinois, New Jersey, and New York are generally considered to be the states that have the worst finances, but of those four only New Jersey saw a decline in revenues during the quarter. That being said, just because three of those states are absent from the list, it is worth noting that all four states saw their revenues rise by less than 4% which is below the 6% average of all 50 states.