Angie's List (NASDAQ:ANGI) has taken a heavy beating in 2014. The stock is down 44%, and it will be difficult for the company to stage a turnaround. In fact, Angie's List couldn't meet estimates for the sixth consecutive time last quarter. It reported revenue of $78.9 million, which missed the Wall Street Estimate of $80.18 million by 1.6%. However, revenue increased 33% year over year, but the company wasn't able to cut its losses. Angie's List recorded a loss of 31 cents per share, or $18.4 million, which was expected to be 24 cents. Losses increased 28.7% from the previous year's 25 cents.
Angie's List is based on a subscriber model, where members pay to access the reviews and ratings of its products and services. Hence, it is obvious that consumers expect services that are worth the money. But unfortunately, Angie's List couldn't provide services worth its membership fee. It has also increased its fee to $90 to cover up for its losses. Increasing fees and decreasing satisfaction have led to negative results from the company. As a result, despite the growth in revenue, its losses are increasing as Angie's List lacks the basic cash generating ability by controlling its overall costs.
Negatives overshadowing positives
Looking at the bright side, its number of paid memberships rose up to 2.8 million, which is a decent 31% increase year over year. The company recorded a 300% increase in consumer interactions in the second quarter. However, the inner reality of Angie's List overshadows the positives. The company spends way more than what its negative operating margins allow to gain more memberships.
Its growing expenses eat up all of the income. Angie's List's selling and marketing expenses were up 38% and 28%, respectively, in the previous quarter. The company's ongoing expansion plans through excessive advertising are one of the prime reasons behind its sluggish performance.
A flawed model
The company's paid strategy isn't working well with customers. Angie's List's model is criticized mainly because of its increased membership price. The majority of consumer reviews are negative. Moreover, Angie's List claims to use only consumer generated content, while it also allows companies' owners to pay and get their enhanced listing done on the website. This means that the company deviates from providing unbiased reviews and entertains paid positions and advertisements on its website.
Angie's List fails to focus upon customer experience, and instead pays attention only toward generating revenue, which is a wrong foundation to base a business upon. The company advertises too much to call and attract customers.
Stiff competition
Angie's List is also affected by competitor Yelp (NYSE:YELP), which seems to be taking advantage of Angie's List's flaws. Yelp is being preferred over Angie's List because it is free and provides similar services. It has shown growth, while Angie's List hasn't done much since going public.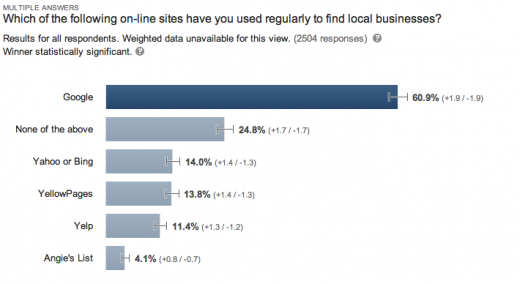 Source:blumenthals.com
Angie's List falls behind even with paid 2.3 million users, while Yelp has a stronger user-base and user-connect with 132 million monthly users. Moreover, Yelp focuses on consumer experience. It has recently updated its iOS app, where its members will be allowed to post short videos along with their written reviews and pictures.
Yelp is looming large over Angie's List's prospects. Angie's List is also seeing massive insider selling. Nothing can be worse than people who know the company in and out start selling shares. This indicates that Angie's List will continue underperforming the market.
Moreover, Angie's List got an "F" in its financial report card, posted on a business review rating website as analysts are downgrading this stock. The company has also projected a weak guidance for the third quarter. Angie's List expects revenue between $80.5 million to $82.5 million, which is below the consensus estimate of $86.6 million.
Conclusion
Quite clearly, Angie's List seems to be fighting a losing battle. It is seeing weakness in the business, and an increasing in membership fees might drive customers away from it to rival services such as Yelp. Hence, there seems to be no respite for Angie's List going forward, and it will be prudent for investors to stay away from the stock.
Disclosure: The author has no positions in any stocks mentioned, and no plans to initiate any positions within the next 72 hours.
The author wrote this article themselves, and it expresses their own opinions. The author is not receiving compensation for it (other than from Seeking Alpha). The author has no business relationship with any company whose stock is mentioned in this article.