If you are looking to gain exposure to the soft drink beverage industry, Dr Pepper Snapple Group (NYSE:DPS) may offer the most value. Dr Pepper Snapple, founded in 1885, owns more than 50 brands, including popular beverages 7UP, A&W, Canada Dry, Crush and Hawaiian Punch.
The company outperformed both revenue and earnings estimates earlier this month. It reported earnings per share of $1.06, beating estimates by 17%, and sales revenue came out to be $1.63 billion, surpassing estimates by 0.5%. Management also revised up its earnings per share guidance from the $3.38-$3.46 range to $3.43-$3.51 for the ongoing year, above analysts' estimates of $3.48.
Dr Pepper attributes its success in the most recent quarter to higher sales volume, alongside well-planned product and pricing mix. Moreover, packaging and ingredient costs are expected to decrease the cost of goods sold by 2% in the next year.
Strong financial performance by Dr Pepper has made it a relatively leader in the industry over the past year. Compared to Coca-Cola (NYSE:KO) and PepsiCo (NYSE:PEP), Dr Pepper has seen stronger free cash flow generation and growth in earnings per share.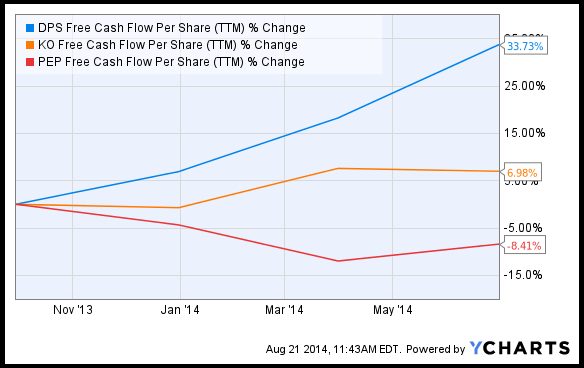 This financial growth has driven investor funds into the company, lifting the company's stock price close to 47% since last October. Even at record closing highs for Dr Pepper, the company still has both revenue and share price growth ahead of it.
Prior to going public in 2008, Dr Pepper sold off many of the organization's international opportunities for carbonated beverages. This led them to generate nearly 88% of its business within North America, while Coca-Cola and PepsiCo made almost half of their revenue overseas.
Recently, however, CEO Larry Young revealed in an interview on CNBC that the company had obtained rights to begin entering the Middle East and Far East markets with its Snapple brand of drinks. There is a huge opportunity to sell tea in these markets, which having strong demand, could be a driver of revenue growth moving forward.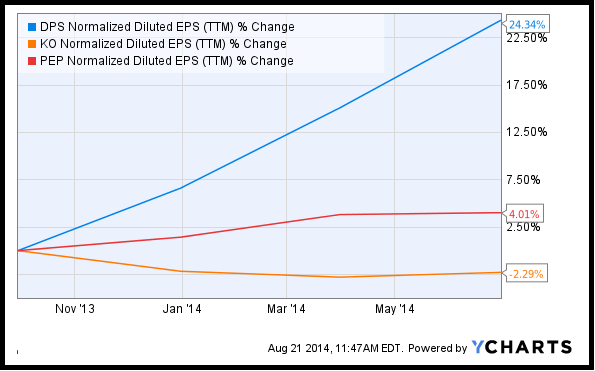 Along with financial success, Dr Pepper also offers a healthy dividend that could continue to grow in the future. The beverage company has raised its dividend every year since being spun off from British confectioner Cadbury Schweppes in 2008. Its annual dividend growth rate is currently 17%.
Although, both Coca-Cola and PepsiCo have offered a steady dividend for a longer period of time, Dr Pepper's emergence as a staple in the industry could lead to similar success in the future. As growth accelerates, Dr Pepper may be able to offer faster growth on its dividend over the next five to ten years.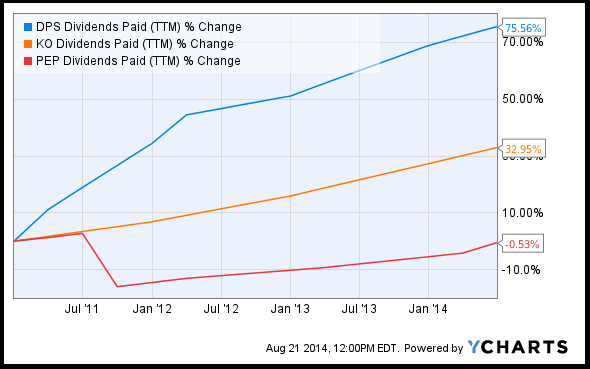 In spite of both financial success and a healthy dividend, investors continue to put a lower valuation on Dr Pepper compared to PepsiCo and Coca-Cola. Dr Pepper's forward price to earnings ratio is only 17.28, compared to a forward PE of 20 or above for the other two.
Both PepsiCo and Coca-Cola dominate the industry, and are such household names that they deserve a premium on brand recognition alone. Dr Pepper, however, hopes to change that in the future, while capturing market share. The way things are currently going, Dr Pepper could have a lot of room for growth and added investor value in the years to come.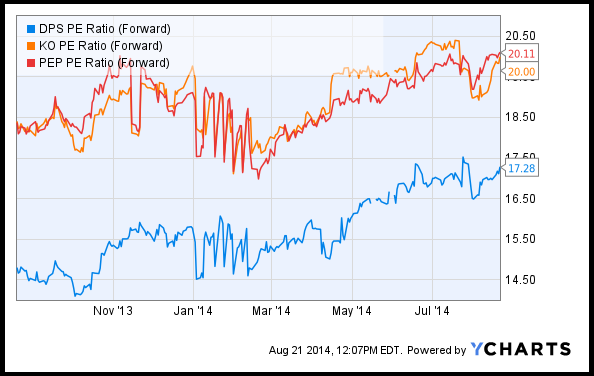 Disclosure: The author has no positions in any stocks mentioned, and no plans to initiate any positions within the next 72 hours.
The author wrote this article themselves, and it expresses their own opinions. The author is not receiving compensation for it (other than from Seeking Alpha). The author has no business relationship with any company whose stock is mentioned in this article.