Back in April of this year, Barrick Gold (NYSE:ABX) announced that it had been informed by Newmont Mining Corporation (NYSE:NEM) that Newmont's Board had decided to terminate merger discussions with the company.
A possible merger between the No. 1 and No. 3 global gold miners isn't shocking, in fact this was the third time in the last 7 years that Barrick and Newmont held discussions about merging.
When talks broke down this past spring, Barrick stated that it "believes the interests of shareholders are best served through the completion of this business combination, Newmont's Board determined that the interests of Newmont's shareholders are best served by remaining independent."
Both companies publicly accused each other of thwarting a deal that many investors wanted. However, the two companies have stated they are still open to resuming discussions.
Combining Barrick and Newmont would result in annual cost savings of $1 billion, mostly from their adjacent mining operations in Nevada. That is according to the two companies.
Barrick was set to offer Newmont shareholders a 13 percent premium, but the merger fell through when the two companies failed to come to an agreement on which mines to include in a spinoff, among other things.
Can't We All Just Get Along?
One of the problems with a Barrick/Newmont merger is just the fact that these two companies "are like two kids in the sandbox," as said so eloquently by John Ing, president and gold analyst at Maison Placements Canada. "The logic of the merger is there, but when you get down to board seats and personalities, it's a different kettle of fish."
Peter Munk, founder and recently retired Chairman of Barrick, didn't help things when he accused Newmont of being "not shareholder friendly." Newmont was not happy with Munk's comments, and cited them as evidence that the two companies could not possibly work together.
Barrick said that discussions also ended because Newmont reneged on the location of the head office of the merged company being in Toronto. So you have a multi-billion dollar merger also being thwarted because the two couldn't come to terms on where the head office would be located.
The two also had disagreements about the corporate governance roles for the combined entity.
Why Now Is A Good Time For A Deal Between Barrick And Newmont
Peter Munk formally retired at Barrick's annual meeting on April 30, 2014. He was replaced by Co-Chairman John Thornton, who was a former Goldman Sachs president and board member.
Munk, who founded Barrick in 1983, said he was for the merger with Newmont, and the plan to spin off some of the combined company's assets outside North America would improve profitability and reduce risk. But Munk's words about Newmont as well as his tough nature made a merger less likely, even though he had Thorton doing all of the negotiations. Now with Munk completely out of the picture, I think there is a much better possibility of a deal.
Merge Two Companies To Create One?
Ever since the merger news hit you have a lot of investors saying they want this to happen. Both companies want it to happen as well, just on their terms. But a merger to create one company is not a good idea. The whole point of a merger this size is to unlock shareholder value and find some costs savings. $1 billion in costs savings isn't enough though in my opinion, and I question if there would be even that much.
Newmont and Barrick have two major problems, one is debt and one is just underperformance as each have failed to hit production targets that were set years ago. Not only that, but they have operations spread out over the globe, and combining all of this would be a confusing company to digest for most investors. Even if they spun out the Australian operations, it would still be a large, unfocused gold mining company with $20 billion in debt. There is no shareholder value being created by this combination. Both companies have great assets, but there should be strategic integration with these, not just taking the best, and offloading some underperformers.
Barrick also has the overhang of Pascua Lama. The project has gone far over budget, has been halted by regulators and is still not close to being built. Barrick has completely stopped construction. The project was originally estimated to cost between $2.8-$3 billion but the estimate had risen to $8.5-billion by the time construction was halted. Barrick's debt exploded as they tried to get this mine built. Now they still have the debt, but no mine.
In this two part article, I'm going to lay out a different plan. One that would unlock a huge amount of shareholder value, and create a much more streamlined and focused set of companies/operations. It's not a merger of two companies to create one, it's a merger of two companies to create three.
Barrick And Newmont Have Created Big Gold Companies, But Zero Return for shareholders
Peter Munk wanted to create the biggest gold company in the world. He did that with Barrick, so mission accomplished. As you can see in the chart below, Munk didn't create any shareholder return in the process. Gold has gone from $250 in 2000 to $1,300 today. Yet after almost 15 years, Barrick is basically trading at the same level it was back then. If you adjust for inflation then this is a negative return on your investment.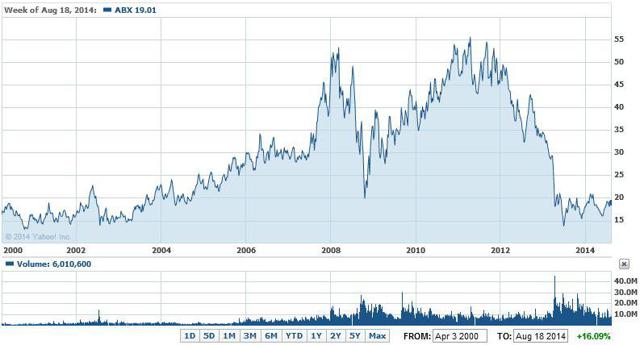 (Source: Yahoo Finance)
Newmont isn't any better. Where is the shareholder return?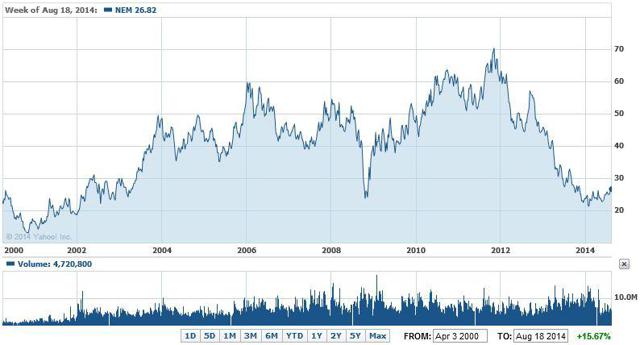 (Source: Yahoo Finance)
If Barrick and Newmont, as well as their respective investors, think merging the two companies is all of the sudden going to reverse this negative shareholder return then they are wrong. A different strategy is needed.
The Plan
Barrick and Newmont have fantastic gold assets between the two of them. But throwing them all into one pot isn't going to unlock their value. Instead, Barrick and Newmont need to combine assets and form three entirely separate companies: Barrick/Newmont Nevada, Barrick/Newmont Central and South America, and Barrick/Newmont Africa and Australia.
Each of these companies would be spun-off, with Barrick and Newmont investors receiving a combined 90% of each company. I'm factoring in a 10% equity raise for each one to help ease the debt burden.
As I will show, each company would have a focused and well defined strategy that would not only make operational sense but also unlock a tremendous amount of shareholder value.
Barrick/Newmont Nevada
What Barrick brings to the table:
Goldstrike
Cortez
Turquoise Ridge (75%)
Round Mountain (50%)
Bald Mountain
Ruby Hill
Goldrush
What Newmont brings to the table:
Carlin
Phoenix
Twin Creeks
Turquoise Ridge (25%)
Projects
Barrick recently discovered the Goldrush deposit right next to the company's Cortez Hills mine, Goldrush is located just on the other side of a mountain. Barrick's Chief Executive Officer Jamie Sokalsky called Goldrush one of the world's top exploration finds of the past decade. Goldrush contains 15.6 million ounces of gold resources at a very high grade. This could become a 500,000-1 million ounce per year mine.
The project is advancing through pre-feasibility and the study should be complete in mid-2015. Barrick is evaluating a number of development options, including underground mining or a combination of both underground and open pit mining. Infill drilling is confirming continuity of high grade mineralization and supporting an underground mining scenario.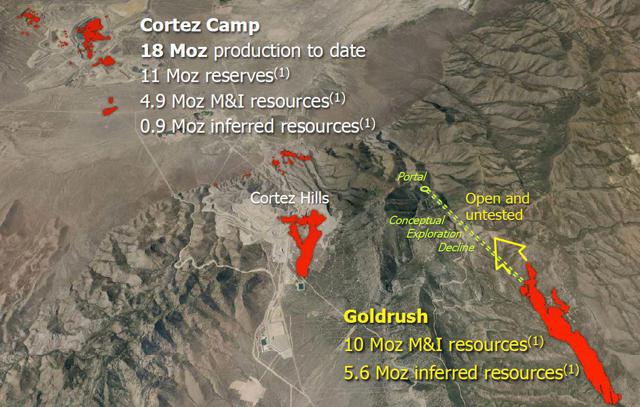 (Source: Barrick Gold)
Newmont also has the Long Canyon project in Nevada, which could add an addition 100,000 oz per year.
Production
Newmont didn't break down 2013 production and AISC from each mine at its Nevada operations, rather it just posted them on a consolidated basis. They produced 1.75 million ounces in total at an AISC of $895. We can estimate the production at each mine though.
Barrick also states:
"The autoclave facility at Goldstrike is also undergoing modifications that will enable the mine to accelerate the cash flow from about 4.0 million stockpiled ounces through the addition of a thiosulfate process. The modified autoclaves are forecast to contribute an average of 350,000-450,000 ounces of annual production at a similar AISC to the overall operation in the first five full years following implementation of this process. First production is on track for Q4 2014."
That's not included below. I'm leaving in Round Mountain and Bald mountain even though they could be sold off because of their high cash costs. In the end they don't increase overall costs that much since they are smaller mines and the high AISC is likely temporary. Ruby Hill still has a lot of resources left so it's included as well.
Barrick/Newmont Nevada
 
2013 Production
2013 AISC
Reserves (ounces)
Goldstrike
892,000 oz
$901 per oz
10.7 million
Cortez
1.34 million oz
$433 per oz
11 million
Carlin
1 million oz
895 per oz
15.7 million
Turquoise Ridge
223,000 oz
$927 per oz
6.8 million
Phoenix
250,000 oz
$895 per oz
5.7 million
Twin Creeks
450,000 oz
$895 per oz
2.4 million
Round Mountain(50%)
156,000 oz
$1,330 per oz
919,000
Bald Mountain
94,000 oz
$2,138 per oz
2.5 million
Ruby Hill
91,000 oz
$887
140,000
 
 
 
 
Total
4.5 million oz
$800 per oz
55.9 million oz
So Barrick/Newmont Nevada would produce 4.5 million ounces of gold per year at a very low all-in sustaining cash cost. If you add Goldrush and Long Canyon into the mix then production could rise to over 5 million ounces per year.
Call this company whatever you want, Barrick/Newmont Nevada, Nevada Gold, etc. The plan is still the same. Combine all of the mines and projects in Nevada that Barrick and Newmont own, possibly selling a few of the smaller ones. This would be the best gold company in the world, without question.
Below is a map of all of the mines that would make up Barrick/Newmont Nevada. These are all within a 200-mile diameter circle. There are so many benefits of having all of the operations this close together and all in Nevada. It really would be a powerhouse.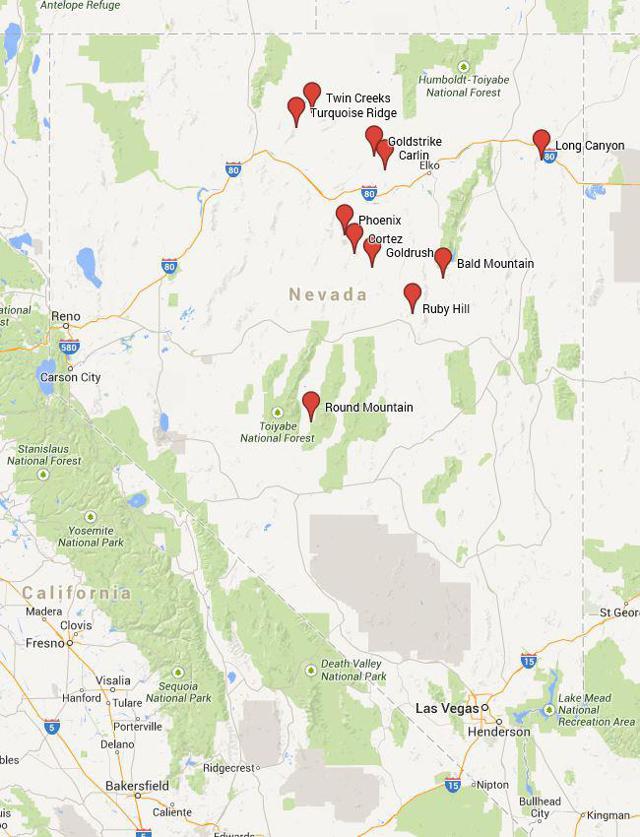 (Source: Google Maps)
Valuation
If you factor 4.5 million ounces of gold per year at an all-in sustaining costs of $800 per ounce and use a 30% tax rate, you get $1.575 billion a year in after-tax profits. If you assign a conservative p/e multiple of 12 on the combined company you would get a valuation of $18.9 billion. If you give it a p/e of 15 since most investors would pay up for a company like this given its location and production, then you get a valuation of $23.6 billion, which is more than what Barrick is worth right now.
Barrick/Newmont Nevada Valuation
Annual Production
4.5 million ounces
AISC
$800 per ounce
Tax Rate
30%
After-Tax Profits ($1,300 gold)
$1.575 billion
Market cap at p/e of 12
$18.9 billion
Market cap at p/e of 15
$23.6 billion
These aren't pie in the sky production figures and valuations. This is what the two combined companies would be producing today. If you figure in Goldrush and Long Canyon you get even higher numbers but I'm not going to include those. I also didn't factor in any of the reported cost savings that Newmont and Barrick thought would occur by combining assets in Nevada, which some say could be as much as $1 billion. In other words these are extremely conservative figures.
Let's take a look at Goldcorp's (NYSE:GG) valuation. Goldcorp is going to produce roughly 4.3 million gold equivalent ounces in 2014, and that will grow to 5.2-5.3 million ounces in 2015. This is a very similar production profile for Barrick/Newmont Nevada. Barrick/Newmont Nevada has lower AISCs, which translates to 50% more after-tax profit. So a $23.6 billion valuation for Barrick/Newmont Nevada wouldn't be out of the question at all. In fact it might be too low.
Goldcorp Valuation
2014 Gold Eq. Production
4.3 million ounces
AISC
$975 per ounce
2014 Tax Rate
26%
After-Tax Profits ($1,300 gold)
$1.034 billion
Market cap
$23 billion
P/E
23
That's it for Part 1. Part 2 will focus on Barrick/Newmont Central and South America, as well as Barrick/Newmont Africa and Australia. Click here for Part 2.
Disclosure: The author has no positions in any stocks mentioned, and no plans to initiate any positions within the next 72 hours.
The author wrote this article themselves, and it expresses their own opinions. The author is not receiving compensation for it (other than from Seeking Alpha). The author has no business relationship with any company whose stock is mentioned in this article.