"One, two, three, four, I declare a thumb war"
Sprint (NYSE:S) has declared a price war on the big mobile carriers in an attempt to revitalize its flagging customer base. Should AT&T (NYSE:T) shareholders be concerned?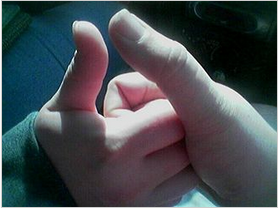 In a word, "maybe".
In the short term, a price war will usually affect a stock price negatively. And in fact, that can easily be seen in Mr. Market's reaction to the latest news: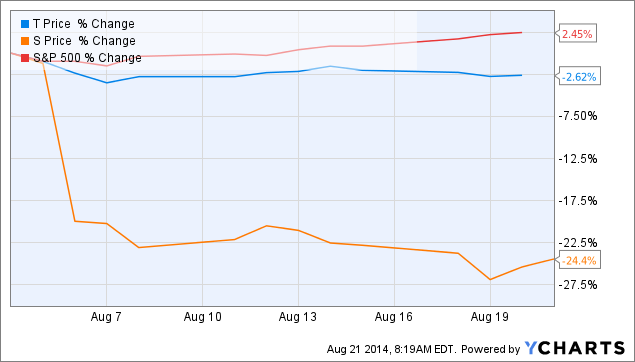 Clearly, investors think that the upcoming mobile war will hurt Sprint far more than AT&T. However, AT&T was also hit by the news to the tune of 5% underperformance of the S&P 500, and could continue to see headwinds that keeps the stock down for the short-term future.
How unpleasant are things likely to get for AT&T? That, of course, is impossible to predict. A hit on earnings is virtually guaranteed, but the severity is anyone's guess. And Mr. Market does not like uncertainty.
Current analyst estimates has AT&T earning $2.60 in 2014 and $2.72 in 2015. That 4.6% growth is nothing exciting to begin with, and I look for estimates to come down to show little, if any, growth in 2015.
Margins
How well can AT&T withstand a price war? The following chart is a 10-year history of the EBITDA margin: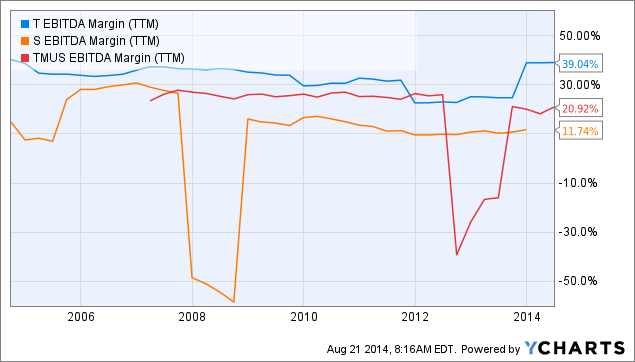 T EBITDA Margin (TTM) data by YCharts
I added in T-Mobile (NASDAQ:TMUS) for additional comparison. As one would expect, AT&T has the margins to fight a price war, whereas Sprint is limited by its weak financials.
That is not to say that AT&T won't be hurt by the price war. Much like actual war, both sides lose resources when the shooting starts. While I feel that AT&T is likely to come out in far better shape than Sprint, the effects will nonetheless be unpleasant.
A Technical Picture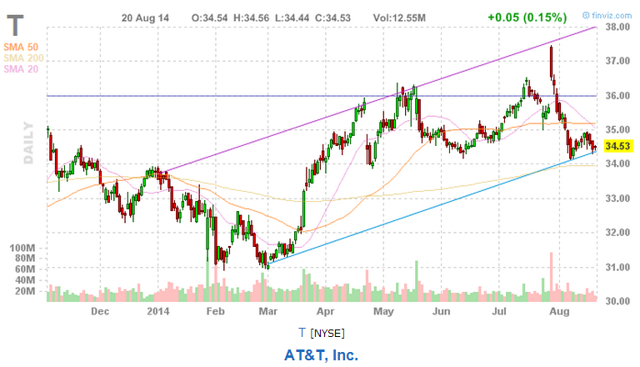 (source: finviz.com)
AT&T is currently testing a resistance level. Given the current uncertainly surrounding the stock, it would not be surprising to see the stock break through that resistance to the downside. The high yield, however, props up T, and if it were to fall to the next resistance (at around $31-$31.5), it is very difficult to imagine the stock dropping below $31 (excepting a jarring macro event, of course).
Dividends Under Pressure?
Many investors of AT&T are in it for the income stream. Therefore, the major issues for those people are the yield and expected dividend growth. Here's what we've seen from the company in the last 10 years: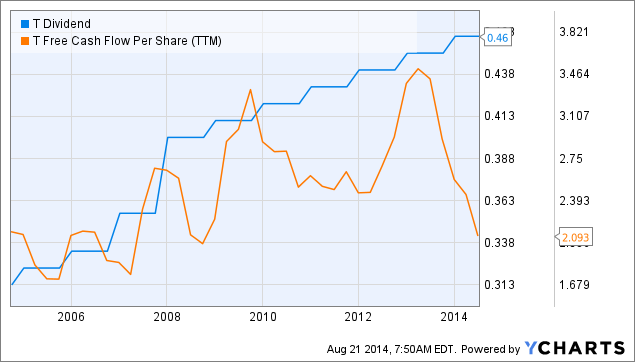 T Dividend data by YCharts
While AT&T's cash flow growth has been negative over the last few years, the dividend has continued to march onwards and upwards. In fact, since 2008, the quarterly dividend has increased by one penny each, as well as every annual increase. Like clockwork, every February, the payout has been one cent higher than the year before.
The payout ratio has increased significantly over the last few years, and bears watching for the long-term. The current payout / free cash flow ratio sits at a disturbingly high 88%. That ratio could very well go higher due to the mobile price war AT&T is about to contend with.
In my opinion, the dividend trend is very unlikely to change in 2015. Despite the dropping cash flow, AT&T should have the cash flow to pay out $0.47 per quarter, and management would be horrified to break the company's record of dividend raises.
However, to expect anything more than $0.47 per share looks very optimistic indeed, considering the upcoming price battle and the already high payout ratio. Therefore, investors will be looking at about 2% dividend raises for the foreseeable future.
Conclusion
In a "David vs. Goliath" type of price war, David rarely comes out on top. AT&T has the resources to outlast Sprint in any sort of protracted price battle.
All telecom companies, including AT&T, are going to see their bottom lines impacted due to dropping margins, and furthermore, the uncertainty surrounding these companies is likely to keep a lid on stock prices. For the total return investor, I would currently advise avoiding AT&T. However, the income investor can get a 5.3% yield on the shares at this time, and I don't see the dividend under pressure in the near term.
If T breaks through the current resistance level and heads to $31.50, then I think that a buying opportunity will exist for investors looking for a quick bounce. At that level, T would hit resistance, and again, barring some major macro event, a yield north of 5.8% would put a very solid floor under the stock.
Disclosure: The author has no positions in any stocks mentioned, and no plans to initiate any positions within the next 72 hours.
The author wrote this article themselves, and it expresses their own opinions. The author is not receiving compensation for it (other than from Seeking Alpha). The author has no business relationship with any company whose stock is mentioned in this article.