In a world where many investors are fleeing from hot Chinese IPOs with a high valuation matrix, I looked at Chinese small cap stocks and found another undervalued gem in the medical device sector: Dehaier Medical Systems Limited (NASDAQ:DHRM).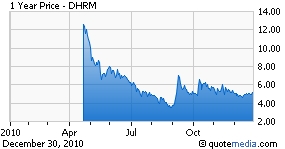 DHRM is a leading distributor and self-branded provider of medical devices based in Beijing, China. DHRM designs, develops, and markets self-branded homecare medical products (oxygen homecare products) and distributes products manufactured by other companies.

The Chinese government is well aware that the current health care facilities' infrastructure and investments made are highly inadequate to cope with the growing needs of the population. Hence, in 2009, the central government decided to disburse an estimated RMB 850 billion (USD 124 billion) over the next three years. This included an estimated RMB 4.1 billion (USD 620 million) to be disbursed for the setting up of CHC (Community Health Centers) and for the purchase of medical devices. A recent report published by the Wharton School of Business, University of Pennsylvania suggests that the expected value of China's medical device market will reach $28 billion by 2014, representing a 15% CAGR. Because of increasing availability of health care insurance, increasing percentage of GDP to be spent on health care by the government, and growing desire for better quality of care, the medical device market is projected to grow much faster than the global medical device market. Within the next five to seven years, China is expected to surpass Japan and become the second largest medical device market in the world. China's 12th Five-Year Plan provides good news for health care industry. At the moment, public healthcare expenditure represents less than 5% of GDP in China, compared to over 10% for most developed nations. Chinese lawmakers have adopted a new legislation that could potentially extend basic pension and healthcare coverage to more people.
With such strong government emphasis and massive investments committed, DHRM has become one of the fastest-growing medical device companies in China today. The company has managed to maintain revenue growth of 35% annually for the past three years and has controlled expenses well. In fact, the profit margin for monitoring devices, one of the key products offered by DHRM, increased from 31.1% in 1H 2009 to 52.1% in 1H 2010 due to effective cost control.

In China, hospitals and clinics purchase almost all of their medical devices and supplies through distributors. As a result, medical device companies need to develop relationships with several distributors in different regions. DHRM has contractual relationships with over 2000 independent distributors and business relationships with over 3000 hospitals throughout China. Very recently, DHRM had won a $2 million medical device distribution bid for a new rural healthcare construction project supported by the China Development Bank Corp ("CDB"), a major Chinese state-owned bank focused on supporting China's national infrastructure development initiatives. Under the terms of the contract, Dehaier will cooperate with Philips Medical Systems, Olympus Corporation of Japan and many other companies to distribute medical devices to the new healthcare facility. Winning this project gives DHRM entry into the basic-level medical care market and DHRM expects to obtain more projects within this optimal environment. DHRM also established the Customer Experience Center (CEC) network for its Homecare Medical products. The CECs are established to provide broad ranges of branded Homecare Medical products and to meet customer's expectations, e.g., real time recording system, diversified solutions and treatments etc.

In the recent quarterly report, the company reported a net income of $3.1 million in the first nine months of 2010, up 48% year from the previous year. DHRM also earned $0.77 per share, compared with EPS of $0.69 achieved in the same period a year ago. DHRM is currently traded around $5 at P/E less than five and has the lowest valuation compared to the industry as shown below.
DHRM

Healthcare-Medical
Appliances & Equipment

P/E (TTM)

4.8

20.6

19.6

P/B

2.9

3.28

2.9

P/S

1.1

4.38

2.6

Operating Margin (TTM)

28.30%

22.92%

20.10%

Net Margin (TTM)

22.90%

22.26%

10.40%

ROE (TTM)

29.20%

20.14%

12.30%

Debt/Equity

0.07

0.68

0.7
DHRM has an extensive marketing network and stable relationships with old customers. It also enhanced its ability to control risk by decreasing dependence on major customers. Because of a strong government support in the medical industry and the direction of healthcare shifting towards community-centric healthcare in China, DHRM's strong growth trend is expected to continue. In my opinion, DHRM is a well under-valued stock and the current price is definitely a bargain.


Disclosure: I am long DHRM.