Despite news that The Buckle (NYSE:BKE) reported mixed results for the second quarter of its 2014 fiscal year, shares of the retailer rose over 3% in afternoon trading. In light of this development, some investors might find solace in the company's stock price appreciation, but is it possible that the company isn't all it's cracked up to be?
Mixed results weren't bad
For the quarter, Buckle reported revenue of $235.73 million. This represents a little more than a 1% gain over the $232.53 million management reported in last year's quarter and was slightly higher than the $235.13 million analysts anticipated. According to its press release, this rise in revenue was driven by an almost 1% increase in store count from 452 locations in operation last year to 456 this year, combined with a 1.7% improvement in online revenue from $16.8 million to $17.1 million. This was, however, negatively impacted by a 0.5% drop in comparable store sales.
| | | | |
| --- | --- | --- | --- |
| | Last Year's | Forecasted | Actual |
| Revenue (millions) | $232.53 | $235.13 | $235.73 |
| Earnings per Share | $0.52 | $0.53 | $0.51 |
From a profit standpoint, the situation wasn't quite as positive but certainly wasn't terrible. For the quarter, Buckle's earnings per share came in at $0.51. In addition to coming in below the $0.53 analysts hoped to see, the company's drop in profits placed its results below the $0.52 management reported during the second quarter of its 2013 fiscal year. Despite the fact that revenue increased for the quarter, Buckle's bottom line was hindered by a rise in its cost of goods sold, which inched up from 59.4% of sales to 59.7% and from a very small uptick in the number of shares outstanding.
Is this the sign of market saturation…or worse?
One fear that investors might have is that this report further demonstrates that Buckle has hit the point of market saturation. While revenue did rise year-over-year and its year-to-date growth stands at 1%, this marks a drastic reversal from the fast growth management was able to achieve in recent years. Between 2009 and 2012, the company's revenue rose a respectable 25% from $898.3 million to $1.12 billion.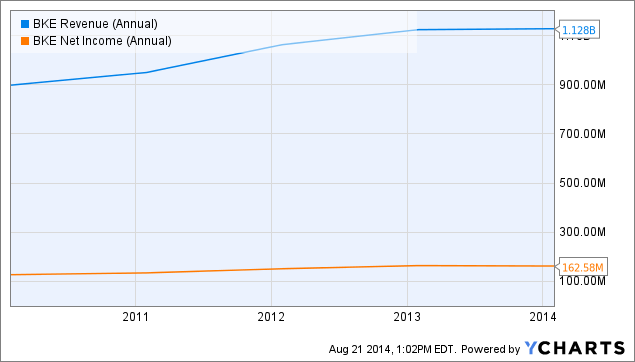 BKE Revenue (Annual) data by YCharts
Over the next year, the retailer's sales inched up just barely, rising to almost $1.13 billion as comparable store sales flatlined and store count increased just 2% (compared to the 3% annualized rate over the preceding four years). Add to this the fact that net income, which jumped 29% from 2009 to 2012, had dipped down 1% on slightly higher costs in 2013 and the picture implies that growth moving forward will be difficult to achieve.

Click to enlarge
Especially worrisome, however, is that the retailer is (for the moment at least) showing declines in comparable store sales. In the case of Buckle, this drop is small and rebranding and/or discounted products can bring customers back into its stores but in the world of retail, complacency can turn this metric into a waterfall. If management realizes this early on, then changes can be made, which might make the company's stock reasonably attractive with its P/E of 14, but certainly not a bargain.
Takeaway
Currently, Mr. Market seems somewhat upbeat with Buckle's performance. Even though profits came in lower than forecasted, the retailer's sales growth has been taken as a positive sign. There is, however, the negative tidbit of news that its sales growth was due to its small online sales and the addition of a few extra locations at a time when comparable store sales dropped modestly. If management can turn this trend around now, then the P/E of 14 posted by its stock could make for an interesting prospect, but this doesn't make the business a cheap opportunity.
Disclosure: The author has no positions in any stocks mentioned, and no plans to initiate any positions within the next 72 hours.
The author wrote this article themselves, and it expresses their own opinions. The author is not receiving compensation for it (other than from Seeking Alpha). The author has no business relationship with any company whose stock is mentioned in this article.