SolarCity (NASDAQ:SCTY) is on an outstanding run this year, and there seems to be no looking back for the solar player. In fact, SolarCity reported first-quarter revenue amounting to $61.3 million, which is almost double as compared to the previous year's quarter, while the estimates were looking for revenue just above $60 million. In addition, SolarCity yielded a net loss of $0.96 per share, less than the estimated $1.00 per share.
Hence, SolarCity seems to be making good strides in the business, and a closer look at its prospects will tell us that the company is well-positioned to deliver long-term growth.
Focusing on efficiency
SolarCity recently acquired solar module manufacturer Silveo, which sent the stock soaring. This acquisition is believed to be worth the risks, given that it comes with a great opportunity. Silveo makes high efficiency solar panels, and SolarCity has acquired it for $200 million in stock and an additional $150 million in performance earn outs.
Silveo delivers a cell efficiency of about 21% in its solar panels, with around same production cost as that of other solar panel makers. It plans to attain its 24% cell efficiency goal in the next two years. Although, this is expected to bring benefits for SolarCity, it also comes with a massive risk as many have failed at this business. This acquisition will make SolarCity vertically integrated like industry leaders SunPower (NASDAQ:SPWR) and First Solar (NASDAQ:FSLR), which will give it a new sector in the global solar panel market to grow into. SolarCity hopes to construct a solar panel factory with 1 gigawatt of yearly capacity in New York by 2015, and factories with almost 10 gigawatts of yearly capacity in the years after that.
SolarCity's acquisitions have been about lowering system costs for solar installations. On the efficiency front, SolarCity is trying to pack more power onto each rooftop. This reduces installation time by requiring fewer panels and increases power output, along with the number of watts on each roof.
The competitor, SunPower is already fabricating 25% efficient cells that will be ramped up when the company's new production facility is finished in 2015. This puts SolarCity in a tough situation as there is a possibility that it might not reach its target of 24% efficiency in the next two years, which SunPower already enjoys.
Moreover, GT Advanced (GTAT) recently supplied 200 HiCz monocrystalline furnaces to Qatar Solar Energy, which are anticipated to produce wafers for cells that exceed 22% cell efficiency. GT is also launching equipment that will increase efficiency, thereby making technology advancements that carry low technology risk, unlike SolarCity's Silevo process.
SolarCity and Silevo need not focus on lower costs than competitors, but on higher efficiency if they need to survive in the industry. Given all the pros and cons, SolarCity needs to keep up with its promises of delivering high efficiency in the future, or else it might fall behind the curve.
Reducing Price
Due to the increasing supply of polysilicon, the cost of solar panels has decreased considerably. Currently, the utility scale PV stands at $2,000 per KW of capacity, as compared to over $3,200 in 2010, and is expected to reduce further.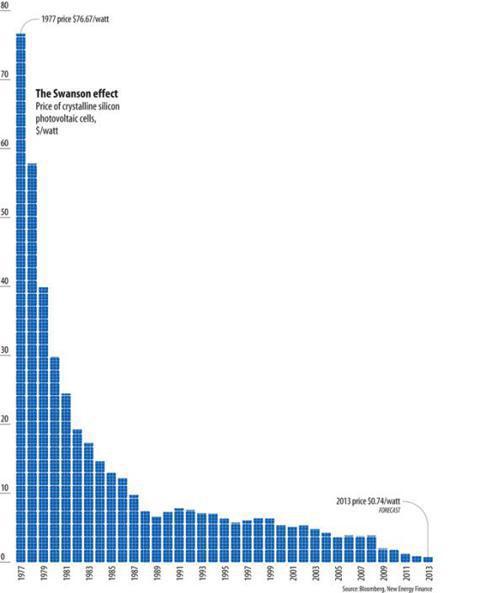 Source: Bloomberg
Furthermore, efforts are being made to reduce soft costs like labor and systems design for solar, which, at present, account for approximately 52%-64% of total installation costs and are the primary reason why the installation of solar panels in the U.S. is expensive. So, the expected reduction in the price of solar panels should boost SolarCity's margins.
In fact, earlier in 2014, Deutsche Bank stated that solar is already cost competitive in 10 states in the U.S. and will soon be cost competitive in 12 other states. The firm said:
"Considering the improved economics of solar in these markets along with other growth enablers such as solar leasing, availability of low cost financing, we expect installed capacity growth of ~600% over the next 4 years."
In addition, the firm also said that solar leasing is booming, which bodes well for SolarCity's business.
Valuation
Being a growth stage company, SolarCity is investing to grow in the long run. As a result, it is currently a loss-making, company that does not have P/E ratios, either forward or trailing. However, it does have an attractive PEG ratio of 0.45, which is an indication that its bottom line is expected to grow at an impressive rate in the future.
A look at SolarCity's expected bottom line improvements clearly indicates that the company's performance is expected to get better. This year, SolarCity's bottom line is expected to drop 136%, but the rate of drop is expected to slow down remarkably to 14% next year.
Conclusion
There is no doubt that SolarCity is facing certain challenges as far as efficiency is concerned. However, the company is doing its best to improve efficiency, and it is taking impressive steps in that direction. Moreover, given the increasing adoption of solar energy in the U.S., and a drop in installation costs, SolarCity looks set to deliver growth in the long run. Hence, even after appreciating 23% so far in 2014, SolarCity looks like a smart investment for the future.
Disclosure: The author has no positions in any stocks mentioned, and no plans to initiate any positions within the next 72 hours.
The author wrote this article themselves, and it expresses their own opinions. The author is not receiving compensation for it (other than from Seeking Alpha). The author has no business relationship with any company whose stock is mentioned in this article.