We first wrote our High Cash Stock Review of China Yuchai International Limited (NYSE:CYD) and the stock performance has been robust since then. The original review can be found here.
Great Balance Sheet: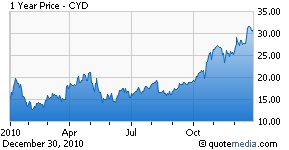 China Yuchai International has $13.71 of cash and investment per share minus their debt of $2.37 per share giving them a net of $11.34. This equates to the remaining enterprise having just a $16.05 per share value. They earned a very solid $0.87 a share in the third quarter ending September 2010 and $2.69 for the last nine months. The profit from operation for the last nine months was over $170 million dollars, or $4.63 per share. This works out to be a 28% return on the operation in only 9 months. The annualized cash flow from the enterprise works out to 38%, or $6.17 on a per share basis. After such a monster stock move, China Yuchai International can still be considered a value and we still believe that the high levels of cash are camouflaging the true earning power of the company.
The Business Execution:
Currently, we believe China Yuchai International is out-executing many of their peers. Most peer based companies have had weaker execution over the last 6 months, and still have significantly higher valuations. With overall sales down slightly year over year, which was expected, China Yuchai still delivered a very strong quarter. The overall operating profit expanded nicely, which is an excellent position to be in considering sales weakened across the industry. They moved up the product food chain to involve larger engines, which we believe may be a less competitive segment with better margins. Knowing they are a Chinese based heavy industry Company fighting higher interest rates, they provided excellent execution.
Low Value:
The Auto Truck peer groups trade about 0.95 times sales. Applying this metric would put China Yuchai International at about $32 per share while adding the $11.34 of cash per share, thus creating a market value of $43.
| | | | |
| --- | --- | --- | --- |
| Ratios | China Yuchai International | Industry | S&P 500 |
| | | | |
| --- | --- | --- | --- |
| Price to Enterprise Sales | 0.472 | 0.95 | n/a |
The $2.69 per share earned during the last 9 months gives them an enterprise P/E of 6. If one annualized the last nine months' performance, it would create $3.58, or a P/E of 4.5.
The current peer groups trade at about 14.49 times enterprise P/E. Applying this metric would give China Yuchai a value of about $ 51.87 per share plus $11.34 cash, thus creating a market value of $62.34.
| | | | |
| --- | --- | --- | --- |
| Ratios | China Yuchai International | Industry | S&P 500 |
| | | | |
| --- | --- | --- | --- |
| P/E to enterprise | 4.5 | 14.49 | 21.82 |
Conclusion:
We believe that China Yuchai International is trading at about an 36% discount to the Auto and Truck peers even thought the underling stock appreciated significantly since we included them in our High Cash Stock Review.
China Yuchai International is still well below most of their peers in the Auto and Truck peer group, however, it is significantly above the 80% discount we portrayed in our initial review. The core business appears to be very well run. This was demonstrated by last quarter's strong profits even though sales were down year over year. It appears that based on operational profit, the enterprise value of the company should be significantly higher. We believe China Yuchai International still presents a strong value and earning potential greater than their peers.
Additional China Yuchai International information such as financial ratios, Charts and News can be found here.
Disclosure: I am long CYD. Durig Capital and its clients currently do have positions in China Yuchai International.