The dynamics of the telecom sector are very interesting in the U.S. at the moment. AT&T (NYSE:T) and Verizon (NYSE:VZ) are the two major players dominating the sector while Sprint (NYSE:S) and T-Mobile are relatively smaller players. Sprint was looking to become a major threat to Verizon and AT&T with a takeover of T-Mobile, and the company had already promised a price war which was eventually going to benefit the customers. However, the merger between Sprint and T-Mobile has failed and it looks like the regulators believe Sprint and T-Mobile can offer better competition to the two major players in their current form and the merger will not be beneficial for the overall dynamics of the sector.
Sprint also looks to be moving on as the company has appointed new CEO, Marcelo Claure, who is a dynamic manager and will look to take on Verizon and AT&T. We have been focusing on the competitive landscape of the sector in our previous articles and how these companies are trying to maintain a strong position. In this article, we will continue with the theme and focus on AT&T.
Discount on iPad to Grow Customer Base
Customer base is one of the most important metrics for telecom companies, and the growing base indicates the company is achieving growth. AT&T recently announced its new iPad deal -- customers can now get an iPad for a $200 discount as long as they sign a two-year contract. In addition, they have to buy a new iPhone. The market for tablets is growing at a rapid pace and the promotion should result in considerable growth in subscriber base for the company.
At the moment, AT&T is behind Verizon in this segment - at the end of the second quarter, Verizon had over 1.12 million subscribers for tablets, compared to AT&T's figures of 366,000 - the company has a long way to catch Verizon in this attractive segment and this promotion makes sense when we look at these figures. Verizon has its own tablet, the Ellipsis. On the other hand, T-Mobile gives its customers free bundles of data to use for their tablets. The company also hands a $100 gift card to the customers who buy an iPad and an iPhone together. So, it is clear that almost all the players in the sector are focusing on this segment. It is not surprising as most of the segments in the telecom sector are mature and grow at a slow pace - however, segments like tablets, data services, entertainment services, and wireless services continue to grow at a rapid pace.
Customer Satisfaction is of Paramount Importance
Customer surveys are important in this sector - customer satisfaction is gauged in these surveys and they show how the customers are reacting to the services of these companies. Since the switching costs are virtually non-existent and sometimes incentive is larger; customer satisfaction is an extremely important factor for the companies operating in this sector. For example, a telecom company can offer double data limit at the same price than its competitors in order to entice the customer to leave his/her current service provider -- in this example, customer can easily switch service provider without incurring any notable costs while enjoying higher data limit.
In a recent customer survey, AT&T left behind all the other competitors in terms of customer purchase satisfaction. The company has maintained this position for the three years in a row now. Out of 1000 points, AT&T received 801, T-Mobile managed to get 796, and Verizon scored 788. However, in another survey, Verizon beat AT&T on five of the six metrics. According to RootMetrics, Verizon was the overall winner for the first half of the year - AT&T is not far behind but Verizon is currently leading all of its competitors in five metrics. The image below shows all the six metrics.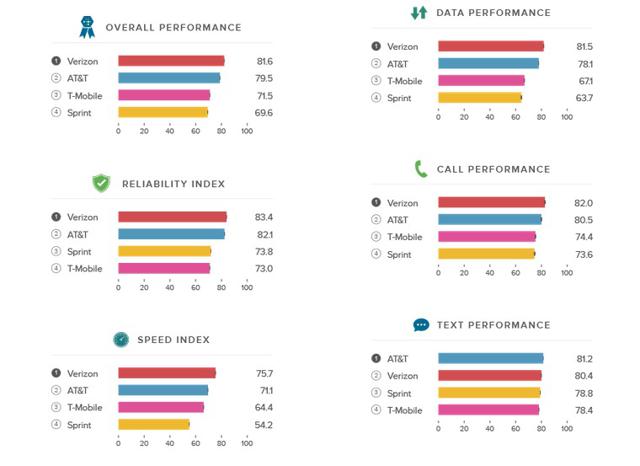 Source: RootMetrics Survey
The difference between the two big guns is not vast, but the other two players [Sprint and T-Mobile] are considerably behind these two. Sprint and T-Mobile has a long way to go before they can catch any of the big two.
Increasing Competition from Sprint?
After the failure of the merger with T-Mobile, Sprint will now look to compete in the market without increasing its scale - this will result in increased competition for AT&T and Verizon as Sprint is backed by a solid parent company. Sprint is already offering promotions to customers to double the data usage at attractive prices - if the price war intensifies; AT&T and Verizon might have to take part in this war which will result in margin deterioration.
Verizon is the leader in the wireless segment at the moment with AT&T at the second place. Sprint will need to invest considerably in the expansion of its wireless network in order to really take on Verizon and AT&T.
AT&T Growing its Reach
AT&T is expanding its ultra-fast GigaPower network into Miami. This service is fast enough to download an HD movie roughly in half a minute, a TV show in only 3 seconds and 25 songs in just one second. Since the service offers premium technology; it will come with premium pricing and the company will be focusing on a specific market segment for this service. However, being a new and much faster service, it is bound to get a good response which will drive its future revenues higher.
Conclusion
AT&T is making the right moves to increase its presence in the market and enhance its user base. The focus on tablets will allow the company to grow its revenues as this segment is growing at a rapid pace. Furthermore, the expansion of GigaPower into Miami will result in further growth for AT&T as it is a premium product and allows the company to have higher margin. At the same time, price war coming from Sprint might hurt the margins of AT&T and Verizon. However, these two companies have an advantage over Sprint and T-Mobile in terms of wireless network coverage which will allow them to maintain their superior position. Nonetheless, it remains a threat and AT&T will need to further better its wireless services. We believe that AT&T still has an edge over the smaller two players and we believe the competitive position will not change in the short-term.
Additional Disclosure: This article is for educational purposes only and it should not be taken as an investment recommendation. Investing in stock markets involves a number of risks and readers/investors are encouraged to do their own due diligence and familiarize themselves with the risks involved.
You can subscribe for real time alerts by clicking on the button at the bottom of this article, and you can also follow us on twitter here: twitter.com/IAEResearch
Disclosure: The author has no positions in any stocks mentioned, and no plans to initiate any positions within the next 72 hours.
The author wrote this article themselves, and it expresses their own opinions. The author is not receiving compensation for it (other than from Seeking Alpha). The author has no business relationship with any company whose stock is mentioned in this article.