By Laura Eaton
Any significant growth slowdown would put immense pressure on China's over-extended banks and could trigger a banking crisis and consequent hard landing. In our Global Economic and Markets Outlook for the second quarter of this year we set out what a hard-landing for China might look like. We provided our own estimates of the magnitude of China's non-performing loan problem. Based on the extent of that country's over-investment in productive capacity, we found that, by the end of last year, non-performing loans across China's whole financial system amounted to around 17% of GDP. That is far in excess of the official estimate of 1% across China's ten largest banks. A hard landing scenario would see contagion spread rapidly from the shadow banks to one or more of China's mainstream banks. Worryingly, this provides a reminder of the structure of the global banking crisis of 2008: the slowdown in growth in the U.S. triggered a collapse in the banking sector, which led to the biggest global recession of modern times. We are not there yet in China, but July's data have brought us a lot closer.
The increasing net trade surplus is another symptom of weaker domestic demand. Left unchecked, weaker domestic demand could trigger a recession, a banking crisis and deflation.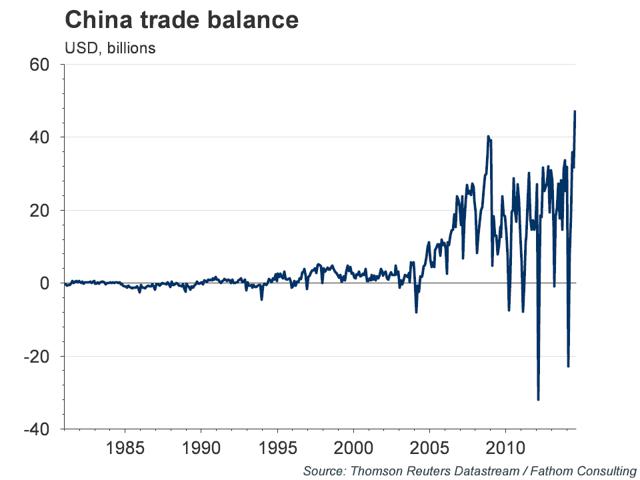 Click to enlarge
Housing market slowing
China's multi-year housing boom has ended. Commercial sales fell by 8.2% from a year earlier in the first seven months of the year - a significant drop from the high rates of growth seen in the first two months of the year. The price of new homes in China fell by 0.9% - the largest monthly fall in this comparatively new measure of property prices. Prices are weak across the country - 64 out of the 70 cities covered by the survey saw prices fall in July.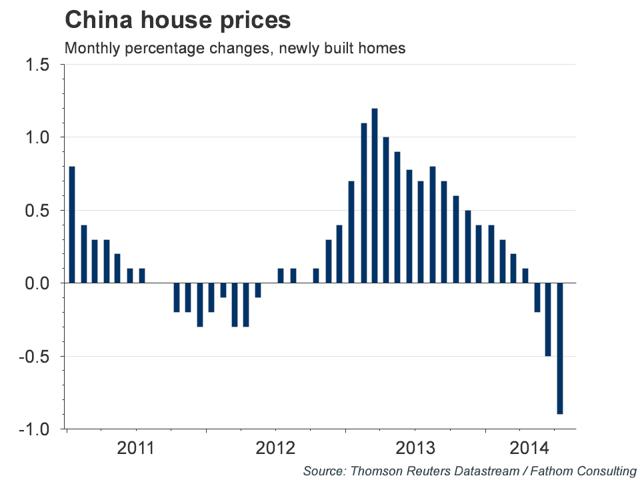 Click to enlarge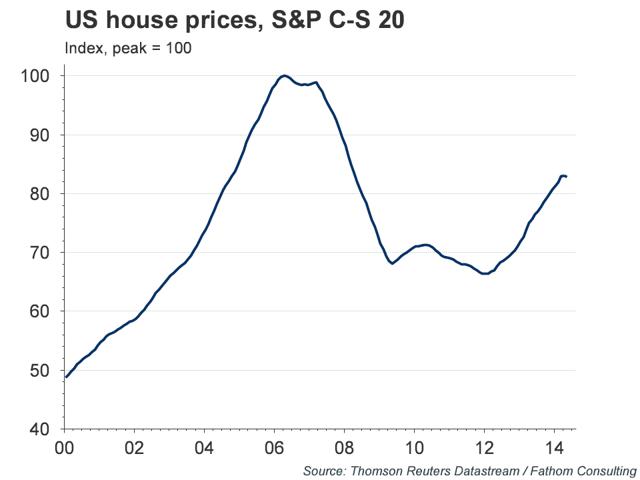 Click to enlarge
It can take time for the full implications of the bursting of a property bubble to be felt. It is worth noting that in the U.S. property prices peaked as early as April 2006. House prices had been falling for almost two years before the U.S. entered recession. And they had been falling for more than two years before Lehman Brothers collapsed in September 2008. There is not a full-blown banking crisis in China yet, but we are certainly in the foothills.
Unlike in 2011, the central government is choosing not to intervene, leaving local governments to act. (For example, Foshan prefecture has eased restrictions for those seeking to buy multiple apartments). In our view, the local government response will not be sufficient to arrest the slowdown in the real estate sector, and its impact on the wider economy, which is already showing up in demand for credit.
Monetary offset in doubt
In spite of a supportive monetary policy, and against expectations, total social financing - a measure of the total amount of credit extended to non-state entities - fell in July by the largest amount on record, from June's nine-month high. According to the People's Bank of China (PBoC), this was driven by two factors, other than temporary distortions: the economy is facing downward pressures in the housing market, causing 'new yuan loans' to fall to the lowest level since December 2009; and there has been a modest tightening of regulations for the shadow banking sector, which has resulted in trust loans - one type of off-balance sheet activity - falling for the first time. The first is the most significant: private demand for credit (specifically, housing credit) is slowing as the housing market and economic growth more widely is slowing. If that trend continues, it will become increasingly difficult for monetary policy to make any difference.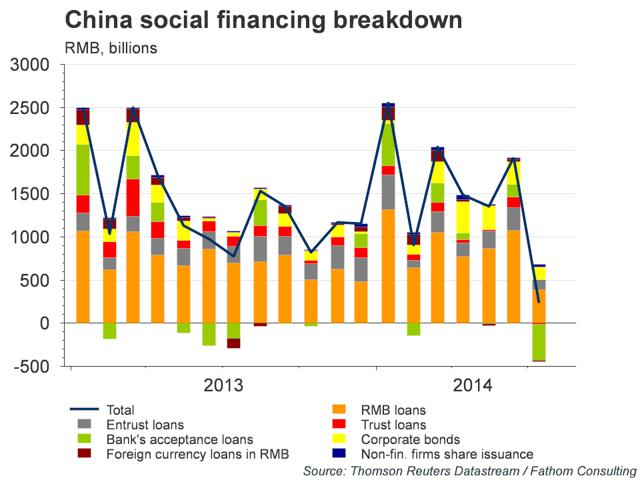 Click to enlarge
In response to the fall in total social financing - and very unusually - the PBoC released a statement, noting that base and seasonal effects were much to blame and that little emphasis should be put on month-to-month volatility. They are right about that - but the problem is that other data released this week were also weaker. Urban fixed asset investment rose by 17% over the year to July compared to the same period last year, the lowest reading since 2001. The National Bureau of Statistics of China estimated that a third of the slowdown in growth between the June and July rate was due to "the obvious cooling of the real estate market this year … so their investment activity is more cautious." Given the recent data this seems plausible.
Despite the PBoC comments, there is no doubt that credit growth is surprisingly low. Swift policy action is now necessary to reduce the risk of a hard landing. Capital raising efforts among Chinese banks have intensified this year. The current legal framework does not allow the issue of common equity by lenders whose shares are trading below book value - the price-to-book value of China's major banks averages around 0.92. At first they turned to so-called 'Basel bonds' - which qualify as regulatory capital under Basel III, which Beijing decided to adopt in early 2013. More recently, banks have also received the all-clear to issue preferred stock - which also counts as regulatory capital. Plans for sales of $35 billion worth of these shares have been announced in the past month or so. This comes at a price for the issuing banks who need to entice investors by offering a wide margin of safety in the form of punitively high dividends. This has echoes, perhaps, of Warren Buffet's deal at the height of the Financial Crisis where he was able to purchase Goldman Sachs preferred stock yielding 10%.
Leaving fiscal policy to do the hard work
With monetary policy increasingly ineffective, the alternative is fiscal policy. Higher government spending could compensate for slowing private spending, at least in the short term. Government spending has accelerated, but remains (for now) far below the growth rates seen after the global recession. If current trends remain in place, government spending will need to accelerate far more rapidly than it has so far to avoid a hard landing.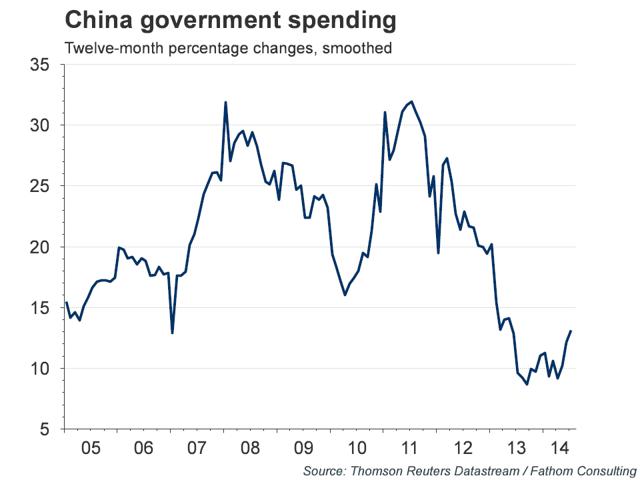 Click to enlarge
The statement by the PBoC said it will continue to implement 'prudent monetary policy' and that it intends to 'maintain a stable growth of money supply, credit and aggregate financing in the future'. However, what it intends and what it achieves could turn out to be different: no doubt the Fed and other central banks had similar intentions in 2008. July's data have increased the downside risk for China significantly.
Disclosure: The author has no positions in any stocks mentioned, and no plans to initiate any positions within the next 72 hours.
Business relationship disclosure: Alpha Now at Thomson Reuters is a team of expert analysts that are constantly looking at the financial landscape in order to keep you up to date on the latest movements. This article was written by Laura Eaton, independent commentator and analyst. We did not receive compensation for this article, and we have no business relationship with any company whose stock is mentioned in this article.