Introduction
Let me start by saying that I am an avid Netflix (NASDAQ:NFLX) user. After a long day of work there is nothing I like more than relaxing over several episodes of Breaking Bad or House of Cards (yes, I'm a bit behind on my TV watching).
As an investor, however, it's a different story. While I often look for businesses that have a popular and growing product, at the end of the day that product has to generate sufficient Free Cash Flow (discounted to today) to justify their stock price.
In this article I will outline why Netflix is overvalued, and believe the only way to determine this is through a DCF model. Any attempt to value Netflix on trading multiples alone will be insufficient due to the lack or correlation between EBITDA or Earnings to Free Cash Flow generation.
The main catalyst for a downward re-rating of the stock will be a realization by investors that, even with massive subscriber growth and all sorts of upside scenarios built in, the DCF value of the stock is much less than the current market price.
Subscriber Growth
Let's start by looking at historical and forecasted subscriber growth, the key driver of the business.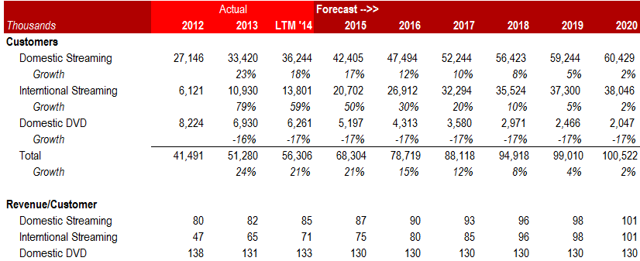 Source: Analysis by author. Historical numbers are from Netflix disclosure.
Let's disaggregate customer growth into the three segments: Domestic, International, and Domestic DVD.
Domestic streaming grew at 18% of the last twelve months. Decent, but a meaningful decline from 23% between 2012 and 2013. Based on the historical trend over the last couple of years we assume this segment will continue to grow, but at a declining rate that eventually approaches 2%.
International streaming is the growth engine, but already growing at a slower rate over the last twelve months (50% LTM versus 79% from 2012 to 2013). If we assume a similar trend as with Domestic, but running at a higher rate for the next several years, then International will continue to add growth, but more slowly over time.
Domestic DVD is a slowing dying business which we estimate will continue to decline at 17% per year.
Forecasted Income Statement
If we forecast out the income statement we can see a clear picture of where the company will be by 2020 based on the growth assumptions outlined above.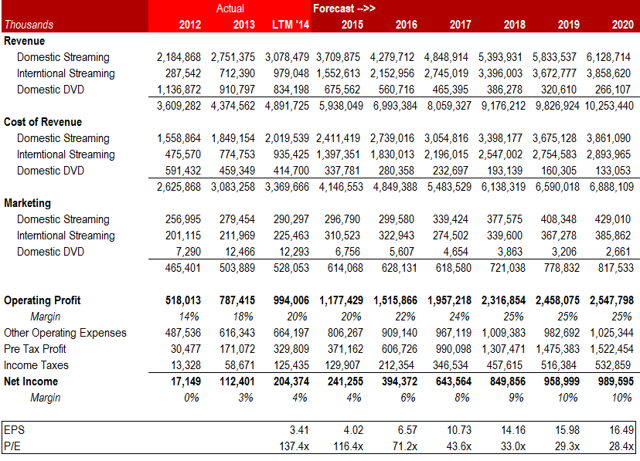 Source: Analysis by author. Historical numbers are from Netflix disclosure.
Margins
We have tried to be generous in our estimates to ensure that the analysis is as credible as possible. As you will notice above, operating margins are forecasted to expand from 20% currently to a normalized rate of 25% by 2020. Net Profit margins will also expand from 4% currently to a normalized rate of 10% by 2020.
Free Cash Flow and Valuation
Netflix capitalizes their additions to streaming content, which are usually amortized over a period of 2-3 years. This means that when they are aggressively growing their content library, income will be over stated relative to cash flow as depreciation lags capital investment.

Source: Analysis by author. Historical numbers are from Netflix disclosure.
Based on a discounted cash flow approach with a cost of capital of 10% the intrinsic value of Netflix is about $14 billion or $240/share.
Share Price Performance
Investors who have been long Netflix should take advantage of the recent outperformance by selling their overvalued shares.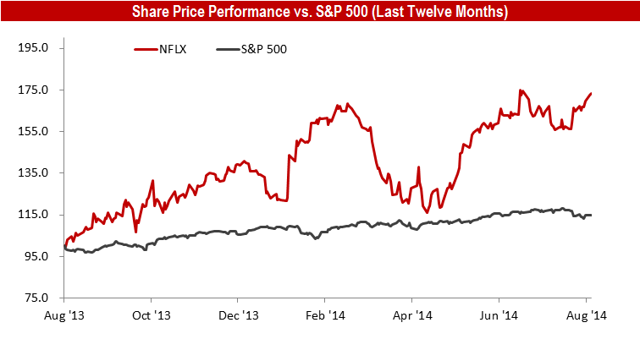 Source: Capital IQ.
Consensus Estimates
Below are analyst consensus estimates for Netflix. While the street is eager to pump Netflix shares and hopefully win some investment banking business, even their estimates are not high enough to justify the current share price on a DCF basis.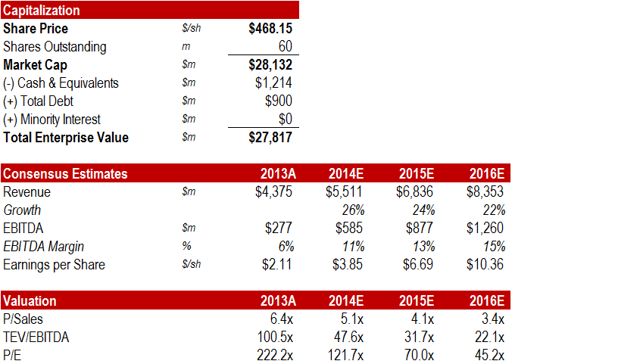 Source: Analysis by author and data from Capital IQ.
What would it take to justify the current price?
Another way to look at Netflix's valuation it to assume that the current share price is correct, and calculate the implied growth rate and cash flow generation discounted in that price.
For Netflix to be worth $468/share (currently) that implies revenue growth of over 250% between now and 2020 with free cash flow generation of $1.8 billion per year by the same time. This equates to a compound annual growth rate for revenue of 24%, which is higher than the company has achieved over the last 2 years, during an "easier" period to achieve growth.
Conclusion
Netflix is a great service for the consumer. I love my subscription. But from an investment perspective, the company is very over valued.
No matter which way you look at the company - either a bottom up DCF, or a backed-in implied value - the company looks like a great short. Even with robust growth estimates, the intrinsic value is about half of what it currently trades at ($240 vs $468).
Like Netflix's own original series, the company's share price may also be a "House of Cards".
Disclosure: The author has no positions in any stocks mentioned, and no plans to initiate any positions within the next 72 hours.
The author wrote this article themselves, and it expresses their own opinions. The author is not receiving compensation for it (other than from Seeking Alpha). The author has no business relationship with any company whose stock is mentioned in this article.