SeaDrill Limited (NYSE: SDRL) is a Norwegian-Bermudan offshore drilling company that is looking very interesting as a long-term value investment prospect. Due to various political and geographic factors, the world's supply of oil is in increasingly difficult to access locations. SeaDrill is well aware of this and is positioning itself to capitalize on this unfortunate reality.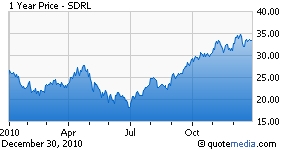 Over the past several years, the company has been investing in state of the art drilling ships and platforms. This should allow the company to prosper by drilling into oil patches in the more difficult locations in the world. So far, that strategy appears to be working. SeaDrill boasts a 97% utilization rate for its jack-ups and a 95% utilization rate for its floating rigs. That is significantly better than its competitors. This means that the company is running much more efficiently than its competitors.
In the third quarter of 2010, three new rigs (two ultra-deepwater and one jack-up) started operations. Additionally, the company ordered six new rigs. It will take quite some time for these newly ordered rigs to begin generating revenue for the company, however this order shows that the company has both the capability and the will to continue to expand its operations in hard to access oil fields throughout the world.
During the third quarter, the company had 37 rigs in operation throughout the world. Only one of these is in the Gulf of Mexico. This insulates the company from the U.S. political winds much more than some of its competitors that have a greater presence in the Gulf. This number should increase over the next several years as the newly constructed and ordered rigs begin operations.
After its most recent dividend increase, SeaDrill sports a dividend of $0.65 per quarter per common share. This represents a yield of nearly 8%. Management has indicated their commitment to continuing to grow this dividend over time. As the company's latest financial results indicate, they should be able to deliver.
As oil continues higher, this company should find increasing demand for its services. As SeaDrill operates the newest and most advanced fleet of any deep sea driller, it is best positioned to prosper and grow well into the future.