In a previous article, I explained how MusclePharm (OTCQB:MSLP) was so massively undervalued when compared to another growth stock, in that case, Twitter. The same conclusion would be reached if we compared MusclePharm to many other growth stocks of today. Most if not all are massively overvalued, whereas MusclePharm trades as if it were a normal stock, in spite of its massive transition and incredible growth.
Today, I'll do something different. I will compare MusclePharm not to a stock trading today, but to a rather similar stock which traded powerfully up ten years ago. The stock is Monster Beverage (NASDAQ:MNST), which back then went by the name of Hansen Natural. Hansen found its niche in sports supplements as well, though in energy drinks, which are more mainstream than the kind of stuff MusclePharm purveys. Still, it should be remembered that MusclePharm has plans to go into energy drinks as well, and seems to have the necessary brand to pull it off.
Revenues
As we'll see, in some regards MusclePharm is incredibly close to what Hansen Natural was, ten years ago. The revenue growth in particular is very similar, as we can see in the following chart (in blue we have Hansen Natural, in red MusclePharm).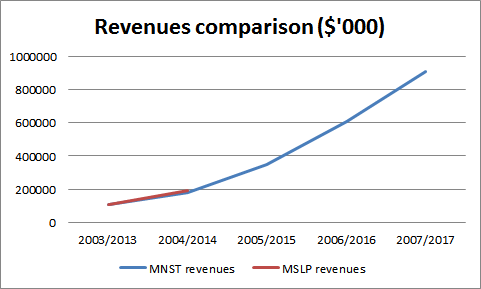 Indeed, if anything MusclePharm seems to be very slightly ahead. In 2004 MNST ended the year with $180 million in revenues, from $110 million the year before, whereas MSLP is probably going to end the year with $190 million, also from $110 million the year before).
Earnings
Earnings is where MNST took an advantage. While the improvement at MSLP is gigantic, MNST seemed to be one year ahead as of 2004. However, this also highlights that if revenues keep their tremendous ramp-up, earnings tend to follow powerfully, namely due to the existence of large fixed costs (endorsements, executive compensation).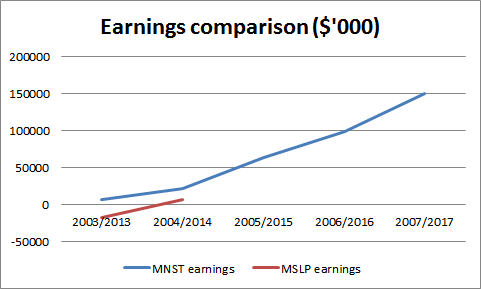 The main reason for MNST being one year ahead of MSLP in terms of earnings, amazingly, does not seem to be a particularly heavy operating cost structure for MSLP. Instead, the main reason seems to be significantly higher gross margins. Here, there seems to be a long way for MSLP to improve, namely bringing more production in-house as it's already doing, as well as gaining better terms from suppliers due to the much higher volume. MNST was so much ahead that its gross margin % was even close to stabilizing in the period I reviewed, as follows.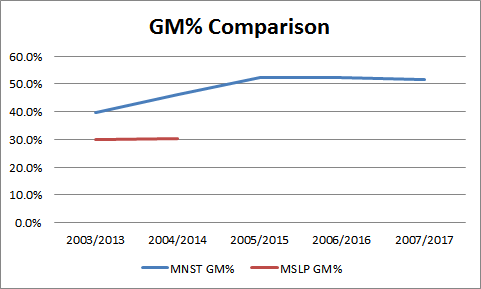 Market capitalization
So what did MNST's massive growth run produce? That's the most important parallel for those looking at MSLP right now. This is what happened: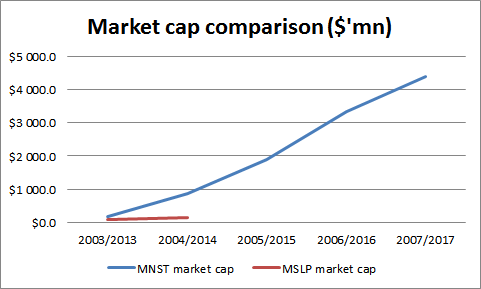 MNST went on a tremendous run. By the time it was MSLP's current size, its market cap was already 5.8 times larger, and over the whole period MNST went up 23.5 times. This is the reason why I say MSLP has tremendous potential as long as it keeps up its growth. A return of 100%-1000% would not be surprising under these circumstances, and indeed comparing to today's growth stocks - many of which grow slower than MSLP - or to MNST's historical performance, it could be argued that half of that performance could come just from matching its peers at its present size and growth.
Another tidbit
As I explained, MNST was more profitable and most of it came simply from selling a higher gross margin product. MSLP needs to reduce the difference in that regard, that's why I say that selling the cheapest dollar per gram of protein product is not the way a brand works over time.
Indeed, the same thing was pretty visible with MNST. Although over the years I covered revenues went up 7.2 times, case volume did not grow nearly as much. Case volume grew just about half, at 3.8 times; so much of the value creation must have come from higher prices.
Conclusion
For the most part, MSLP is on track to deliver a Monster (beverage) performance. It's on track regarding revenue growth, while its market capitalization is lagging substantially, which is what makes me say that this is a tremendously undervalued growth situation.
The only brick that's still needing to fall into place, is for MSLP to capitalize on its brand by being able to capture a higher gross margin, either through supply efficiencies, through better pricing or through new, higher-margin products. But even then, MSLP just looks 1 year behind the Monster story. The potential, should the company continue to execute, might be tremendous.
Of particular interest for investors will be following both the revenue growth rate in coming quarters, and what happens to the gross margin in those same quarters.
The sources for all data in this article are the Monster Beverage Annual Reports, MusclePharm annual and quarterly reports and Yahoo Finance (for the adjusted market caps).
Disclosure: The author is long MSLP.
The author wrote this article themselves, and it expresses their own opinions. The author is not receiving compensation for it (other than from Seeking Alpha). The author has no business relationship with any company whose stock is mentioned in this article.
Editor's Note: This article discusses one or more securities that do not trade on a major U.S. exchange. Please be aware of the risks associated with these stocks.