Puma Biotech, a small development stage biopharmaceutical company, recently announced positive results in one of their Phase III trials. Following this announcement, their stock price more than tripled. Some my find it difficult to make sense of what happened, and they are not alone.
Company Description
Puma Biotechnology, Inc (NYSE:PBYI) is a neat little development stage biopharmaceutical company, located in Los Angeles, that is "dedicated to the acquisition and development of novel therapeutics for the treatment of cancer." According to CEO, Alan Auerbach, they chose to set up shop in the unlikely city of Los Angeles for two reasons, first is Auerbach's background as research analyst in Los Angeles, and second AMGEN (Forbes). Puma has hired the vast majority of its 90 employees from the Los Angeles based AMGEN, which Auerbach refers to as, "a fruitful place to go and recruit" (Forbes).
As a development stage company they currently have no sales, and they will not have sales until one of their drug candidates is approved by the FDA.
Their active portfolio consists of one drug, Neratinib (oral), also known as PB272. Neratinib is being investigated as a treatment for a number of cancers, primary advanced stage breast cancer. See the pipeline diagram below. They have two other drugs as well, Neratinib (intravenous) and PB357. The later is "a backup compound to PB272, and which we are evaluating for further development" (2014 Report).
Neratinib and Pfizer
Neratinib is a cancer drug in the class of Tyrosine Kinase Inhibitors (TKIs), of which Gleevec (Novartis) is probably the most famous. Gleevec's approval in 2001 was surrounded by a lot of excitement. Firstly because it was successful in treating a previously untreatable disease, and secondly it opened the possibility of discovering a similarly efficacious drug for other cancers.
Neratinib was initially developed by Pfizer (NYSE:PFE), but was licensed by Puma for the development and commercialization of the drug in October 2011. Under the terms of the original agreement Puma would be financially responsible for all costs of development and commercialization as well as the costs associated with completing any ongoing trials, up to a pre-determined and undisclosed amount. Upon successful commercialization of Neratinib, Puma would pay Pfizer royalties in the range of 10-20%.
These terms were amended last month, when the company released positive data from their Phase III trial, ExteNET, in a news release on July 22. Following the news release, the stock price shot through the roof.
ExteNET Trial
This is a Phase III Randomized, double-blind, placebo-controlled trial of Neratinib after trastuzumab (Herceptin) in women with early stage HER-2/Neu positive breast cancer.
In this study over 2000 women with locally advanced breast cancer received surgery, then one year of Herceptin. Following this year, they were randomized to receive a year of Neratinib or placebo.
On July 22, Puma released the following:
The results of the trial demonstrated that treatment with neratinib resulted in a 33% improvement in disease free survival versus placebo. The hazard ratio was ... 0.67 which was statistically significant ... The secondary endpoint of the trial was disease free survival including ductal carcinoma in situ (DFS-DCIS). ... treatment with neratinib resulted in a 37% improvement in disease free survival including ductal carcinoma in situ versus placebo. The hazard ratio was... 0.63 which was statistically significant... Based on these results...Puma plans to file for regulatory approval of neratinib in the extended adjuvant setting in the first half of 2015.
Another Seeking Alpha Pro article has already pointed out the difficulty drawing any real conclusions from this news release.
The current standard of care for patients with this disease involves surgery followed by chemotherapy with herceptin for one year. The primary trial that determined one year of Herceptin improved outcomes compared to no Herceptin is the HERA trial. This trial showed a statistically significant improvement of disease free survival and overall survival. Disease free survival (DFS) at 3 years was 85·7% vs 79·4% in the placebo group (p<0·0001).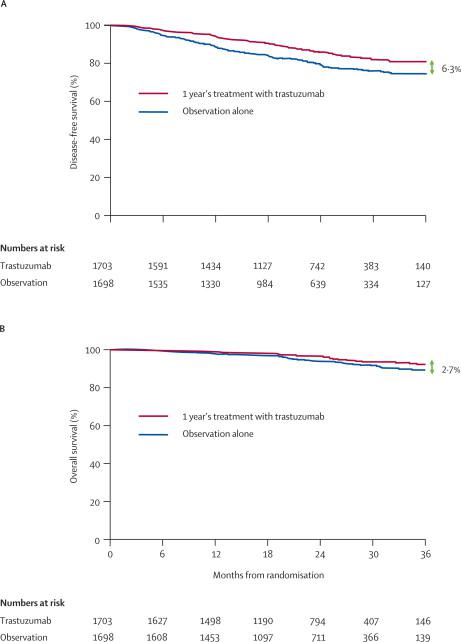 The author of the aforementioned Seeking Alpha article was skeptical of the announced 33% improvement in disease free survival. Assuming that this trial got similar results to the HERA trial for patients treated with one year of Herceptin, he calculated that a 33% increase in DFS would equal 133% (85.7 x 1.33 = 133), and obviously this number makes no sense.
However, if you take a closer look at the HERA paper and the numbers they use to compared disease free survival between cohorts, we can make some sense of PUMA's ExteNET trial results.
The results from the 2007 Lancet Article read as follows:
218 disease-free survival events were reported with trastuzumab compared with 321 in the control group. The unadjusted HR for the risk of an event with trastuzumab compared with observation alone was 0·64 (0·54-0·76; p<0·0001).
We can see that the calculation for disease free survival actually uses "disease free survival events." Basically, what they are counting are the number of failures, "events," not the number of patient who survived disease free. The wording is somewhat confusing.
The reason these calculations use the smaller group is because they provide more significant or impressive results to the reader. For example, lets compare two group of 10 patients, one treated with drug X and one with placebo. Let's say that in the drug X group, 9 patients survived, and one died, and in the placebo group 8 survived and 2 died. If you compare "survival events" there is an improvement in disease free survival of 50% (2 events vs 1 event), however, if you compare the amount of survivors, the effect is blunted, 9 events vs 8 events, which gives an improvement of about 11%.
Bottom line: The results from the ExteNET trial, which announced a 33% improvement, is disease free survival, translate into a disease free survival of about 90% vs. about 85% percent with herceptin alone.
Valuation
There is no doubt that this is great for patients, however, does it translate into a stock price north of $200? Certainly not.
One article on this site suggested that this new price may factor in a buyout. This is an interesting idea, but very certainly unusual.
Another article suggests using very impressive metrics gives a fair value of exactly $74.70. I certainly can not argue with the metrics, which appear quite sound.
It has been a few weeks now since the ExteNET announcement and the subsequent meteoric rise in stock price. I have a hard time explaining the current price, and I can not imagine it going much higher, although it does appears to be increasing slowly. At this price, it is difficult to justify initiating a position.
Company Management
CEO, Alan Auerbach, is a great leader. His previous post was at Cougar Biotech, founded in 2003, was another development stage biotech that focused on cancer drugs. Cougar was purchased by Johnson and Johnson (NYSE:JNJ) in 2009 for $1B. Mr. Auerbach has a lot of experience in the development of drugs as well as acquisitions. Prior to cougar, he was Vice President and Senior Research Analyst for Well Fargo. He oversaw the research and coverage of small and middle cap biotech companies, focusing on the field of oncology.
Conclusion
Puma biotechnology is a great biotech company, with strong leadership. Their trials have shown a good amount of success, which has caused their stock price to sky rocket. Despite all of this, at current prices, their stock is over valued, and I expect it to return to the sub $100 range in the coming months.
Disclosure: The author has no positions in any stocks mentioned, and no plans to initiate any positions within the next 72 hours. The author wrote this article themselves, and it expresses their own opinions. The author is not receiving compensation for it (other than from Seeking Alpha). The author has no business relationship with any company whose stock is mentioned in this article.
Additional disclosure: All positions were sold July 23, 2014