Twitter, Inc. (NYSE:TWTR) and Facebook, Inc. (NASDAQ:FB) are both social media platforms. Investors will forever link the two and pour over Twitter's revenue growth and operating metrics in relation to Facebook's. The company has also been unable to monetize its user base at the same rate as Facebook. Twitter's ad revenue per user ("ARPU") during Q2 was $1.02 versus Facebook's $2.24. So how does Twitter respond? It is revamping how it charges ad revenue so that it is more akin to Facebook's ad model. According to the Wall Street Journal, Twitter is remodeling the way it charges advertisers in a move to battle Facebook over small business customers. Currently advertisers pay Twitter when a users click on their ads, "re-tweet" or "favorite" them. The company is now raising the bar pursuant to user engagement.
A good proxy for user engagement is timeline views per monthly active user ("MAU"); Twitter actually measures its ad fees based on revenue per "1,000 timeline views." Twitter can act like an online billboard - when users see a sponsored ad the advertiser is attracting eyeballs and exposure, yet it may be difficult to measure how that exposure correlates to revenue. However, the new ad model is more targeted; an advertiser may choose to pay Twitter based on [i] the number of users that click onto its website, [ii] how many new followers the advertiser generates, the number of apps downloaded or whether the advertiser gets a user's email address.
Advantages Of New Ad Model
Attractive To Small Businesses
Small businesses that do not have the advertising budget of Fortune 500 companies are in some ways priced out of advertising on Twitter. With smaller ad budgets, small businesses cannot afford to miss on advertising. Instead of taking a shotgun approach - advertising to everyone - they would rather take a "rifle approach" and only target those most likely to buy their products. According to the Journal, it is small and medium-sized businesses that Twitter plans to target:
But the range of options should help Twitter appeal to more small and medium-size businesses, a potentially lucrative source of advertising revenue. These businesses have limited resources and time to spend managing social-media campaigns but they are looking to social-media sites like Twitter and Facebook to engage more with potential customers.
Twitter currently has 4.5 million small business accounts that have generated thousands of ads. That pales in comparison to Facebook's 30 million small business accounts which have placed nearly 2 million ads.
Potential To Generate Higher Ad Rates
There is a school of thought that if Twitter can prove its ads generate sales leads for clients, the company may be able to raise advertising rates. In effect, clients may be willing to pay up for performance. This could attract first-time users of the service or help maintain the company's current client base.
Red Herring
The downside is that advertisers may receive exposure from ads, yet may not be required to pay because the ad did not lead to a click or a download. Twitter's attempt to attract small businesses is a worthy endeavor. It would make sense to use the new ad model as more of a trial balloon to measure its effectiveness prior to rolling it out en masse. A trial balloon would seem prudent before alienating Twitter's current customer base or jeopardizing its current revenue stream. Last but not least, "If it ain't broke why fix it?" Pursuant to Q2 earnings, Twitter delayed D-Day for another quarter by growing revenue 124% annually and 25% sequentially. Below are the company's historical earnings: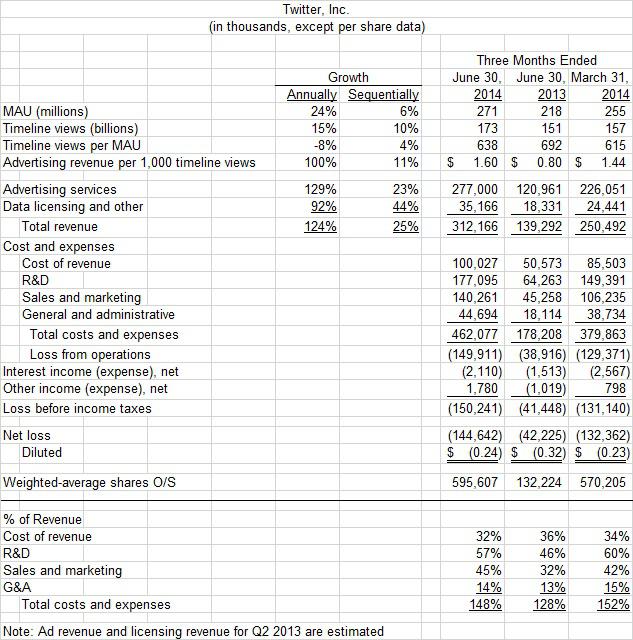 Not only did Q2 revenue more than double year-over-year, MAUs grew 24%. Twitter also reached high water marks on many of its metrics, despite the fact that its metrics were deteriorating heading into earnings.
Timeline views of 173 billion were up 15% annually and 10% sequentially. They also exceeded the company's peak of 159 billion in Q3 2013.
User engagement, measured by timeline views per MAU, was the highest it had been since its peak of 692 in Q2 2013.
Ad revenue per 1,000 timeline views was $1.60 and exceeded its previous peak of $1.49 set in Q4 2013.
The market naturally assumed the World Cup impact was driving results. However, CEO Dick Costolo was adamant that the World Cup only amplified user engagement; growth in MAUs and ad rates were the result of product changes implemented by management. Analysts like Goldman Sachs (NYSE:GS) and Merrill Lynch bought that argument and upgraded the stock to 27x revenue. And therein lies the red herring. If the company's operating metrics are at peak levels and revenue doubling year-over-year then why change it? By totally revamping its ad model now, management is implying that its previous operating metrics and growth in advertising revenue were unsustainable. It also [i] gives management cover if Q3 operating metrics and ad revenue fall shy of expectations and [ii] renders analysts unable to ascertain whether Q2 results were sustainable or a one-time blip.
Conclusion
Revamping its ad revenue model is a big risk for Twitter, particularly after its wildly successful Q2 financial results. Whether the new ad model causes revenue to decline or makes Twitter revenue and growth expectations more opaque, it is a big risk. I do not think the company will be able repeat its Q2 performance in Q3 and therefore, rate the stock a sell.
Disclosure: The author is short TWTR.
The author wrote this article themselves, and it expresses their own opinions. The author is not receiving compensation for it (other than from Seeking Alpha). The author has no business relationship with any company whose stock is mentioned in this article.