By Jeff Bailey
The plunge in Walgreen (WAG) shares following the company's disclosure that it wouldn't seek a tax inversion as part of its acquisition of the remaining 55% of Alliance Boots undoubtedly has many bargain-minded investors thinking one of two thoughts:
One, the stock's back where it belongs now, the potential tax savings wrung out of the price by the magic of the market. Or two, the sell-off was overdone and Walgreen stock now presents a bargain.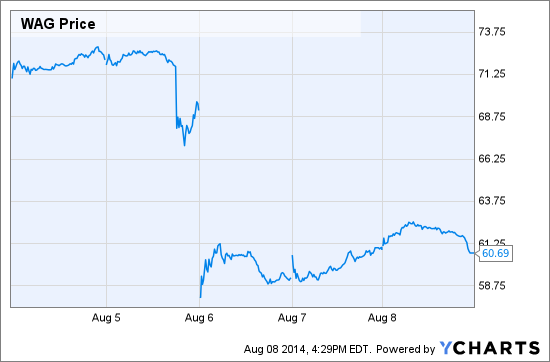 WAG Price data by YCharts
A third reading of events and the ugly stock chart above, however, deserves at least equal consideration, and that is that Walgreen remains overvalued relative to a better-positioned competitor, CVS (NYSE:CVS), and that Walgreen has both operating performance problems and financial constraints that could disappoint its holders going forward.
The valuations, such as forward P/E ratio, of Walgreen and CVS went their separate ways early this year as conjecture about a Walgreen tax inversion grew. The post-announcement plunge in Walgreen shares brings the rivals closer together again. But recall that a smart and top-performing fund management firm, Leuthold Group, assessed healthcare distribution stocks this past spring and identified CVS as its top choice, not Walgreen. (The other stocks Leuthold examined were Rite-Aid (NYSE:RAD), Express Scripts (NASDAQ:ESRX), Amerisource Bergen (NYSE:ABC), Cardinal Health (NYSE:CAH), McKesson (NYSE:MCK) and Catamaran Corp. (NASDAQ:CTRX).)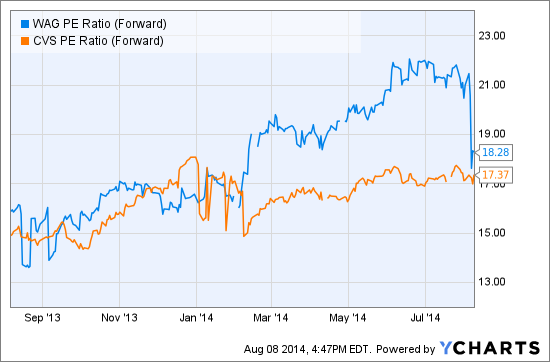 WAG P/E Ratio (Forward) data by YCharts
So, do you want to be paying a premium for the lesser-regarded drug store chain? We write about one month ago that the tax inversion enthusiasm was masking weakness in Walgreen's business. And the company's adjustments to financial guidance issued as part of the no-inversion announcement confirmed that view.
Bigger than the no-inversion surprise, wrote Mark Miller, William Blair & Co.'s sharp retail analyst, was EBIT guidance. By the end of 2016, Walgreen now sees EBIT of the combined company at $7.2 billion, down from guidance of $9.0 billion-to-$9.5 billion issued in June 2012 when Walgreen was acquiring the initial 45% stake in Alliance Boots. Talk about over-promising and under-performing.
There were corresponding cuts in EPS expectations. Walgreen sought to take some of the sting out of the disclosure by promising $3 billion in stock buybacks through 2016. But it also said it targeted a 30% to 35% payout ratio for the dividend, which would indicate a slowing of dividend growth. That's prudent, but one fewer reward for holders disappointed by the decision not to seek a domicile with a lower tax rate.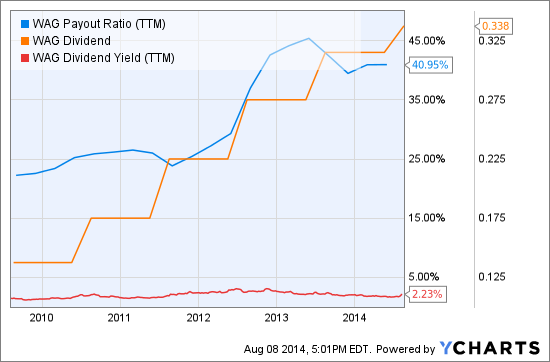 WAG Payout Ratio (TTM) data by YCharts
Under the current CEO, Greg Wasson, who keeps the job as part of the contemplated deal with Alliance Boots, as we've written, Walgreen is not an inspired retailer. Thus, it's hard to get excited about a three-year plan to improve store performance. Walgreen promised, "A differentiated retail experience that transforms the retail model for health and wellness and changes the way women shop for beauty." Vague and lofty, eh? This from a company whose stores are at times dingy and peopled by customer-averse employees. The retail problems have caused traffic problems for the stores and contributed to a string of earnings disappointments.
As the analyst Miller has noted, some investors have been hoping that the Alliance Boots management team, known for running smarter stores, would ascend as part of the deal. Wasson's on top for now. But further disappointment could force the board to re-evaluate management.
Disclosure: None