Value can be measured by examining many different performance metrics. When I search for strong undervalued stocks, I tend to look for higher trading volumes, strong sales margins, tangible P/B ratios below 1, an existing dividend, and a market cap of above $1B. I believe that these indicators will offer the highest potential value, while minimizing the risk of instability. Today's pick of the week meets all 5 criteria.
Endurance Specialty Holdings Ltd. (NYSE:ENH) is an international holding company:
"Through the Company's operating subsidiaries based in Bermuda, the United States and the United Kingdom, it focuses on underwriting specialty lines of personal and commercial property and casualty insurance and reinsurance on a global basis."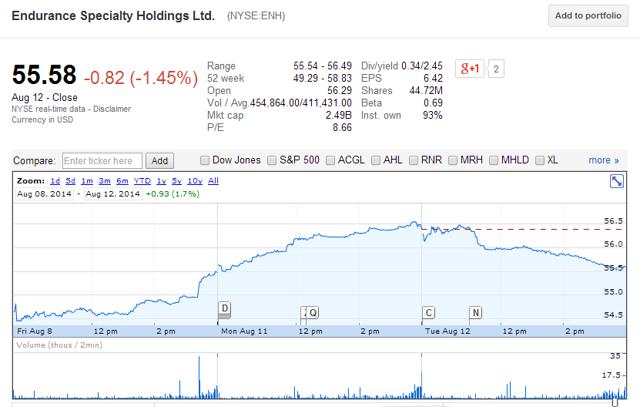 When making any investment, trading volume is an important aspect to examine, because it determines the bid/ask spread. A stock with low volume will maintain a much larger spread, making the liquidation of this asset much more volatile. For this reason, I look for average trading patterns of at least 250,000 shares a day. ENH currently yields approximately 350,000 shares a day, giving it a passing score in my book.
Secondly, I like to examine the EBIDTA margins. These are a great way to determine the overall profitability of a company, as well as the competitive nature of its industry. Highly competitive markets will usually tend to have much narrower margins and, in turn, will require constant growth mechanisms to stay profitable. ENH currently has an EBIDTA margin of 32.21%, demonstrating a strong positive cash flow and a lack of competition in its market segment, making this somewhat of a niche market. This should allow for strong growth patterns to continue into the future.
Price/Book ratios are arguably the most important factor for isolating the core value of an equity. However, some companies may place a lot of their value on intangible, and thus illiquid assets, which can skew the core value of this figure. That is why I prefer to look at tangible book value as the best indicator for success. Currently, less than 3% of ENH's current assets are intangible. It has a tangible asset total of 2.837B and a market cap of only $2.49B, giving us a strong tangible P/B ratio of 0.867 and a share book value equivalent to $64.10. Thus, some money is still being left on the table here.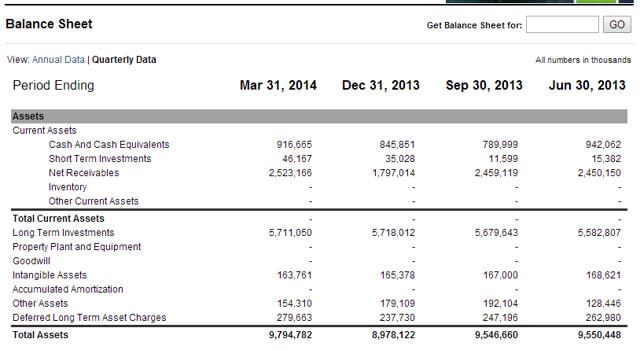 Next, I always look for a dividend. On August 15th, 2014, Endurance Specialty Holdings Ltd. announced that its Board of Directors declared a quarterly dividend of $0.34 a share. Dividends are a great enticement for the average long-term investor, especially when partnered with large cap stability. ENH currently offers a 2.41% dividend yield and maintains a healthy $2.49B market cap, giving it a passing score on both fronts for its attractive nature and stable overall investment risk.
ENH continues to grow in revenue, market share, and profitability, positioning it well within the global insurance market. Since Endurance continues operate in somewhat of a niche segment, I believe it will continue to see high EDITDA margins long into the future. It distinguishes itself as such:
"With leading-edge capabilities in modeling and analytics and an industry-recognized risk management approach, Endurance's focus on specialization enables us to more accurately evaluate and price complex risks - delivering better insight and value to our clients. It is this focus and commitment to the specialty markets that sets us apart from others."
In my opinion, these factors will eventually lead to a share price correction, bringing ENH closer to its true book value per share.
Disclosure: The author has no positions in any stocks mentioned, and no plans to initiate any positions within the next 72 hours. The author wrote this article themselves, and it expresses their own opinions. The author is not receiving compensation for it (other than from Seeking Alpha). The author has no business relationship with any company whose stock is mentioned in this article.
Additional disclosure: The author is long "ENH"