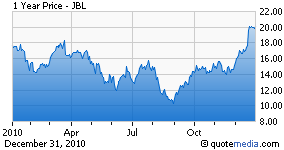 Jabil Circuit (NYSE:JBL) has soared since September, going from a low of 10.17 to a high of 20.38 during that time span. Jim Cramer, after making a good call on the stock, has been hyping it relentlessly, and recently had CEO Tim Main on the show for an interview. An article by The Inflection Point here on Seeking Alpha suggests the stock has further to go, proposing a high end 40 target for 2012. As this former value stock moves into the momentum category, the question comes up: what are these shares actually worth?
I wrote the company up favorably back in March 2009, when it traded as low as 3.73, discussing the use of P/S as a valuation metric:
Ken Fisher has written two books: the earlier one, "Super Stocks," suggests using P/S as a valuation metric, buying industrials at .40 and selling them at .80. Jabil has traded at a P/S ratio ranging from .07 to 1.07 during the past 5 years, bracketing either side of the proposed range. At a P/S of .60 on estimated 2009 revenues, the shares would trade at 33, a price they have frequently exceeded in the past.

Fisher himself has backed away from the use of P/S, noting that low ratios are typical of distributors with very thin margins or of companies saddled with excessive debt. Certainly the EMS sector has been extremely competitive, with thin margins for many players: however, Jabil is a strong competitor with a robust cash flow. Not that long ago, I saw a price target of 17 to 27: it's really embarrassing with the stock trading where it is, but that kind of target is still possible when the global economy recovers.
Thin Margins, Earnings and Valuation
If net income as a percentage of revenue is 1%, a 1% improvement in margins would double EPS. A rapid increase in EPS frequently results in P/E multiple expansion. Here's a history of how that has worked in the past for Jabil, covering the past 12 years:
Click to enlarge


Because GAAP earnings have consistently been a fraction of cash flow, P/Es can be high since what drives the value is cash flow. Net income as a percentage of revenue is 2.0% for the trailing 12 months, and if margins can be further increased, not impossible in view of past history, EPS would increase accordingly.
The Electronic Manufacturing Services industry is cyclical, and when that is combined with the exaggerated movement of EPS and P/E multiples caused by market perceptions and the thin and variable margins, an inherently volatile situation arises.
The Cyclical Story
Back in 2009, Tim Main presented his case very effectively:
Well, using the '91 recession and the 2001 and 2002 recession as guides – I know it is very hard, and I don't mean to be Pollyanna-ish about it, but we – it is hard to think – not to think in 90 day buckets. Let's put it that way. These things take more than 90 days to transpire and have position made. So if you looked at the three to four year trend after each of the 2001, 2002 recession, and the '91 recession, the next three, four years were extremely robust periods of growth for the entire industry and pretty darn good periods of growth for Jabil as well. And for Jabil, that 2002 to 2006 time period was the most robust period of growth for Jabil and the industrial, instrumentation and medical sector, we opened up consumer electronics and enjoyed some great growth there. So our revenue in 2002 was 3.5 billion, by 2006 it had gone to 10.3 billion, so that is about 190% growth over that four year period, and EBITDA grew substantially as well by 73%.

What is really important for us is to make sure that we capitalize on the opportunities. And what we think of it is, we are the best funded and financially strong large-scale global players in the business and using that to our advantage in terms of building market share and opening up new opportunities for our company with the existing and new customers and even those who have not outsourced in the past.
Tim can roll the presentation forward now that things are looking up. And rightfully so. It's entirely possible that Jabil will repeat its previous post recession performance.
Valuation Revisited
P/S is best regarded as an analytical tool rather than a valuation method. That having been said, at a historical midpoint P/S of .55 on estimated 2011 revenues of 75.64 per share, JBL could trade at 41 per share. I would avoid chasing the stock based on that line of thinking.
Going back to the cash flow, and pretending 2009 didn't happen, five year average cash flow is 1.89 per share, apply a multiple of 8 X and you have 15 per share. Taking projected 5 year average EPS, again looking past 2009, I get .80 times a historical midpoint P/E5 of 21.78 = 17.39, round to 17.
As a value investor, I have a tendency to sell early. My present position is a diagonal spread, long JBL Jan 21 2012 7.5 calls and short JBL Jun 18 2011 17.0 calls. That reflects my opinion: I'm happy to let go at 17. The safe and easy money has been made.
GAAP Versus NonGAAP
Jabil reports two sets of earnings, with "Core" as its nonGAAP version. That number doesn't include share based compensation. The company accurately flags the distinction. Nevertheless, I find its persistence in presenting the information mildly irritating. Note to Tim Main: Tim, you're a core person at Jabil Circuit. Therefore, your stock based compensation should be included in core earnings.
Anytime anyone starts talking about Jabil's P/E or forward P/E, be careful to make sure what version they're talking about.
Strategy and Tactics
JBL sports a beta of 2.2 and a historical volatility of 46.8%. It's optionable, to include LEAPS, and trades with moderate bid/ask spreads and adequate volume and open interest. This is a favorite options case: an investor/speculator who understands the way this thing behaves has a distinct advantage when expressing his opinions by means of options.
I normally trade JBL from low points using either diagonal call spreads or bullish reversals. Because I see a stock that is fairly valued, neither of these ploys is attractive from my point of view as of this moment. But Jabil is always on my watchlist.
Disclosure: I am long JBL.
Additional disclosure: I am net long JBL as discussed in the article.