The "B" in BRIC stands for Brazil ... that is pretty well known. It's also pretty well known that equities in Brazil, along with those of the "RICs," have performed quite well in the 2010, or at least that's what lots of folks in the press have been proffering up. In fact, I've lost count of how many articles I've seen, and how many inquiries I've received from readers, who question whether the "2010 bull run" in emerging markets, and more specifically Brazil, is over. Before answering that, let's have a quick look at this so-called "bull-run."
Based on this YTD return, comparing the ETFs representing the BRIC index vs the S&P500, it appears that the BRIC ETF actually has underperformed the S&P.
Other than Russia, the past few weeks have seen the S&P break away from the BRIC countries, largely explained by the market's increasing focus on China's rate hikes and other inflation fighting efforts, and in turn, the resulting global slowdown fears that are fueled by those moves, especially with regard to EM countries.
So, to those who've asked about the end of the "bull run," I'd like to focus on some tidbits of information that should form a meaningful part of evaluating the situation and of formulating an answer, especially with regard to Brazil.
… One very informative article on this theme that is chock full of data to support the view appeared in the IMF's "Finance and Development" magazine, entitled, Emerging Markets Come of Age.
The article goes into great depth on each of the following categories that are presented as explaining the relative resilience of emerging markets during this past financial crisis:

Better macroeconomic policies in most emerging markets succeeded over the past decade in bringing inflation under control through a combination of more disciplined fiscal and monetary policies.

Less dependence on foreign finance and changes in the composition of external debt reduced their vulnerability to swings in capital flows.

Large buffers of foreign exchange reserves also insured against sudden reversals in investor sentiment.

Emerging markets have become more diversified in their production and export patterns.

Greater trade and financial linkages among the emerging economies have increased their resilience as a group.

Broader divergence of emerging market business cycles from those of the advanced economies has also increased resilience.

Rising per capita income levels and a burgeoning middle class have increased the size of domestic markets, making emerging markets potentially less reliant on foreign trade to benefit from economies of scale in their production structures and less susceptible to export collapses.
Next, focusing on Brazil, it is noteworthy that Brazil will be hosting the World Cup in 2014 and the Summer Olympics in 2016. So what? In anticipation of both events, an enormous amount of domestic infrastructure buildup is anticipated in order to ready key parts of the country for these global events. For those who've followed Brazil this past year, it may come as no surprise that stocks of domestic companies whose businesses are largely built around in-country sources of revenue have outperformed the large Brazilian companies who primarily rely on exports. Contrasting two ETFs (
BRXX
) (
EWZ
) makes the point (BRXX is a relatively new ETF focusing on the former, EWZ has been around for some time and focuses on the latter).
Click to enlarge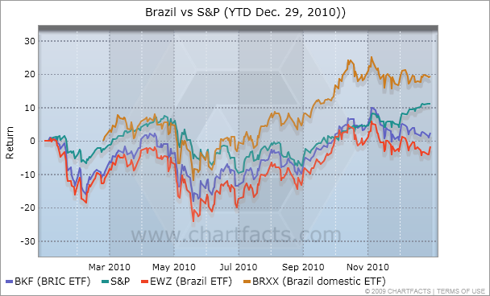 Based on many conversations with investors and others, it often seems like Brazil is seen as a "one horse wonder," driven to market fame mostly on account of its agricultural exports, and only to a lesser degree for its perceived political stability and its growing involvement in global affairs far beyond traditional participation of Latin American countries on the world stage. To get a deep and broad view into this issue, and to be enlightened (if you aren't already), I'd suggest a read of an article entitled "
A New Global Player
," written by Julia E. Sweig from the Council on Foreign Relations, and appearing in
Foreign Affairs magazine's
Nov/Dec 2010 issue. To get a sense of the theme of the article, here's the opening paragraph:
In the last decade, Brazil has recast itself as a global brand and a global power. It is home to the world's fifth-largest land mass and eighth-largest economy and is one of the top global producers of stuff everyone else needs: from animals, vegetables and minerals to water, energy and airplanes. The new conventional wisdom suggests that Brazil is now poised to make its name on the global stage and balance the other power in its neck of the woods, the United States. Brazil's ascent coincides with the relative decline of U.S. influence in Latin America and the rise of new centers of power in Asia. This dynamic reinforces Brazil's central foreign policy message: With both place and purpose for a new global player on the world stage, Brazil can be the Mac to the United States' PC - with an ethos and an international agenda to match.
While the author's extensive analysis goes into great focus on the foreign policy implications of Brazil's current leadership and suggestions for the incoming new president following her New Year's Day inauguration, there are several key economic points from the Sweig article that are very relevant to the question of whether or not to invest in Brazil. Here are a few:
China is now Brazil's largest source of foreign investment - in ports, rail, reactors, iron, steel and oil. China has become Brazil's largest export market for soy, oil and iron and its biggest competitor when it comes to manufactured goods and resources in Africa.

Pastureland covers nearly a quarter of the country, and 150 million acres of arable land remain uncultivated, promising enormous potential for increasing agricultural production in a nation that is already the world's fourth-largest food exporter. Brazil is the largest producer of sugar cane, coffee and beef.

Brazil is home to an astounding 18% of the world's available freshwater resources - thanks to its many rivers, lakes and aquifers. Indeed, hydropower generates 40% of the country's energy. Although the global water market is still developing, projections of drought and heightened demand make water one of the world's most valued and scarce natural resources.


Brazil is now preparing to cash in on another gusher: oil. In 2007, Brazil discovered massive oil reserves 150 miles off its southern coast, 16,000 feet below sea level, and buried beneath more than one mile of unstable salt - known as pre-salt reserves. The find could give Brazil the eighth-largest oil reserves in the world, up from 24th (its current ranking), and produce billions of dollars of oil wealth.
There's more in the article ... lots more, and it's a must read for understanding both the potential and the challenges that Brazil faces.
From an investment perspective, one has to give Brazil its fair shake ... it's no "one horse wonder." And for all the so-called "bull run" of emerging markets this year, considering that the U.S. economy was relatively dormant and EM countries were generally robust, the ETF's do not appear to reflect a "bubble in the making."
While it's not the place of this article to offer personal investment advice, and each investor is obligated to opine and decide for themselves as to the relevance of what's written here to their own unique financial profile, risk tolerances and portfolio goals, I do urge readers to evaluate the country on its broad merits and not just on the headlines that group it among the BRICs and suggest that EM has run its course. When you finish reading Sweig's article, for sure you'll know that Brazil has many problems and challenges that make investing in it a risky endeavor. But you'll also know that this country has genuinely emerged and continues to emerge, and along the way is monetizing a great deal of the potential in its midst. You may indeed conclude that it is, in fact, time to throw a brick at the BRICs ... .or you may just conclude that at least the "B" of the BRICs is solid as a rock!
(Please note: This article is solely meant to be thought provoking and is not in any way meant to be personal investment advice. Each investor is obligated to opine and decide for themselves as to the appropriateness of anything said in this article to their unique financial profile, risk tolerances and portfolio goals.)
Disclaimer:
Please read and consider important information related to all communication made by Soos Global on this site by clicking
here.
Disclosure: I am long EWZ, BRXX, EEM, VWO, PBR, FXI.
Additional disclosure: Long many stocks within SPX and QQQQ. Positions may change at any time without notice.