After the market closed on August 21, shares of GameStop (NYSE:GME) shot up more than 8% on news that the specialty retailer posted revenue and earnings growth that handily outperformed analyst expectations. According to its press release, revenue skyrocketed 25% from $1.38 billion to $1.73 billion as comparable store sales soared 21.9% year-over-year, easily surpassing the $1.63 billion analysts expected. This jump was due to higher sales across all of the business's categories (save for its Other category), but with the 125% increase in its New Video Game Hardware sales from $147.8 million to $332.3 million leading the way.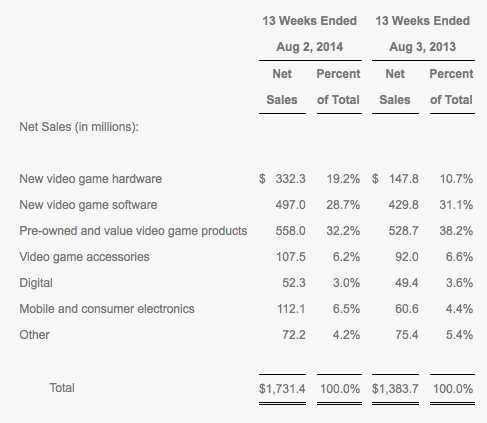 The earnings posted by GameStop were even better. For the quarter, the retailer's earnings per share came in at $0.22, 144% higher than the $0.09 reported in last year's quarter and 22% above the $0.18 forecasted. Although higher revenue was a contributing factor to this increase in profits, investors also have to attribute some of this rise to GameStop's selling, general and administrative expenses, which dropped from 26.8% of sales to 25.7%, and the almost 4% drop in share count the business posted.
Earnings Overview
| | | | |
| --- | --- | --- | --- |
| | Last Year's | Forecasted | Actual |
| Revenue (billions) | $1.38 | $1.63 | $1.73 |
| Earnings per Share | $0.09 | $0.18 | $0.22 |
In a previous article I wrote on the retailer, I discussed how analysts seemed pretty upbeat about GameStop, while shareholders (given where its shares were trading) didn't seem all that enthusiastic. I also pointed out that given competition from downloadable content, as well as other game providers like Wal-Mart (NYSE:WMT), eBay (NASDAQ:EBAY) and Amazon (NASDAQ:AMZN), the company might have difficulty moving forward. Thus far, my assertions pertaining to GameStop appear to be off, which suggests that the business may be able to maintain its strong niche in the video game industry.
Disclosure: The author has no positions in any stocks mentioned, and no plans to initiate any positions within the next 72 hours.
The author wrote this article themselves, and it expresses their own opinions. The author is not receiving compensation for it (other than from Seeking Alpha). The author has no business relationship with any company whose stock is mentioned in this article.