By Chris McKhann
Shares of Puerto Rican banking firm Popular (NASDAQ:BPOP) are pushing up against long-term resistance, but the option traders apparently don't see much upside.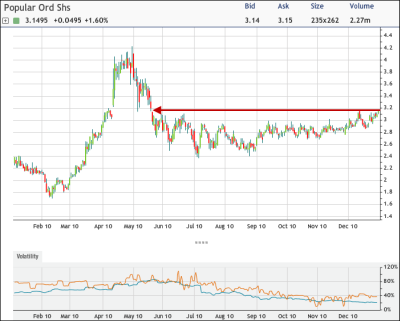 BPOP is up 1.6 percent this morning to $3.15, an area of resistance that goes back to when shares gapped down through it in mid-May (red line and arrow on chart). The stock has been largely range-bound between $2.50 and $3 since then.
More than 4,500 contracts trade have traded so far versus a daily average of 600, and only 130 are puts today. The April 3.50 calls lead the way, with 3,686 changing hands against open interest of 932 contracts. These went traded in the course of a few minutes in large blocks, sold for $0.15.
Just two minutes before the options moved we see one block of 50,000 shares of BPOP bought for $3.16. So it appears that this is a hedged short volatility trade that will profit if shares are between $2.11 and $3.73 at expiration.

Disclosure: No position