As one can see from the chart of October 14' futures contracts below, 18.75/18.90 has served as resistance throughout 2014, failing at that price level on several occasions, most recently petering out just below that pivot point in mid-June. Past performance is not indicative of future results. After topping at 18.81 on 6/23, futures have depreciated 17.8% H/L. In the last two trading sessions, sugar has advanced 3.16% as an interim bottom may have formed. Today's gain represents the largest one-day gain in sugar on a percentage basis since June 20th. While being oversold as indicated by the daily stochastic is not reason alone to be a buyer, let's search for a fundamental shift.
October sugar daily chart: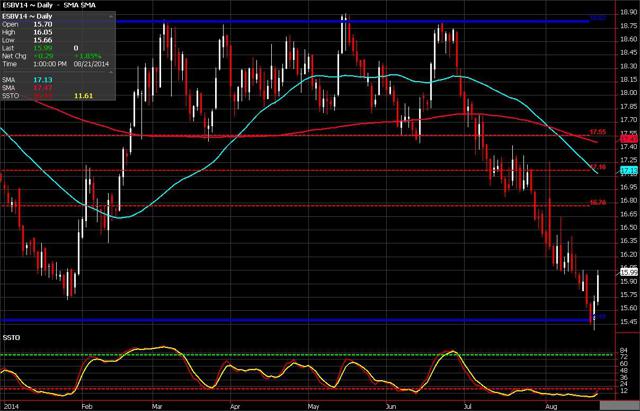 Source: www.computervoice.com
In my opinion, raw sugar prices have started to turn on concerns about falling production from Brazil -- the 800 lb. gorilla in this commodity. Brazilian sugar-industry group Unica is schedule to release updated production numbers next week, so the last few days are likely short covering ahead of that number. If the perception shifts, this can be a market-moving event, since Brazil is the largest producer and exporter of sugar. We are currently in harvest, and while production will increase from last year, production of late has slumped, prompting some worries that the harvest will end earlier than usual and the crop size may have been overestimated. Translation: less sugar supplies will be added to the glut of sugar currently available from monster crops in recent years. This will not shift the dynamic from bearish to bullish, but do not rule out at least a bounce if traders are caught on the wrong side. I expect a challenge of the 50 day MA (light blue line), which coincides with a 50% Fibonacci retracement, lifting futures near 17.15 and appreciating 7.2% from current trade. Another possible contributing factor is the insatiable demand for cocoa, which has lifted prices to 3-year highs.
One could look to get long futures with stops below the recent lows, an approximate risk of $700 per contract. Other options (no pun intended) would be to buy call options or sell put options.
Buying 19 cent March 2015 call
180 days to expiration
34 delta
(Currently 1.17 out of the money)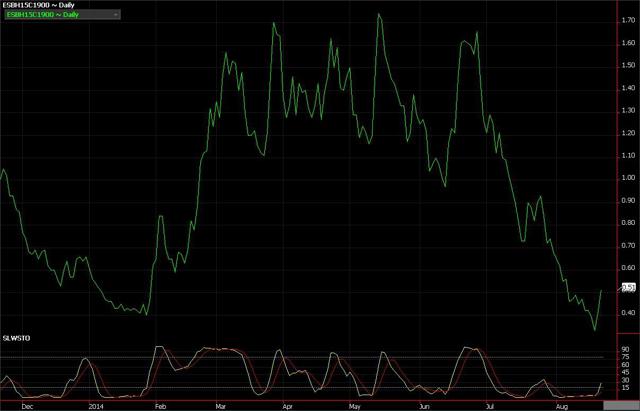 Selling 17.50 cent January 2015 put
116 days to expiration
40 delta
(Currently .33 out of the money)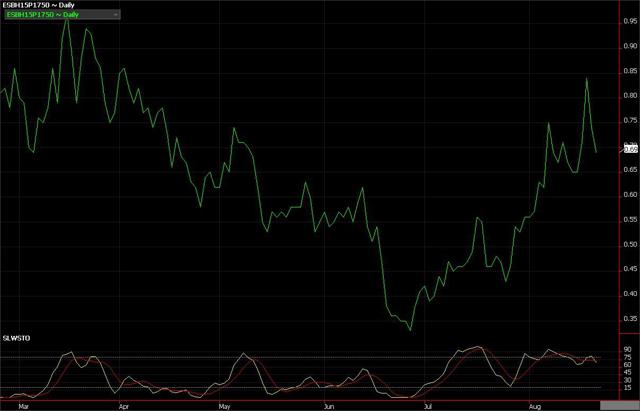 Risk Disclaimer: This information is not to be construed as an offer to sell or a solicitation or an offer to buy the financial products herein named. Trading futures, options and Forex involves substantial risk of loss and is not suitable for all investors. Past performance is not necessarily indicative of future results. This report contains research as defined in applicable CFTC regulations. Both RCM Asset Management and the research analyst may have positions in the financial products discussed.
Disclosure: The author has no positions in any stocks mentioned, and no plans to initiate any positions within the next 72 hours.
The author wrote this article themselves, and it expresses their own opinions. The author is not receiving compensation for it. The author has no business relationship with any company whose stock is mentioned in this article.