By Shawn Carpenter
There may be eight million stories in the Naked City, but thankfully for fans of the widely-followed Dow Jones Industrial Average, there are only 30 stocks to analyze — and at YCharts we've identified seven of them which we believe have the best prospects for the coming year and beyond.
It's amazing the diversity and balance packed into the Dow 30. The index will close 2010 essentially at 2006 levels. Clearly, selecting the right Dow components — and avoiding the wrong ones — is crucial. Our criteria includes relative value, fundamentals and fair value estimates.YCharts Pro ratings factor in all these elements, so that you can quickly gauge a company's prospects. Companies that receive "attractive" ratings have significantly outperformed the market over the last 20-30 years.
1. Merck (NYSE:MRK) - Merck shares are cheap by all measures.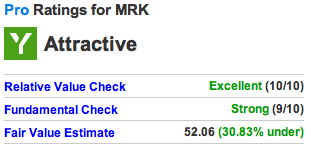 Merck's earnings yield is 8.5%, its dividend yield over 4% and its free cash flow yield north of 7%. In addition, Merck is currently part of our Warren Buffett portfolio strategy.
Merck fundamentals are strong on almost all fronts. Top line growth is the one weak area, but given the valuation and prospects to turn things around (early signs are positive on one potential blockbuster drug) Merck deserves a look. Of course, pipelines of promising drugs excite many investors but the long path to gaining government approval for drugs can be full of unpleasant surprises.
2. Kraft Foods (KFT) - Kraft scores well for relative value given it's earnings and free cash flow yields are over 8%, with a nice 3.6% dividend yield.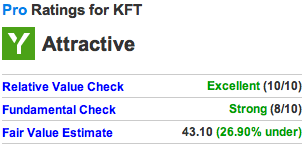 The fundamentals are strong (with the exception of two issues: long term debt is more than 5X the average net income; and book value of shareholder's equity is not growing).
3. Johnson & Johnson (NYSE:JNJ) - JNJ looks excellent by all measures including relative value, fundamentals and fair value.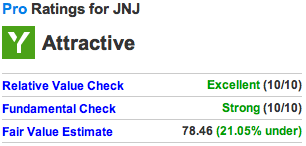 We see nice upside potential in the stock, and you get to collect a 3.5% dividend as you hold the stock. JNJ's Remicade drug for rheumatoid arthritis and other immune system-related diseases, with 2009 sales of $4.3 billion, is hugely profitable. The company is working to clean up the distractions of its recalls and make nice with its regulators, so that investors can focus on J&J's substantial upside.
4. Procter & Gamble (NYSE:PG) - Right now, it's trading far below recent multiples.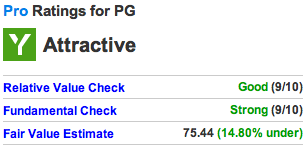 Procter & Gamble shares haven't gone much of anywhere over the last five years. An expanding economy should, however, help P&G grow a bit more. It's a big, mature cash cow.
The stock charts below are for the first 4 of our 7 Dow companies relative to the Dow. All but Kraft underperformed the Dow in 2010, but they should perform well for 2011.
5. Microsoft (NASDAQ:MSFT) - Nobody likes yesterday's story in the technology business, and Microsoft has been old news for a long time.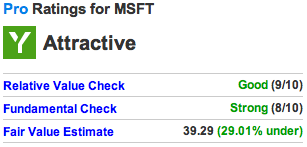 The king of PC software, Microsoft stood by while Google (NASDAQ:GOOG) dominated Internet search, and then watched again as Apple (NASDAQ:AAPL) took control of high-fashion mobile gadgets.
But, really, is that any reason to value Microsoft shares so harshly? Microsoft is an un-cool tech company that turns out huge profits and has good growth prospects. And the stock finally seems to be cheap. The YCharts proprietary model finds the shares undervalued. Maybe, after all these years, it's hip to be square.
6. Wal-Mart (NYSE:WMT) - Wal-Mart is a modern management marvel. Its sales rise slowly (foreign growth offsetting sluggish conditions in the U.S.), but by holding costs down its profits rise a little more swiftly. And by buying back copious amounts of its stock, per-share earnings rise even more rapidly.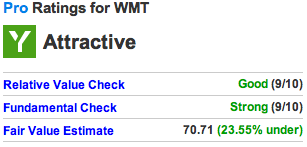 Wal-Mart is favoring foreign markets for expansion, while planning to hold capital spending flat in the U.S. That should help revenue growth. Still, foreign sales to date have been far less profitable than U.S. sales – operating income equal to 4.5% of sales overseas during the third quarter compared to 7.1% in the U.S.
Wal-Mart is rated strong for relative value, fundamentals and fair value. On that basis, YCharts Pro concludes that WMT could trade near $70 in 2011. Wal-Mart's dividend isn't to bad either at 2.3%.
7. JP Morgan (NYSE:JPM) - Banks aren't entirely out of the woods yet. A weak economy and trouble remaining in real estate are continuing risks. But expected economic growth in 2011 should be kind to JPM.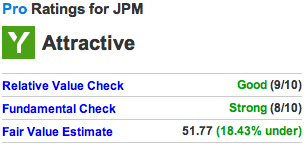 JPM's earnings yield is 8.5% with a free cash flow yield over 10%. JP Morgan trades at less than book value. Also, there is market speculation that a large short position in silver that could hurt JPM.
See the stock chart below for the final 3 companies relative to the Dow for the last year. All 3 underperformed in 2010.
These seven stocks are big companies with rich histories. All are held by a large percentage of the top hedge funds. YCharts Pro rates them highly for relative value as measured by earnings yield, book to market, dividend yield, free cash flow yield, and price to sales.
In addition, fundamentals are strong, with all companies passing at least 8 of our tests which include EPS growing, rising revenue, positive ROE, positive gross margins, book value growth, current ratio >1, debt to equity under 13, positive long term cash flow and consistent dividends.
Finally, they are all trading safely below fair value based on historical price to earnings and price to sales ratios. Look for these companies to outperform in 2011.
Disclosure: No positions