About Green Plains
Green Plains (NASDAQ: GPRE) is an alternative fuel producer, storage facilitator, marketer, and distributor. The Omaha based company operates four diversified business segments: ethanol production, corn oil production, agribusiness, and marketing and distribution.
Today, the majority of ethanol is still a byproduct of corn due to the amount of carbohydrates. Green Plains ethanol production occurs in Indiana, Iowa, Michigan, Nebraska, and Tennessee. To produce ethanol, grains and agricultural waste is blended together with various percentages of unleaded gasoline. The result is E10, the most common ethanol fuel, and E85, a rapidly growing alternative biofuel used in flex-fuel automobiles.
Twelve plants operated by Green Plains produce non-edible corn oil. Corn oil is sold for use in biodiesel and as an alternative food source for livestock. According to the company's website, "other industrial uses for corn oil include feedstock for rubber substitutes, rust preventatives, inks, textiles, soaps, and insecticides."
The agribusiness focuses on buying grains in bulk, then drying and storing them for sale. Marketing and distribution operates on a fee-based business model offering sales, marketing and distribution for its twelve plants.
The company's website describes its competitive strengths. "We believe we have created an efficient platform with diversified revenues and income streams. Fundamentally, we focus on managing commodity price risks, improving operating efficiencies and optimizing market opportunities."
Valuation
For the last two years, Green Plains has exploded, with its stock rising 145 percent and 127 percent in 2013 and 2014, outperforming its peer group by over 100 percent in both years.
Strong sales growth has pulled the company into consistently profitable territory, from $189 million in 2008 sales to more than $3.1 billion in 2013, a 75 percent 5-year compound annual growth rate.

Source: FactSet
Year-over-year the company continues to maintain a healthy cash position. The current market value of Green Plains is $1.6 billion and its balance sheet shows $437 million in cash as of June 2014. Its annual free cash flow is about $170 million, more than enough to handle its short- and long- term debt obligations of $170 and $460 million, respectively.
Price is being driven mainly by sales. Its PE is roughly 15 times its peer group average, but sales are only slightly inflated when looked at comparatively. At 0.5 times sales, the company could see modest growth over the next six months.
Catalysts and Risks
A major risk for this company is that the move is over. Investment advisors, mutual fund managers, hedge fund managers-- all the smart money -- has been buying Green Plains for the last six months. As a group, they've been the reason for the stock's 65 percent move from $26 to $43 since May. If they sell, Green Plains is quite a ways from the bottom.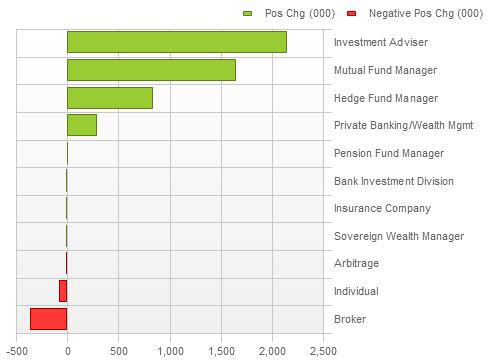 Source: FactSet: 6 month position change
Fortunately, it's unlikely the smart money will move out in the next six months. According to a recent filing, activist Corvex began acquiring shares and firms like Point72 Asset Management will look to put the company on the fast track to returning value to shareholders before moving out. The chart below shows who the major buyers have been in the last six months.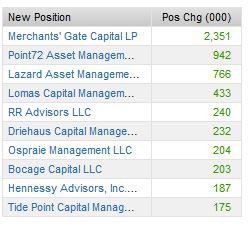 Source: FactSet: 6 month position change by institution
Bottom Line
Green Plains is well positioned financially and has experienced exceptional growth. Based on its current situation and valuations, like sales, a reasonable target price for the company is $47. The caveat to this is the current institutional investor base. If Point72, Corvex, or any other asset management firms begin to push for shareholder value, this stock could continue much higher. This is a stock for long-term investor's watchlists. Look for a small correction towards price to sales ratio normalization and if it can be acquired for less than $40 it is worth consideration for investment. Short term players may want to take advantage of current momentum and the recent institutional buying.
Disclosure: The author has no positions in any stocks mentioned, and no plans to initiate any positions within the next 72 hours.
The author wrote this article themselves, and it expresses their own opinions. The author is not receiving compensation for it (other than from Seeking Alpha). The author has no business relationship with any company whose stock is mentioned in this article.