The latest short interest report was released Tuesday morning and as we anticipated, there are some great trading opportunities to be found by digging through the data.
First, the broad strokes. According to our data, short interest on S&P 500 companies dropped an average of two percent in the recent report, which isn't a surprise given the strength that we've seen from the market. A strong December trend has started to squeeze the short sellers, forcing them to parse some of their positions.
While overall short interest on these companies may have declined slightly, there are some noteworthy increases that may be pointing to some great trade opportunities as we head into the New Year.
As a group, the retailers saw heavy additions to short interest as traders are clearly trying to time a top on these companies. Companies in the group that saw the largest percentage increase in short interest include Limited Brands (LTD), Macy's (NYSE:M) and Target (NYSE:TGT). Of these companies, Target appears as the best contrary play against the short sellers as the company's stock has been on the rise as sales and margins appear to be improving.
Backing-up a bit, let's look at one of my favorite ways to view the data for trading opportunities is to look for companies that are technically sound, as measured by our technical models, that have seen a significant increase in short positions. This analysis provides a list of companies that are more likely to see a short squeeze as short sellers get forced to close positions out as losses mount.
The table below displays the top ten companies and ETFs on this list as of today. This list provides a great starting point for traders looking to benefit from potential short-term rallies. In addition, the list reflects some of the strong contrarian indications that suggest the Retail sector is likely to see another surge as we move in 2011 trading.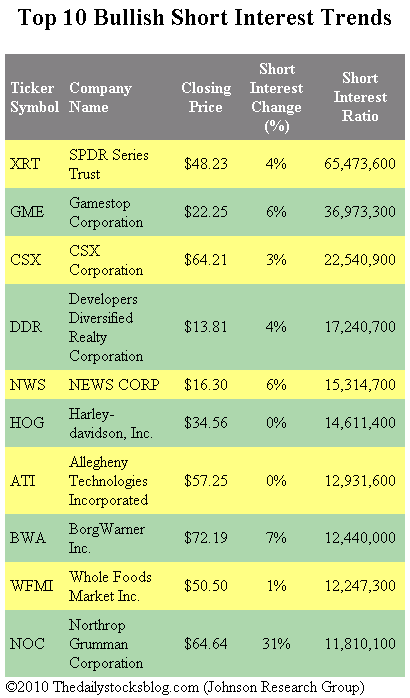 Given that the data has only been out for a few hours, we've just started our breakdown of the new short interest data. Over the next day or so, we will have broken this data down by sectors/ETFs, price range and technical patterns to generate a number of trading opportunities for both stock and options traders. We'll post more results soon.
Disclosure: I have no positions in any stocks mentioned, but may initiate a long position in CSX over the next 72 hours.