By Thom Lachenmann, OPI
Hertz (NYSE:HTZ) has unfortunately gotten notorious for its horrendous customer service. Not too much seems to be going for the car rental giant of late.
For those that travel on a weekly or daily basis, there are some interactions that you simply dread. For me, it's:
landing in any small international airport where they don't have terminals and you have to take a crowded bus from the runway
getting on an airplane for a layover that is so small and so old, it still has ashtrays built into the seat in front of you
any kind of "continental breakfast", as they call it in the U.S.
anytime in the U.S. I have to deal with O'Hare, and anytime I have to deal with Heathrow in London
dealing with any and all rental car agencies, especially Hertz of late
This article isn't going to turn into a Yelp review about Hertz's service, but I will note that amongst travelers I've spoken with while in line at the terminal and the likes, the secret is out. Hertz needs help.
The news, of course, is that Carl Icahn has taken an 8.5% stake in the company and that he plans to pressure the management of the company to get their act together. He has 38.8 million shares, which he paid $470.5 million for.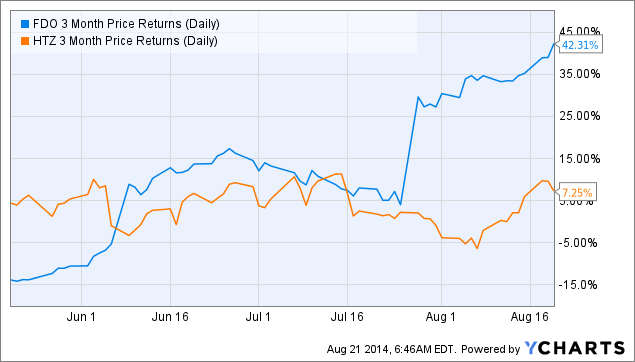 FDO 3 Month Price Returns (Daily) data by YCharts
As you recall, Mr. Icahn just found success with Family Dollar (NYSE:FDO), as he reaped substantial gains in the name after a short period holding the stock. While he's getting some "behind the scenes" credit for the dollar store M&A activity, Mr. Icahn has already cut his stake and seems to be ready to move on to the next project.
Here's where Hertz comes in. Icahn plans on bringing up operational failures and accounting issues. I'd ponder if Mr. Icahn had some of the same issues I've had with Hertz, but it isn't likely that he's driving himself around town, is it?
It was disclosed yesterday that Mr. Icahn built his stake through purchasing options. Quoting the NY Times Dealbook, Mr. Icahn said that he wanted to engage the board about "shareholder value, accounting issues, operational failures, underperformance relative to its peers," as well as Mr. Icahn's own "lack of confidence in management."
The remarks of the few analysts that I've spoken to about this, none of whom are too close to Mr. Icahn, is that he's more than likely to seek out Board seats at Hertz. Reports in the news seem to agree.
Hertz's official statement came off as somewhat bemused, as I can guess the company officers and directors likely had a couple of cocktails last night, one last "happy hour," before getting ready to dig in for the battle that's to come and try and defend their jobs:
"The Hertz board and leadership team value the views of all Hertz shareholders and welcome a constructive dialogue with them. All of us at Hertz are focused on addressing the company's recent challenges."

"As we address our challenges, we are confident that execution on these priorities, as well as the company's $1 billion share repurchase program, will drive enhanced performance and shareholder value."

The Peel's Feel:
If ever there was a time for an activist investor to get involved and help a company that seems to be chasing its own tail, now would be the time. Hertz came out and rescinded its guidance on Tuesday of this week. That can be tacked on top of a re-audit of the company's financial statements back to 2011 due to accounting irregularities.
Sloppy work of late from Hertz.
We rate Hertz JUICY (BUY), not based on the current fundamentals, but as a bet that Mr. Icahn can unlock some shareholder value along the way for those invested in the company. There is no doubt this company is going to be aggressively looking at how to trim costs heading forward, and we're likely to eventually begin to see bottom line impact over the next 6-8 quarters, in my opinion. We have set a PT of $37 by end of CY 2014.
We also like the sentiment that lawsuits in the U.S. could shut down Uber, giving both Hertz and Avis a boost.
We also believe that the name and the brand both have value that can be brought back to a state of flourishing. If management was dragging their heels to implement these tasks, they likely just got a massive shot in the arm.
Until such time as the company gets its act together, however, you're not likely to catch me on line at the Hertz counter. Help me, Mr. Icahn.
OPI is long Hertz calls.
Disclosure: The author is long HTZ.
The author wrote this article themselves, and it expresses their own opinions. The author is not receiving compensation for it (other than from Seeking Alpha). The author has no business relationship with any company whose stock is mentioned in this article.