Shares in B&G Foods (NYSE:BGS) are down 14.16% year to date. The most recent quarterly report was quite disappointing. EPS for Q2 2014 was only $0.33, compared to analyst estimates of $0.39. Furthermore, the company reduced its full year guidance to a range of $1.54 to $1.60. This has pushed the price per share down significantly. Shares are now trading at $29.12, only slightly above the 52 week low of $27.35.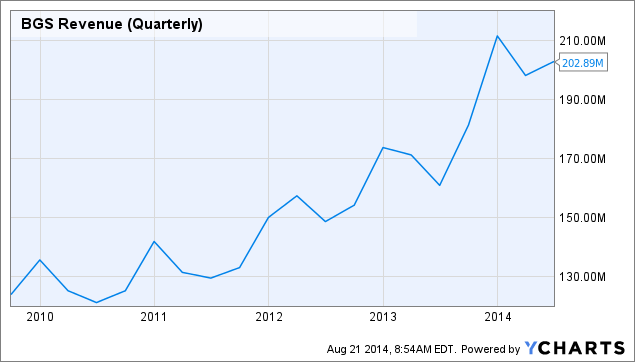 BGS Revenue (Quarterly) data by YCharts
Second quarter revenues were up 26.1% compared to the same quarter last year. The company has recently acquired a number of brands, which have added to revenues.
| | | |
| --- | --- | --- |
| Name | Date acquired | Added to revenue in Q2 2014 |
| Pirate Brands | July 2013 | $20.3 million |
| Specialty Brands | April 2013 | $11.5 million |
| Rickland Orchards | October 2013 | $7.1 million |
| Truenorth Brand | May 2013 | $1.4 million |
Sales for the company's base business were also up. A 2.8% unit volume increase was partially offset by a 1.7% net price decrease. The lower than expected EPS is a result of a large increase in selling, general and administrative expenses, mostly due to acquisition-related transaction costs.
Revenues in the most recent 12 months were $793 million, giving the company a price to sales ratio of 2.0 at the current market cap of $1.57 billion. However, analysts expect the company to have net sales of $859 million in the current fiscal year, putting the forward p/s ratio at only 1.8. The 5-year average p/s ratio is also 1.8 and while the industry average is a bit lower at 1.5, I believe the strong expected growth can justify a premium p/s ratio.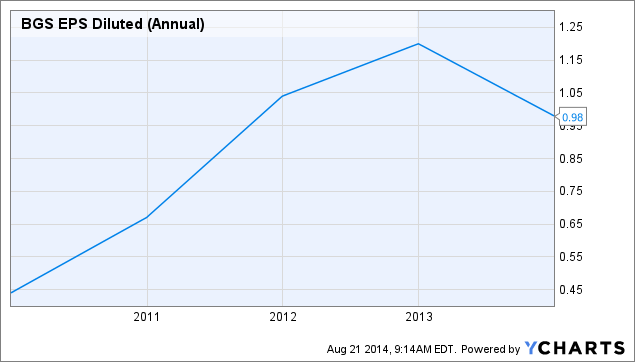 BGS EPS Diluted (Annual) data by YCharts
Looking at the earnings per share, we can see BGS had EPS of $0.98 in the most recent fiscal year. For the current fiscal year, which ends in December, the company expects to have earnings per share in the range of $1.54 to $1.60. Analysts appear to agree with an average estimate of $1.56. At the current price per share of $29.12, this means BGS' forward p/e ratio is between 18.2 and 18.9, which is well below both the industry average of 20.7 and the company's 5-year average p/e ratio of 24.6. For next year, analysts expect to see a significant increase in EPS, with the average estimate standing at $1.74.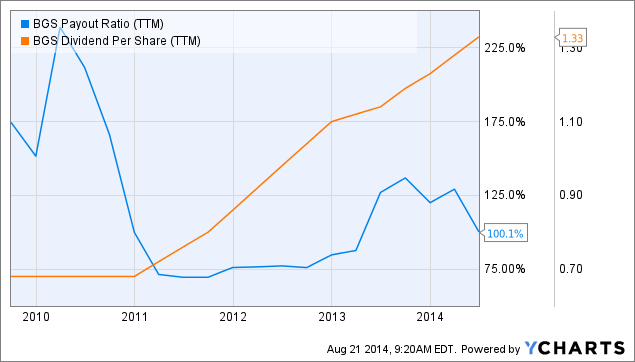 BGS Payout Ratio (NYSE:TTM) data by YCharts
BGS pays a quarterly dividend of $0.34 per share, which is $1.36 annually, for a dividend yield of 4.67%. At first glance, the payout ratio may appear unsustainably high, but EPS growth should bring this down quite a bit in the next few years. I wouldn't expect large dividend increases, if any, in the years to come, but a dividend yield of 4.67% means investors will get paid to wait.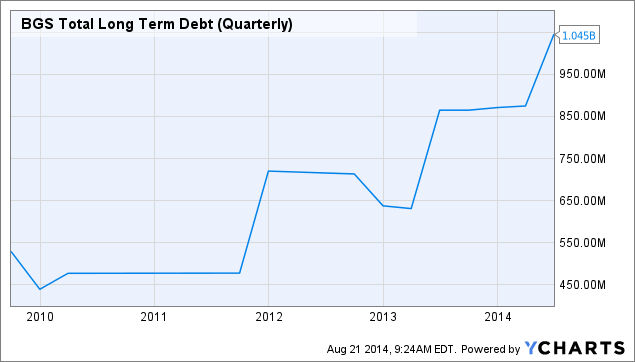 BGS Total Long Term Debt (Quarterly) data by YCharts
One thing that may worry some investors is the long-term debt, which has recently reached a level of $1.05 billion. Net interest expense in the most recent quarter was $11.8 million, or 5.8% of net sales. However, I don't consider a rising long-term debt as a problem, so long as the company manages to invest this money wisely.
Conclusion:
Shares in BGS took a dive when the company recently reduced its guidance and are still trading near 52 week lows. The company has taken on quite a bit of long-term debt, which it has used to purchase a number of brands. The lower-than-expected earnings per share are a result of high acquisition costs, and even with the lower guidance, the company is still trading at a lower p/e that's lower than both the industry average and the company's own 5-year average. Looking at the historical payout ratios, you might think BGS' dividend is unsustainable. However, high expected EPS growth should lower the payout ratio in the next few years. I believe the current price per share represents a great entry point.
Disclosure: The author has no positions in any stocks mentioned, and no plans to initiate any positions within the next 72 hours.
The author wrote this article themselves, and it expresses their own opinions. The author is not receiving compensation for it (other than from Seeking Alpha). The author has no business relationship with any company whose stock is mentioned in this article.