ARCP and Red Lobster: Gourmet Delicacy or Bargain Bin Trash?
In May 2014, American Realty Capital Properties (ARCP) became the owner of properties upon which sit about 500 Red Lobster seafood restaurants. There has been trepidation in some quarters of the investment community about this transaction ever since. Some recent developments help shed further light on the transaction that anyone interested in the stock should know.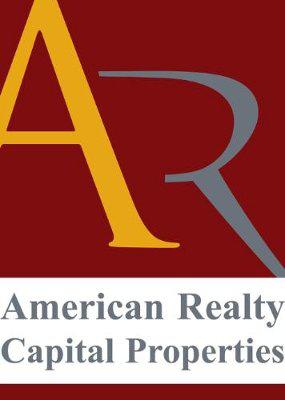 CNBC reported on 19 August 2014 that Darden Restaurants (NYSE:DRI), the previous owner of Red Lobster, had in an official document sent out under its name conveyed to certain individuals in confidence a different opinion of Red Lobster's prospects than it was revealing to the general investing public. The confidential document had a positive spin on Red Lobster's prospects, while Darden's public utterances did not.
So, let's go through the facts and see how the confidential document's revelation might impact upon an investment in ARCP (in which, I want to emphasize, I currently own shares).
Timeline
Darden recently sold its interest in Red Lobster to Golden Gate Capital, a private equity firm, for $2.1 billion. Golden Gate then sold its real estate interest in roughly 500 of the 700 Red Lobster properties to ARCP, which as part of the deal leased back the buildings and land to Golden Gate in long-term leases with annual 2% increases in rent.

Below is a timeline that should prove helpful for anyone who has not been closely following events surrounding the Red Lobster transaction over the past year, as the timing of key events is critical.
December 19 2013 - Darden announced that it intended to spin off or sell its Red Lobster seafood chain.
January 21 2014 - Starboard Value LP, which owned 5.5% of Darden, sent a letter to Darden protesting that decision due to concerns that Darden was not fully valuing Red Lobster.
May 16 - American Realty Capital Properties announced an agreement to acquire Red Lobster's real estate in an approximate $1.5 Billion Sale-Leaseback Transaction, with Golden Gate Capital acquiring Red Lobster.
May 16 - Darden chairman and CEO Clarence Otis stated that the Red Lobster sale will "bolster the company's financial foundation." James A. Mitarotonda, CEO of Barrington Capital, another major Darden shareholder, stated: "It is unconscionable that the Darden Board would enter into an agreement to sell the Red Lobster business for what amounts to a 'fire sale' price after shareholders clearly indicated that they did not want the company to enter into any transaction unless it was subject to their approval."
May 22 - Starboard Value LP initiated a proxy battle with Darden because of the Red Lobster deal.
"June 2014" - A "Confidential Information Memorandum" included in a Darden debt offering that was not released to or available to the public stated that, while Red Lobster had issues, "The management team believes that each of these issues are temporary in nature, correctable, and that they have plans in place to return the business to historic levels of profitability."
June 2 2014 - Starboard withdrew its request for a Special Meeting and "condemn[s] the Board for rendering the Special Meeting moot by entering into a binding contract to sell Red Lobster that does not require shareholder approval."
June 20 - Nicholas S. Schorsch announced he would step down as CEO of ARCP.
July 28 - ARCP and Golden Gate Capital closed on the Red Lobster deal, and Darden announced that CEO Otis would step down.
August 19 2014 - CNBC disclosed the "June 2014" "Confidential Information Memorandum," which was never previously made public, on its website.
ARCP chose which of the 500 Red Lobster properties it wished to own, not taking the ones which did not meet its criteria.
The Secret Memo Underscores Red Lobster's True Value
CNBC reported in its web story that the 74-page "Confidential Information Memorandum, which isn't available for public review yet, was provided to them by "a debt investor source" who received it as part of a Darden $425 million debt offering separate from the Red Lobster deal.
The immediate impact of the Red Lobster deal, which was not completely unexpected but still took many by surprise, on investor sentiment is apparent in the subsequent drops in the companies' respective stock prices. They plunged in the weeks following the announcement of the sale, but have since largely recovered.
| | | | |
| --- | --- | --- | --- |
| Company Stock Symbol | May 15 Closing Price | Interim Closing low | Recent Price |
| ARCP | $13.22 | $11.94 | $13.18 |
| DRI | $50.69 | $43.76 | $47.43 |
In fact, for Darden, the fall has been even worse than that. It was at $52.92 on December 18, 2013, the day before it announced that it planned to dispose of Red Lobster. It fell during a time when the overall market was rising.
In public, Darden has been consistently stating that Red Lobster was in trouble. Only recently, on 4 August 2014, it gave a presentation, "Update on Successful Red Lobster Sale Process" which reiterated that theme. Among the points that it made were that there were "sustained and continuing declines in Red Lobster's operating performance" and that the bottom line was that "Red Lobster was experiencing long-term erosion in total traffic."
The "Confidential Investor Memo," though, stated completely the opposite. In fact, it echoed what Starboard and Barrington had been saying all along.
In response to the CNBC article, Darden released the following statement:
"The non-public document you reference and all estimates therein were prepared by Golden Gate Capital and Red Lobster as part of the debt financing efforts in connection with Golden Gate Capital's acquisition of Red Lobster. To the extent that they reference Red Lobster executives, those executives were working on behalf of Golden Gate Capital.

"Indeed, the acquisition agreement with Golden Gate Capital specifically provides that Red Lobster's management team, working with Golden Gate, would support the efforts to raise debt financing. Any representation of this document as a Darden document or as Darden projections is factually inaccurate and misleading."
The "non-public document" is dated the month before Darden sold Red Lobster. It went out under Darden's name while it still owned Red Lobster and helped facilitate a major transaction from which Darden benefited.
What does this mean for ARCP?
All of this has very real investment implications to those considering ARCP as an investment.
A common refrain within the investment community about the Red Lobster deal, including articles and comments on Seeking Alpha, is that the venerable seafood chain was failing and that it could not recover. The very fact that Darden seemed in such a hurry to unload Red Lobster added weight to their arguments, as did Darden's negative public statements about the "long term erosion" of the chain's customer base.
The sharp decline of ARCP's stock price after the announcement of the deal arguably was related to Darden's public statements about the chain, which presumably, as Red Lobster's long-time owner, it knew better than anyone else.
However, according to CNBC, the secret analysis contained in the Darden debt filing about the restaurant chain was completely different:
"The memorandum goes into a detailed analysis of factors that can help Red Lobster's business improve, such as a decline in various input costs, along with a reduction of complimentary meals. 'The Red Lobster management team believes that the identified cost savings are a conservative estimate of true potential with additional upside above identified opportunities,' the memorandum says."
In fact, since it acquired title to Red Lobster, Golden Gate Capital has been making exactly the sorts of changes to Red Lobster that the secret memorandum suggested would fix Red Lobster's ills. Golden Gate is an expert at buying restaurant chains and improving their performance. For instance, it purchased California Pizza Kitchen in May 2011 for about $470 million in cash, and it has been receiving good reviews for its changes to that chain.
Golden Gate's proven team of brand revivers is now working its magic on Red Lobster. They are revamping the presentation of Red Lobster's food and re-focusing the menu on seafood, which sounds highly reasonable for a seafood restaurant chain. In addition, the chain is getting back to its roots as an upscale fine dining experience rather than the bargain-eats style that Darden was trying to implement.
ARCP's Underlying Financials Are Solid and Improving
While all of this has been going on, ARCP has been steadily paying common stock shareholders the monthly portions of its $1.00 annual dividend, currently yielding just under 8%. It announced its latest dividend on 20 August 2014, payable as usual on the 15th of the subsequent month to shareholders of record about a week before that (owners of common stock of record on 8 September 2014 will receive the upcoming dividend).
ARCP owns approximately 4,400 properties totaling 99.1 million square feet of lease-able space and manages nearly $30 billion of real estate located in 49 states. They arguably are undervalued relative to fellow well-known REIT Realty Income Corporation (NYSE:O), which pays a dividend yielding under 5%, though of course the two companies have vastly different histories, investing styles, portfolios and risk parameters.
ARCP's is growing rapidly, as evidenced by its Adjusted Funds from Operations, which the company has stated in its filings is the best metric for evaluating its performance:
| | |
| --- | --- |
| Year | AFFO (millions) |
| 2012 | $11,810 |
| 2013 | $63,490 |
| 2014 | $353,100 |

Source: SEC filings
ARCP's estimated AFFO for the second half of 2014 is $533 million, resulting in a full-year AFFO of $886 million, or $952 million after adjustments. The Pro forma AFFO per share for 2014 is $1.14, amply covering the $1.00 dividend.
ARCP described the Red Lobster transaction in a footnote to its 30 June 2014 earnings report as follows:
"Red Lobster® Sale-Leaseback Transaction: On July 28, 2014, closed on an approximate $1.5 billion sale-leaseback transaction for approximately 500 Red Lobster® restaurant properties at a GAAP cap rate of 9.9% (7.9% cash cap rate)."
A continuing concern about ARCP is that the Red Lobster portion of ARCP's portfolio now constitutes a disproportionate share of ARCP's holdings. Here is ARCP's portfolio composition from its latest second quarter earnings filing showing that the Red Lobster properties do constitute about 11% of all of ARCP's real estate properties, which is more than any other single tenant:

Source: ARCP SEC filing
ARCP structured the Red Lobster holdings into five separate portfolios, but as of now still owns all five. So, concentration of risk is an issue with ARCP.
Analysts are moderately bullish on the stock.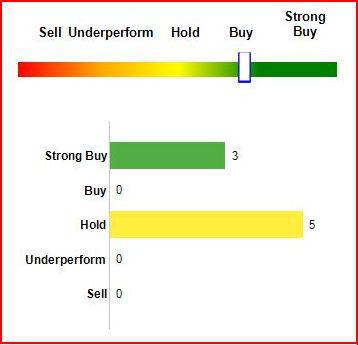 Source: Nasdaq.com
Since going public in 2011, ARCP has increased its monthly dividends from $0.073 per share to $0.083 per share, but the stock price has languished. Monthly dividends, as opposed to quarterly dividends, provide a higher return to shareholders who reinvest them. As the risk premium due to the Red Lobster deal dissipates, the market easily could value ARCP at a higher multiple.
ARCP was trading as high as $14.96 earlier this year before it began its slide to an intraday low of $11.76 in June and then start bouncing back. With only $250 million of the $4.5 billion in company planned acquisitions remaining after the second quarter Red Lobster deal, the company in its earnings release affirmed its 2014 AFFO per share guidance of $1.13 - $1.19. President and incoming CEO David S. Kay said in that release that with the "the formative stage of the company behind us, we are focused on the day-to-day operations of the company."
In other words, ARCP now intends to reap the profits from its huge deals and not plunge into any more for a while. Chairman/CEO Schorsch wrote in June that
"With leverage at target levels and available capacity, there is no need to raise additional equity."
So from here on out, at least for the remainder of the year, the only major press releases planned out of ARCP should be about its monthly dividends that it projects it will have no difficulty paying. As it acts more like other REITs such as Realty Income Corporation, it should begin to realize similar valuation by the market.
Conclusion
ARCP represents a good value to income investors, with its shares appearing under-valued by the market.
Disclosure: The author is long ARCP.
The author wrote this article themselves, and it expresses their own opinions. The author is not receiving compensation for it (other than from Seeking Alpha). The author has no business relationship with any company whose stock is mentioned in this article.